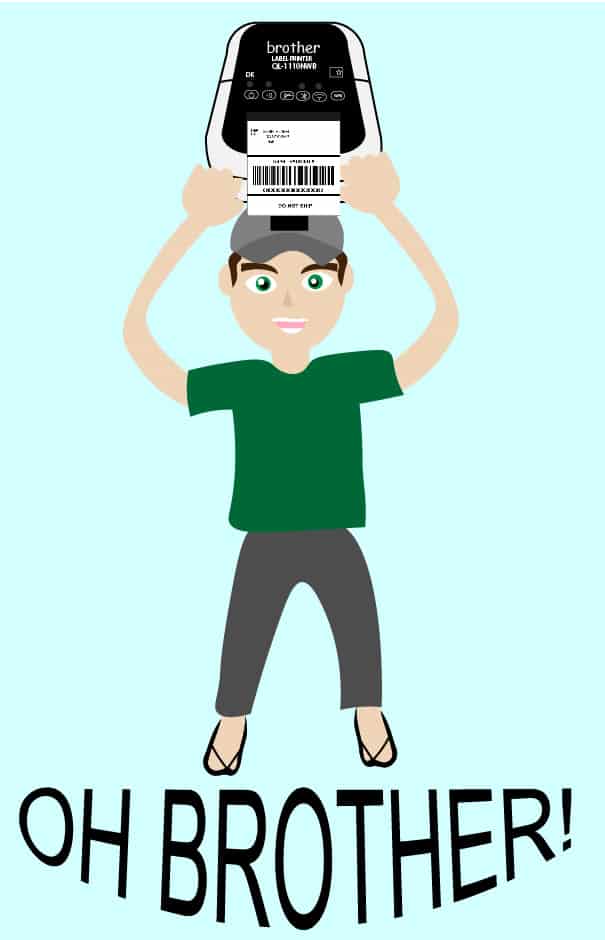 If you have been looking for reviews of the best thermal printers, you will have co e across the Brother QL-1110NWB. The Brother QL-1110NWB is one of the most often sold-out thermal printers on Amazon. But the hype worth it? After consistently using it for our small business printing hundreds of labels, this review will cover whether the Brother QL-1110NWB thermal printer lives up to the hype.
We will go over all that you need to know about the Brother QL-1110NWB thermal printer. You will also find the video option at the bottom of the page.
Quick Facts
WORKS WITH IPHONE! Android and tablets
Works with Mac and PC Wirelessly on a Network
It is wireless and has Bluetooth capabilities as well
Sells out often on Amazon, but retails for $279 
300 dpi while most thermal printers are 203 dpi (300 is a better, clearer print)
Easy to clean the printhead
Proprietary label design (only works with DK label style)
Prints up to 4'' wide labels (yes it can print smaller)
2 Year Warranty (if you don't use 3rd party labels)
Pricing in other regions:
Basics: What Is A Thermal Printer?
The Brother QL-1110NWB is a thermal label printer. Like all other thermal printers, it uses heat to transfer images to heat-sensitive labels. You do not need ink, toner, or paper like a traditional printer. Instead, it uses the 4×6 labels that are the only extra and recurring cost
What Makes This Better Than Other Thermal Printers?
The number one feature that makes the Brother Ql-1110NWB thermal printer better than other comparable thermal printers like the Dymo 4XL or Rollo is the connective technology. You can connect to the QL-1110NWB thermal printer three different ways: wireless, ethernet or bluetooth. Bluetooth is a great option if you are in a place without Wifi but you need to print from your phone or computer that is on a mobile hotspot.
As far as device options, you can print wirelessly from a Mac, PC, an android phone or tablet, or any ios device like the iphone or ipad. This flexibility makes it a great choice for many people who are running businesses from their phones and need easy mobile thermal printing.
What Are All The External Features?
Next, we will go over the external features and every single button on the Brother QL-1110NWB.
Back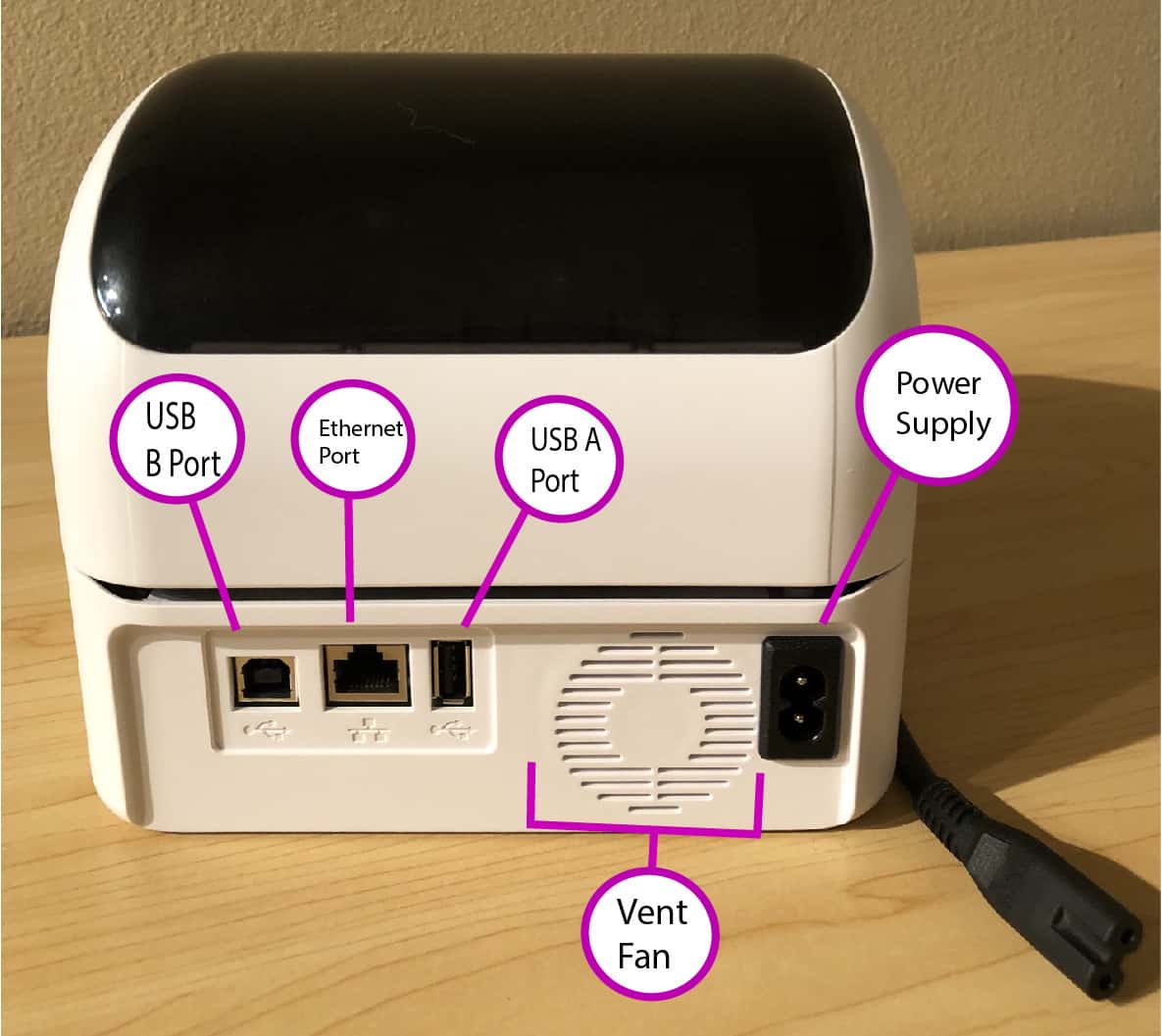 Starting on the back is a USB type B port that is an older style port that is not necessary to use this printer if you use the USB type-A port. The USB Type-A port is for connecting to a scanner or other external drive if needed. There is an ethernet port if you would like to be connected directly to it. However, this is also not necessary if you are using wifi.
There is a heat vent and fan to cool the power supply of the printer. The power supply is a two prong type. It looks like the figure "8". The power supply here is built into the printer so you do not need a brick cable like you would with the other thermal printers.
Side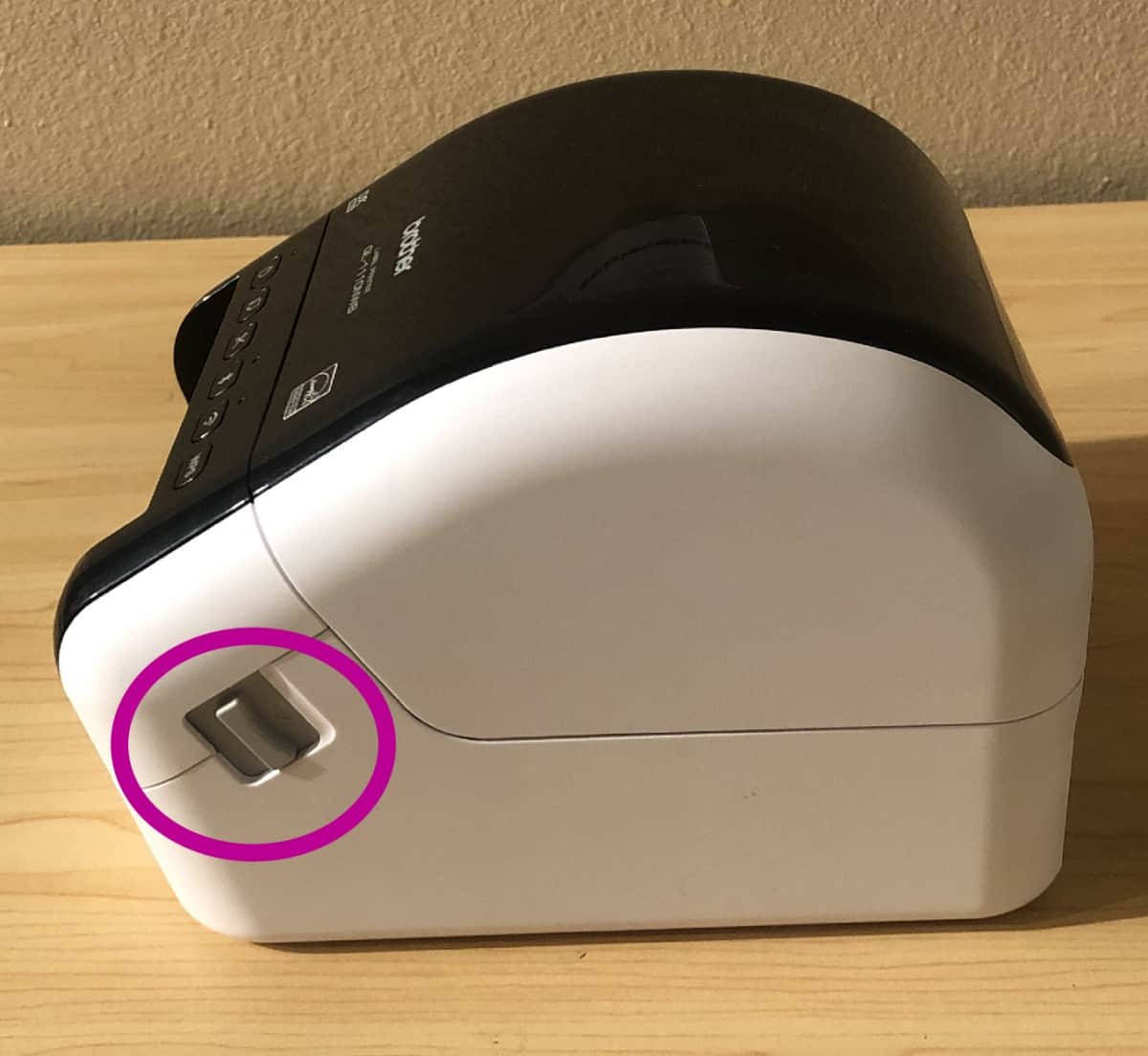 The side of the printer is a pull down slot button on each side of the printer. You pull down on both at the same time to open the top and access the inside.
Front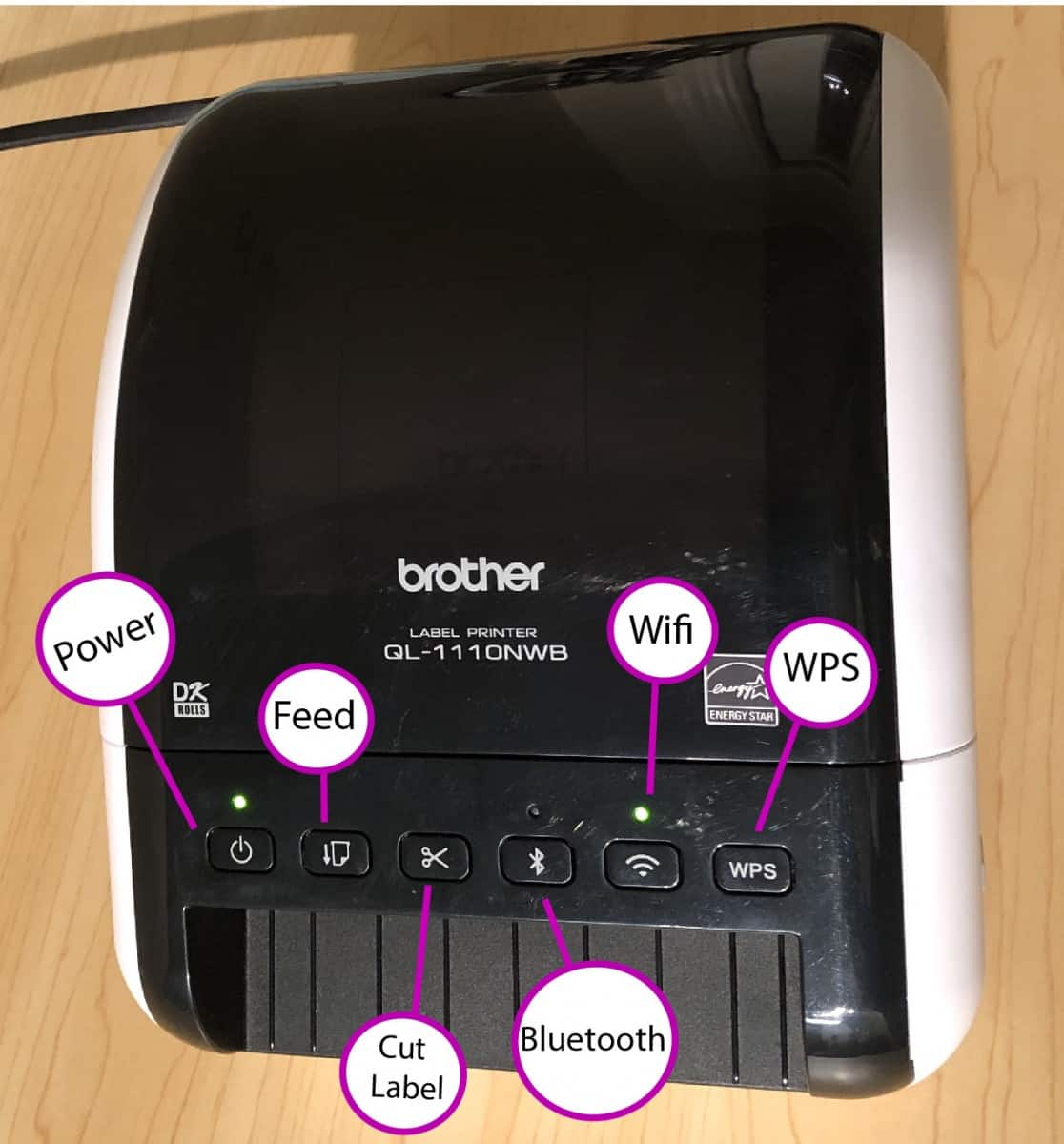 Power – On the front of the printer, there is a power button. We mention this because other thermal printers like the Dymo 4XL do not have this simple feature.
Feed – This is to feed a blank label or in case your label is sticking out a little bit for whatever reason. All you need to do is press it and it will reverse the label back into the ready position.
Scissors – You can set your personal preference on setting this so that once the label comes out, it will auto-cut each individual label. Alternately, you can set to have a string of labels and press the cut button yourself. It is a nice feature instead of having to tear off a label like other thermal printers.
Bluetooth – If you do not have wifi, you can press and hold this button until a small blue light comes on to activate. You can then go to your mobile device, connect via bluetooth and print your label. This function is great if your internet is down or you don't have access to a wireless network.
You can even beam to your device in the middle of nowhere and print out a shipping label. We take this printer on road trips to ship out fresh sales that we just listed from finds on the road! You can then turn your Bluetooth off after use.
Wifi – When you first set this printer up, it will blink a few times to indicate that it is looking for a network. A solid green light will appear once you connect to a network. You can then print from a device of your choice.
WPS – The WPS or wifi protected setup button is what you will press when you initially set up your printer to your network. You will hold this button down and the wifi light will start blinking. Then you will go to the WPS button on your router to connect. The router and printer will sync and your computer on the network can find the printer to install it. The point of this is to skip having to enter a password.
Inside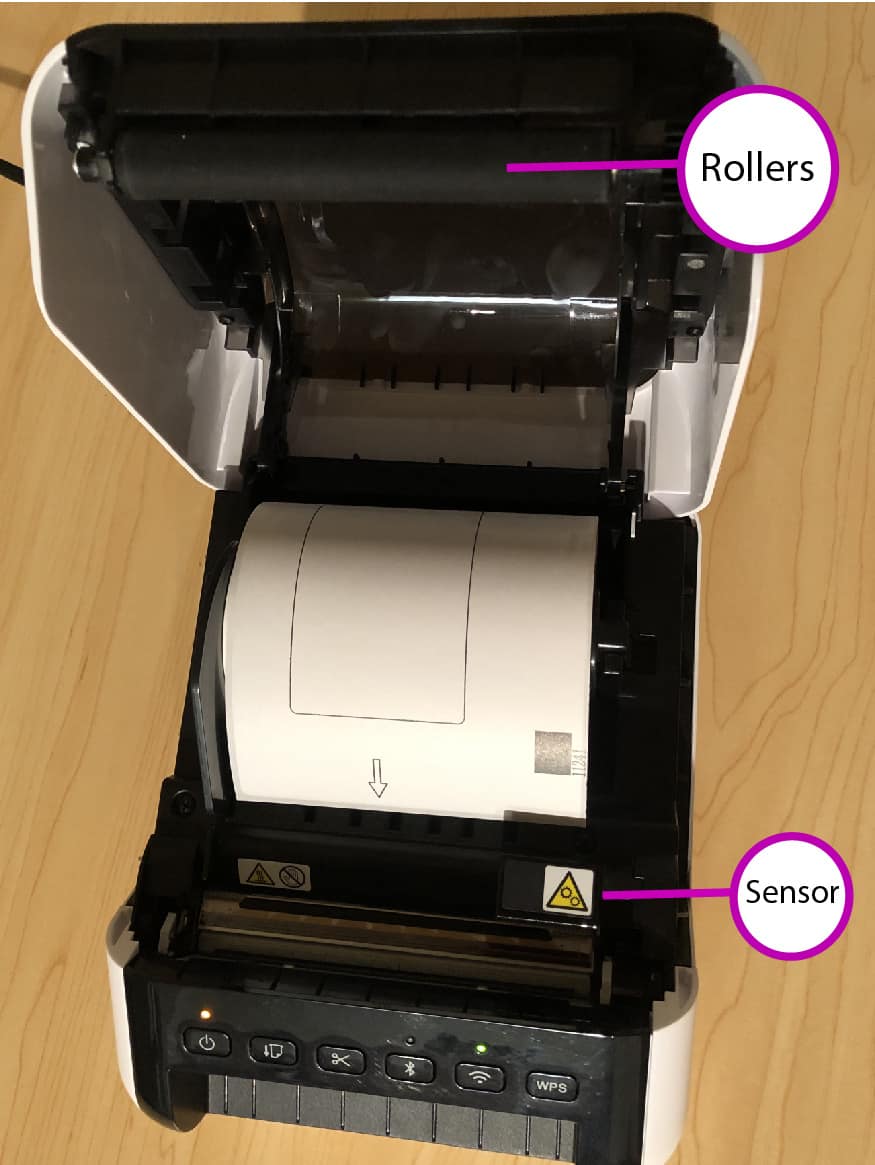 You will pull down on the side tabs to open the top and access the inside. The top lid has a roller that pushes the labels forward and out. The small black rectangle with the yellow triangle sticker is a sensor that reads the black squares on the back of the labels. This reads the sizing of the labels, whether one has fed all the way through and calibrate it for the next label.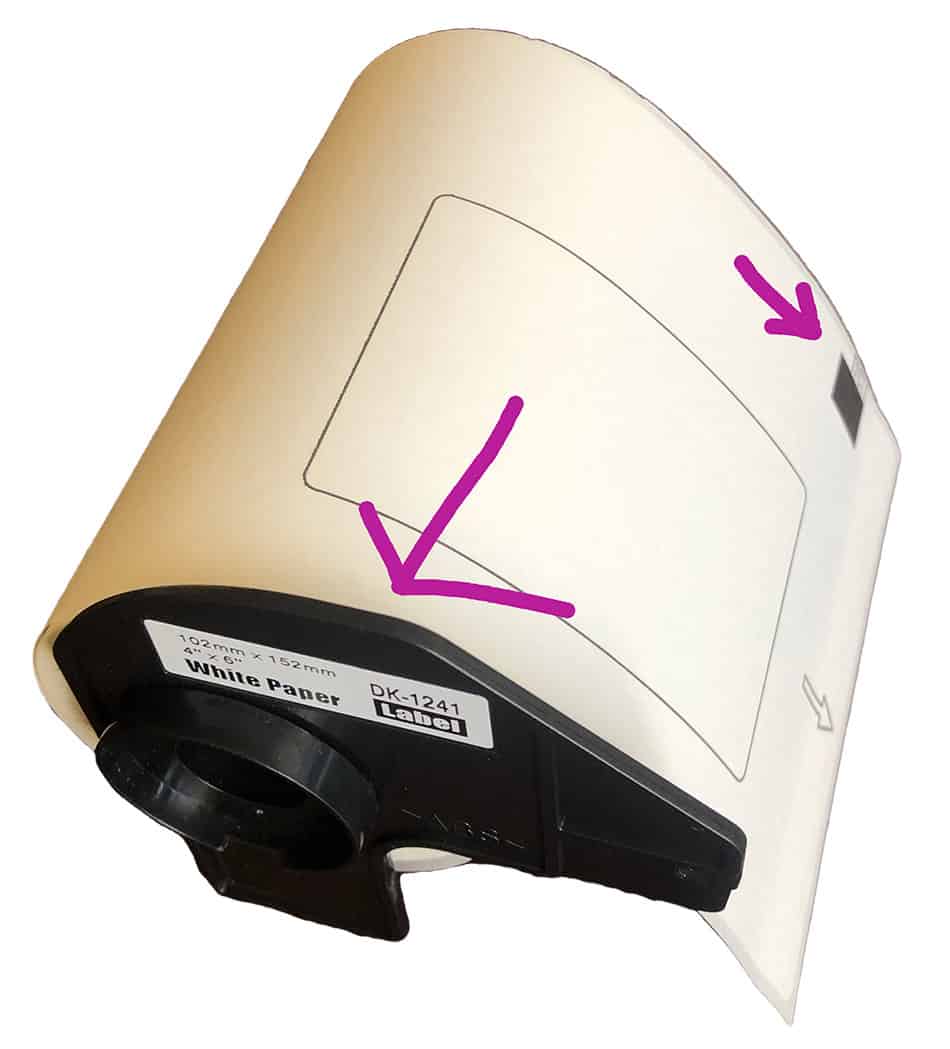 Loading the labels is very very easy due to Brother's design. Labels come in spools where each end is different so that you cannot get it wrong. One side is circular as shown and the right side is a notch that will fit into a prong-like groove on the right side. The white rectangle on the bottom right with what seems like little black heads is another type of sensor. This feature on the printer is what is able to tell whether you are printing 4×6 labels or the amazon SKU labels. 
What Maintenance Are Required?
Like any other equipment, maintenance on the printer may be required at some point. However, the Brother QL-1100NWB is designed in a way that makes maintenance quite easy. After continuous usage over a long period of time, dust and residues from labels may build up on the print head. To fix this, all you will need to do is open up the printer, take a q-tip that has been dipped in some isopropyl alcohol and clean the print head with it.
Additional Features
The last feature on the brother QL-1110NWB can be catered to your needs. You can download the brother label app to your device.  You can then create your own "warning" labels and amazon SKUs.We will have a tutorial coming up in the future. In the meantime, you can print "Fragile" and fall-themed "Thank You" stickers with your 4×6 printer and cut them to use for your packages.
What Could Have Made the Brother QL-1100NWB Even Better?
A proper review would not be completed without giving features that would make the product better. So the Brother QL-1110NWB thermal printer review is no exception. Given all the great features of the Brother QL-1110NWB mentioned, there are three things that we feel could be improved.
The first is the Amazon listing for this printer shows that the label printing from the top. In reality, the print head is on the bottom so the labels come out of the printer with the back facing up. It is a disconnect from how the printer works versus how the printer is being advertised and marketed. Of course, it is a minor point but this could be fixed on their end. We made our avatar this way too.
Secondly, we're not big fans of proprietary labels. The black square at the back of the labels and the sensor mentioned earlier is what makes the printer proprietary. You will have to buy specific labels, although you do not necessarily have to buy them from Brother at risk of their two years warranty being void.
We have a whole post explaining the different types of labels and the cheapest options for them here. It is much easier for the user if there are no proprietary label requirements. 
Lastly, the price of the Brother QL-1110NWB is a bit steeper than other thermal printers. At the time of this writing, it is $279.99 from Brother on amazon. It is about $100 more than the Rollo and about $60 more than the Dymo 4XL. So you will definitely have to make the decision whether the additional features mentioned here are worth the price for you. 
Brother QL-1110NWB Thermal Printer Review Summary
To summarize our Brother QL-1110NWB thermal printer review, we have a couple of points. Like other thermal printers that we have reviewed, it is not really recommended for commercial usage. For the likes of e-commerce platforms that allow 4×6 pdf printing and printing shipping labels, it is a great option.
Overall, the convenience of mobile and wireless function that the Brother QL-1110NWB outweighs requiring specific labels and even price for us. Using the printer definitely has improved our workflow on Amazon, eBay, Poshmark, and Etsy. We are very happy with this thermal printer and we expect to be able to use it for the next ten years for our home business.
Video Option