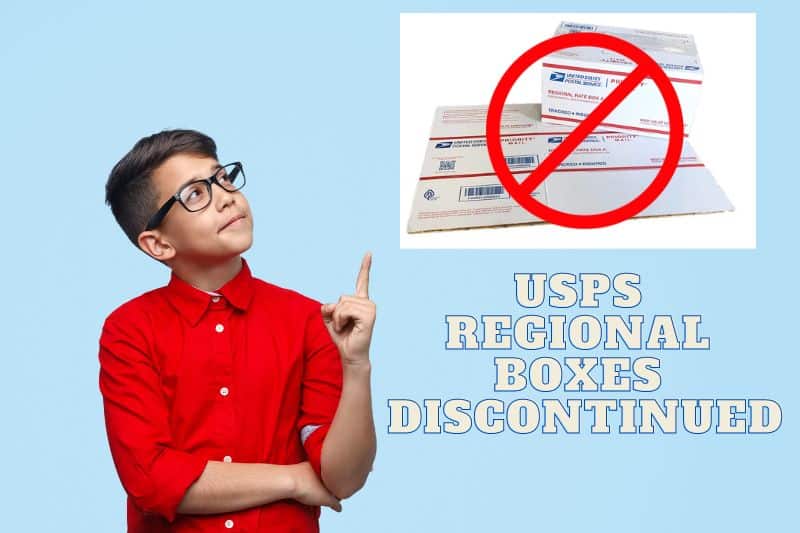 If you're looking to ship using USPS Regional boxes, you will no longer have the option to send them at Regional Rates. As of January 22, 2023, USPS Regional Boxes were discontinued. But don't worry, we'll go over your shipping alternatives and what you can do with any leftover Regional boxes.
Why Did USPS Discontinue Their Regional Boxes?
The short answer is that USPS did not find the return on investment that they were looking for in offering USPS Regional products.
The boxes were introduced in 2011 to appeal to commercial customers by combining Priority Mail and Priority Mail International shipping with zone pricing. The boxes come in packages of 10 or 25 at no cost to the customer.

Priority Mail Regional Rate Boxes A1 and A2 have a maximum weight of 15 and 10 pounds, respectively, for domestic and international shipping. Priority Mail Regional Rate Boxes B1 and B2 have a maximum weight of 20 pounds for both domestic and international shipping.

After a return-on-investment review, it was decided to discontinue the products. Customers may continue to use any of the boxes that remain in their inventory, but they will be treated as weight-and-rate packages.

https://link.usps.com/2022/12/29/priority-mail-change/
What Are USPS Regional Boxes?
USPS Regional Boxes, both Box A and Box B come in a determined size with weight allowances. It uses distance in miles from its origin to destination to determine the shipping price. People are often unclear about how Regional Rate is advantageous over using other options. For more in-depth details, check out the next article.
Read Also: USPS Priority Mail Regional Box Explained
While USPS Regional Box A and B may offer an affordable rate when you're shipping short distances, it's being discontinued will most likely not affect your shipping costs. In fact, there are other shipping options with USPS and other carriers that are even BETTER than USPS Regional rates.
Alternatives To Using USPS Regional Rates
The best alternative to using USPS Regional Rates is to use USPS Cubic Rate. And the cheapest and easiest place to buy USPS Cubic Rate is using shipping software. Shipping software like Pirate Ship and Goshippo is completely free to use. They offer their commercial shipping rate at no cost to you.
Buying your shipping label at your local USPS counter will cost more. And unless you live in a small town, they tend to have long lines. Buying your shipping label online will save you time, money, and frustration. If you ship multiple items throughout the year, it will be worth it to have a  shipping scale and measuring tape. For a walkthrough of how to use Pirate Ship, check out the next article.
Read Next: Cheapest Way To Ship A Package: Step-By-Step With Pirate Ship
USPS Regional Rate versus the USPS Cubic Rate
Let's compare the cost of the USPS Regional Rate versus the USPS Cubic Rate using shipping software. Most people used USPS Regional Boxes in the past to ship close distances like within states or bordering states. For this example below, we would ship a package from Dallas, TX to Edmond, Oklahoma. And we will use USPS Regional Box A dimensions.
If you're using Pirate Ship, you would select "Box or Rigid Packaging" and enter the dimension of a USPS Regional Box A.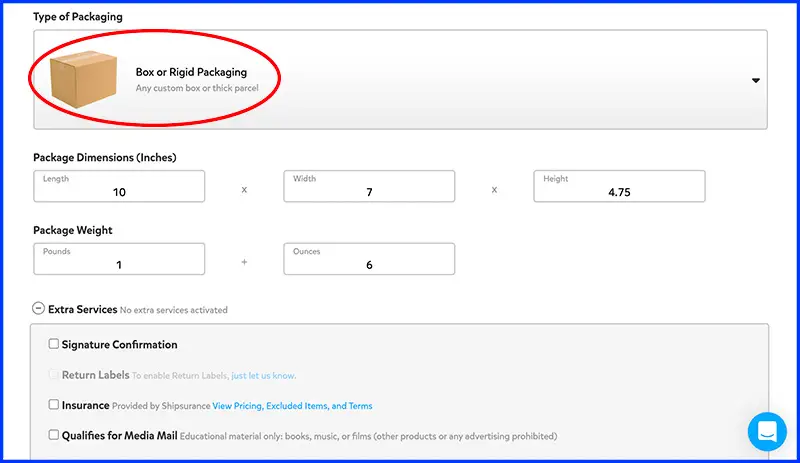 You can then enter a weight. Our package is 1 pound and 6 ounces. You will see the cost to ship with Priority Mail Cubic is one of your cheapest options.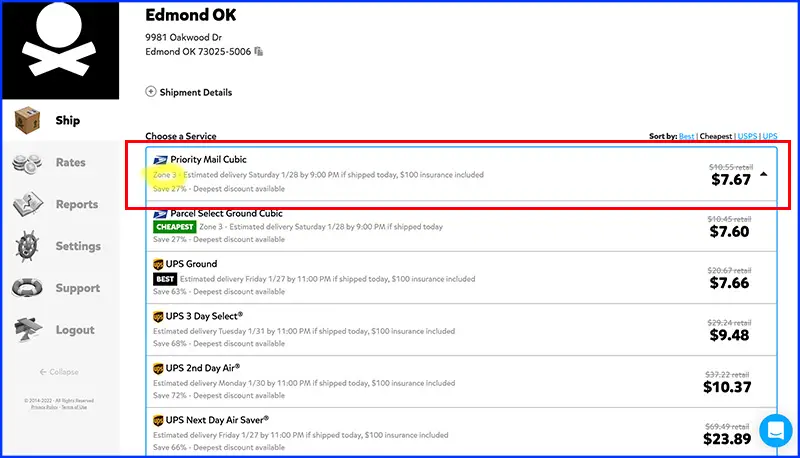 While USPS Parcel Select Ground Cubic is a few pennies cheaper, it does not come with $100 of built-in insurance. It is also a slower service since it is traveling via ground. You will find that it is worth it to pay the extra 7 cents for faster service and package insurance.
You will also see that the distance between Dallas, TX to Edmond, OK is considered Zone 3. USPS's zone calculator can be found here.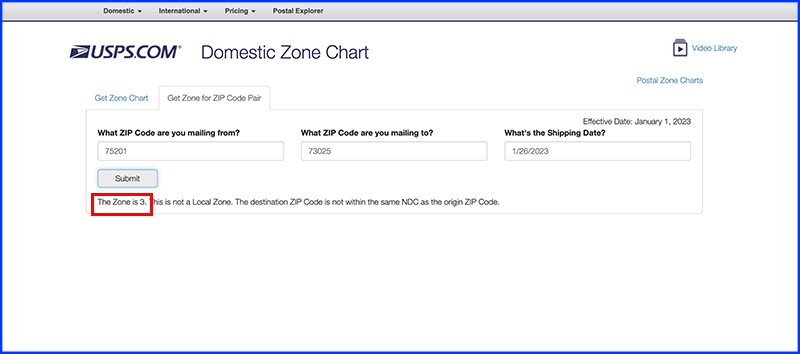 If you compare the USPS Cubic Rate to the USPS Regional Box A rate, you will find that USPS Cubic Rate is cheaper! And the rate you see below is one from April 2021 so it has had several price increases since!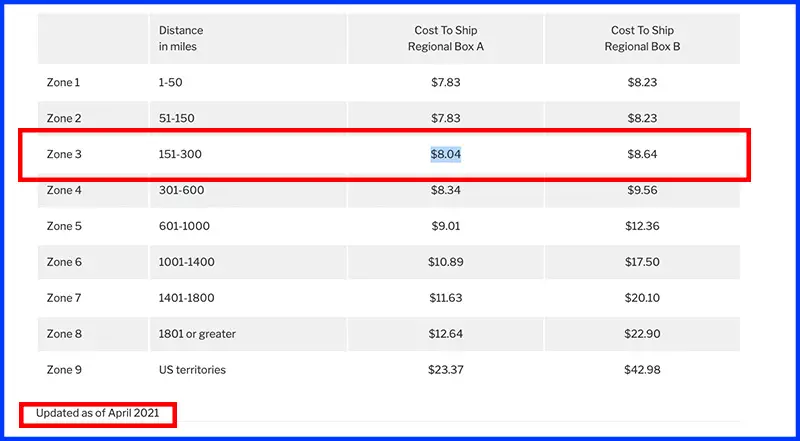 But what if you double the weight to 3 pounds? You will see that the USPS Cubic Rate will not change. So even though you may no longer have USPS Regional Rate as an option, you can still get affordable shipping rates using USPS Cubic Rate or even UPS Ground.
Can I Still Use My USPS Regional Boxes?
Even though USPS Regional boxes are discontinued, you can still use them to ship as Priority Mail. You will enter the dimensions like a regular box. Once you input all other fields like "ship to", "ship from", and package weight, you will be able to see the Priority Cubic rate option.