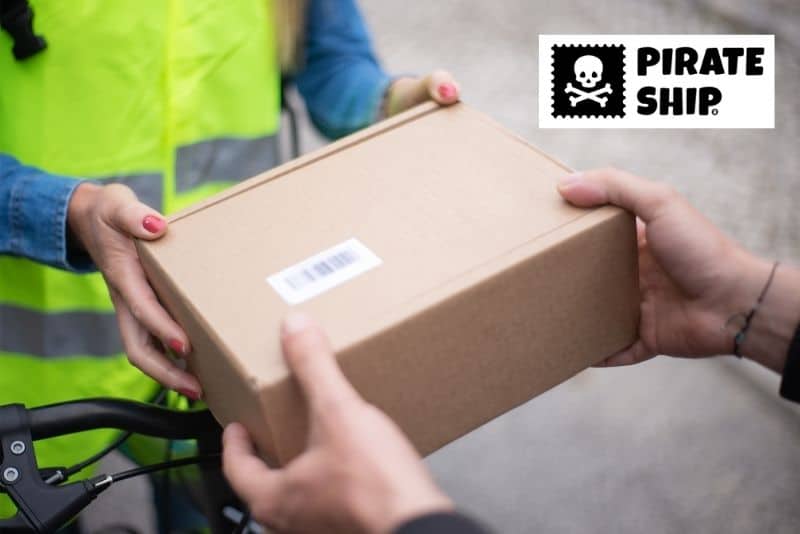 If you have a business that requires shipping a product, knowing the cheapest way to ship a package is crucial. We have been selling online for over a decade and have sent thousands of packages since. So we are always looking for the cheapest way to ship a package. We have found that the cheapest way to ship a package is by using shipping software that gives you commercial rates instead of paying retail.
We have been consistently using Pirate ship as our shipping software for over the last couple of years. If you have never heard of PirateShip, it is a shipping software that lets you purchase USPS postage at the cheapest possible rates. You can also print your shipping label once you buy it. This post is unfortunately not sponsored by Pirate Ship.
However, they do have the cheapest ways to ship a package with USPS. They are recommended for shipping most domestic and international packages. We will go over step-by-step how you can ship a package with Pirate Ship. We also have a video option here and at the end of the post if you rather watch.
What Are The Benefits of Shipping With Pirate Ship?
1. The Cheapest Way To Ship A Package With USPS
Pirate Ship's USPS rates are cheaper than buying at USPS.com or at your local post office. This is because they have a commercial negotiated rate with USPS so you are able to use commercial pricing. If your package is between 1 and 20 pounds, Pirate Ship's cubic rate will be the cheapest and fastest option. If you are shipping heavy packages, read here for how to ship them for cheap.
The only thing to note with using Pirate Ship's cubic rate is that the dimensions cannot exceed 12" x 12" x 6" or 18″ maximum in any dimension. You can enter your package dimension here and Pirate Ship will calculate your exact cubic volume. You can then determine how much it will be based on the distance of the package's destination. Here is a price chart directly from Pirate Ship for prices 2020 or you can find it here on their website.

2. USPS Insurance Included
Shipping with Pirate Rate still uses USPS as a carrier so it comes with $100 USPS insurance included with the rate. You can purchase additional insurance from third parties that Pirate Ship uses if you are shipping pricey items. .
3. You Can Ship Internationally
If you need to ship anything overseas, you can still use Pirate Ship. We sell on Depop and offer international shipping using Pirate Ship to buy our labels. Pirate Ship makes custom forms really easy by including them on the shipping label so when you print, everything is printed onto one form.
Your buyer's local Postal service handles delivering the package once it arrives in the country within 1-3 weeks. If you are shipping to one of the 55 major countries below, you can actually track the order until it is delivered the same way you would domestically. Some countries may not provide tracking as reliably though, even if the package may be moving.
List of Countries Available for Full Tracking
Australia
Austria
Belarus
Belgium
Brazil
Bulgaria
Canada
Colombia
Croatia
Czech Republic
Denmark
Estonia
Finland
France
Georgia
Germany
Gibraltar
Greece
Hong Kong
Hungary
Iceland
India
Indonesia
Ireland
Israel
Italy
Japan
Lebanon
Lithuania
Luxembourg
Malaysia
Malta
Mexico
Netherlands
New Zealand
Norway
Poland
Portugal
Romania
Russia
Saudi Arabia
Serbia
Singapore
Slovakia
Slovenia
South Korea
Spain
Sweden
Switzerland
Taiwan
Thailand
Turkey
United Arab Emirates
United Kingdom
Vietnam
It is important to note though that some countries may not provide tracking as reliably, although the package may be moving. If the country that you are shipping to is not listed above, you can use tracking services like 17Track. We have a full review of their service here.
If you need guidance on how to send a package overseas, read our blog post here. The post is specifically for Depop but the same steps apply for sending a regular package.
4. Pirate Ship's Live Chat is Extremely Helpful
If you are ever in need of support, you can click on the bottom right little blue and white chat icon. They are very responsive and helpful all the while speaking in a pirate tone.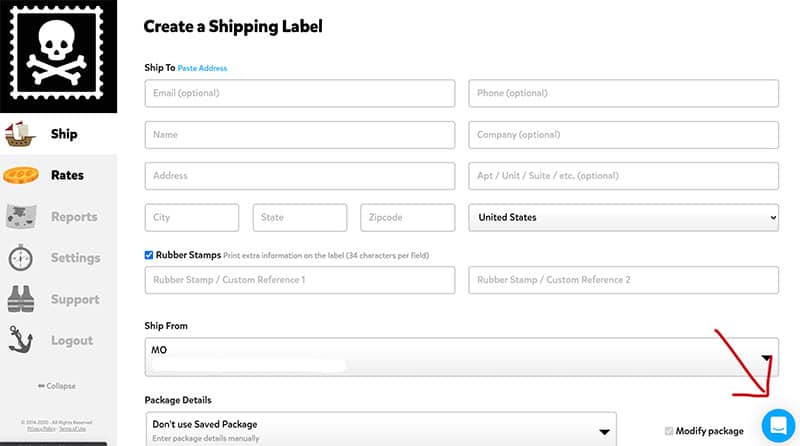 5. You Get The Benefits of USPS
Even though you are buying postage through Pirate Ship, you will still have all the advantages of USPS. Your Priority Mail will still have insurance included and you can arrange for your package(s) to be picked up by USPS at the comfort of your own home. You can schedule a pickup by USPS without leaving your residence the same way you would buying postage directly from USPS. If you need guidance on how you arrange a pickup, read our blog here.
6. Pirate Ship Integration
If you are selling on eBay, Etsy, Shopify, or a list of e-commerce platforms here, Pirate Ship integrates with them so that you can pull the order information through Pirate Ship. This feature streamlines your workflow so that all the hassle of copy, pasting, and moving from different window tabs are avoided. This also saves time for multiple orders across different platforms.
What You Need To Use Pirate Ship
Before planning to ship anything from home, whether that is with USPS Click-N-Ship, Pirate Ship, or any other shipping software or e-commerce platforms, you will need a scale and a measuring tape. You can easily find a shipping scale on amazon for less than $20. The packaged weight and dimensions must be known in order to calculate how much it will cost to ship. It will also help avoid having the recipient pay a fee if the weight or dimension is off.
Once you have your shipping essential, you will need to sign up for a Pirate Ship account, which is free. Go to www.pirateship.com and click on the blue "Create a FREE account" to get started. It will bring you up to the screen below where you will enter your information as shown.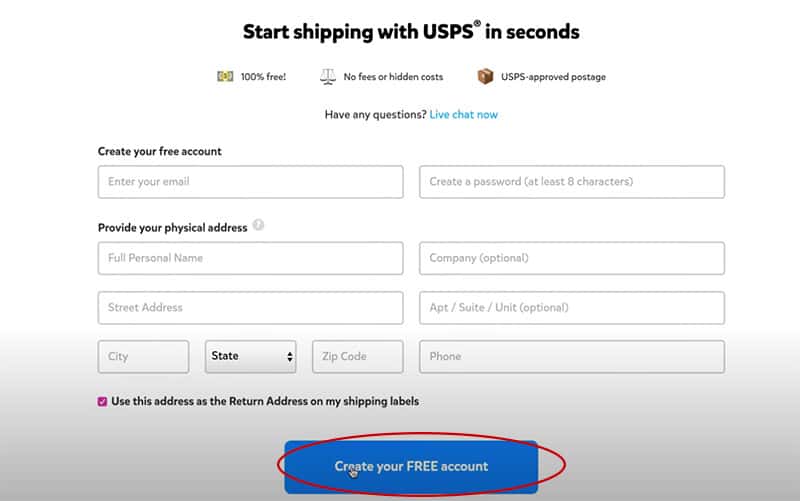 You will then be able to log on and you will see the interface.
How to Create a Shipping Label on Pirate Ship For Shipping a Package
Once you are logged into your Pirate Ship account, everything you can do on Pirate Ship is shown on the left under the skull icon. When you click on each category, it will bring up options.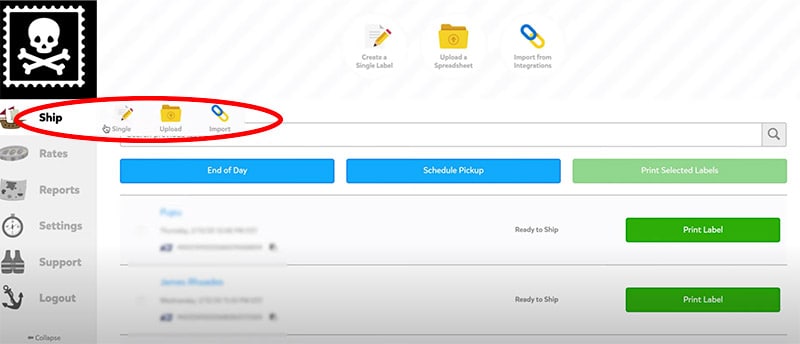 In order to create a label, you can click on the "Ship" icon on the left or the pencil icon on the top where it says "Create a Single Label". You are able to copy and paste from a message or email using the "Paste Address" shown next to the "Ship to".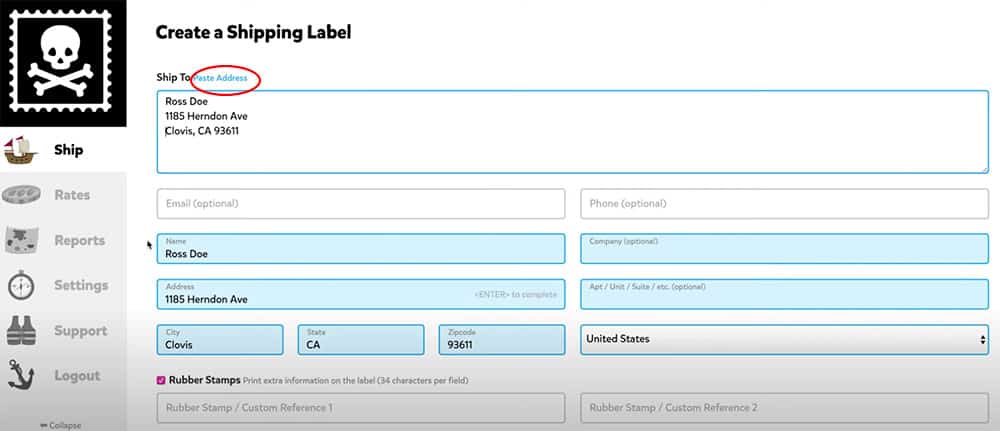 The fields will be populated with what you have pasted using Google autocomplete. Make sure that the name, address, city, state and zip code are all in the correct order. Copy & paste is recommended to reduce typos or human error.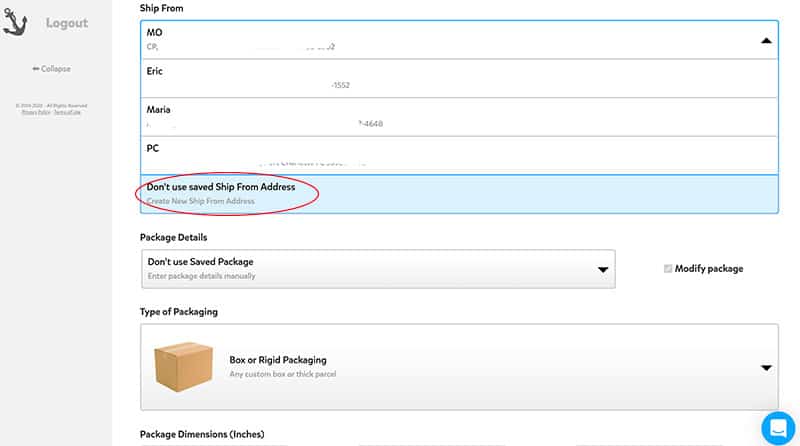 You will click on the "Ship From" and here you can enter your address information. You can save multiple addresses if you are shipping from different places.
Click on the box under "Type of Packaging" to see options for the type of packaging. This includes the box or rigid packaging, envelopes, padded envelopes, box in a bag and various other options including Priority Flat Rate boxes.
You will then simply click "Get Rates" to see the cheapest rates. Other shipping service options are also available if you choose additional insurance or a different speed. If you are shipping a box, sometimes placing the box inside a large poly bag, can give you better pricing. If you need to make any changes to the package information, addresses or any other fields, simply click on "Previous Step" on the lower-left corner.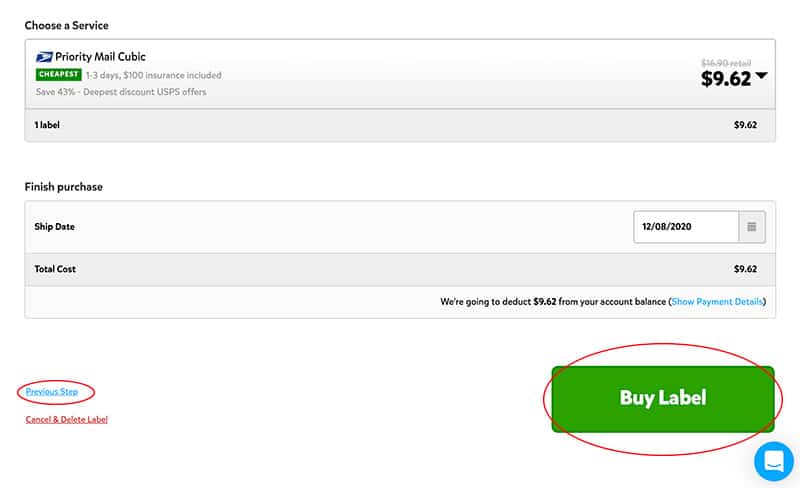 Additional Tips
You can also "Cancel & Delete Label" if you need to start over for any other reasons. Otherwise, once you are ready to buy the label, you will click on the green button. You will then be able to print the label right away. You can also save the label as pdf to be printed later.
A history of all the labels that you have purchased can be viewed, including their status on the main page. You can also pull up a shipping report on the "Reports" tab on the left to see how much you have spent on shipping. You can specify any amount of time.
Overall, Pirate Ship is very easy to use with great customer support and some of the cheapest USPS rates. If you are still more comfortable buying directly from USPS and would like to have all your USPS needs in one place, you can check out this post on how to use USPS's Click-N-Ship to send a package.
Video: Everything About Pirate Ship Shipping Tutorial