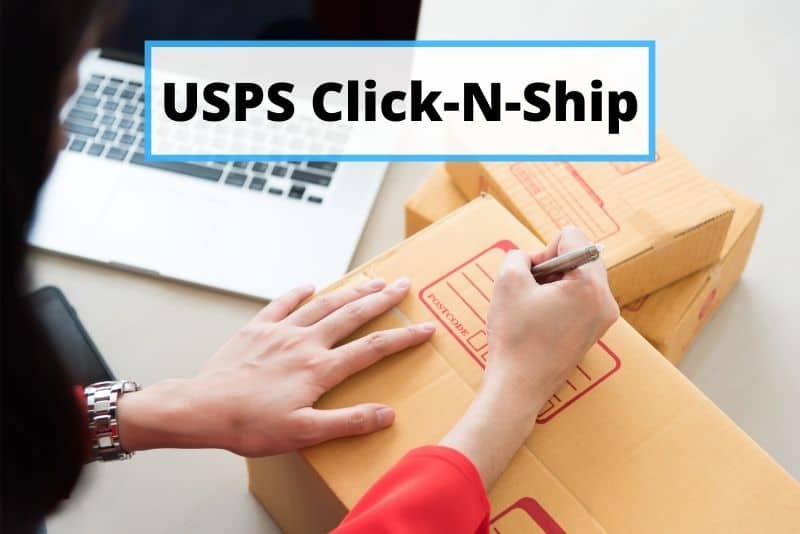 Whether due to inclement weather or other reasons that you are unable to leave your house, you can actually still ship your package from the comfort of your home. With USPS Click-N-Ship, you can buy postage online to mail and ship your packages.
You can also get USPS shipping supplies delivered to your home. We will go over all the tools available to you and how to send a USPS package from home. We also have a video tutorial at the end of the post.
Where to Get FREE USPS Shipping Supplies
You can order all your USPS supplies from home. First, you will need to register for a USPS.com account so that you can buy your shipping labels with USPS Click-N-Ship and keep track of all your orders. You will also be able to create a claim if your mail is ever lost or damaged. Once you create an account, you can order stamps or request free boxes using the "Quick Tools" tab on the left. You can also find these under the "Send" tab.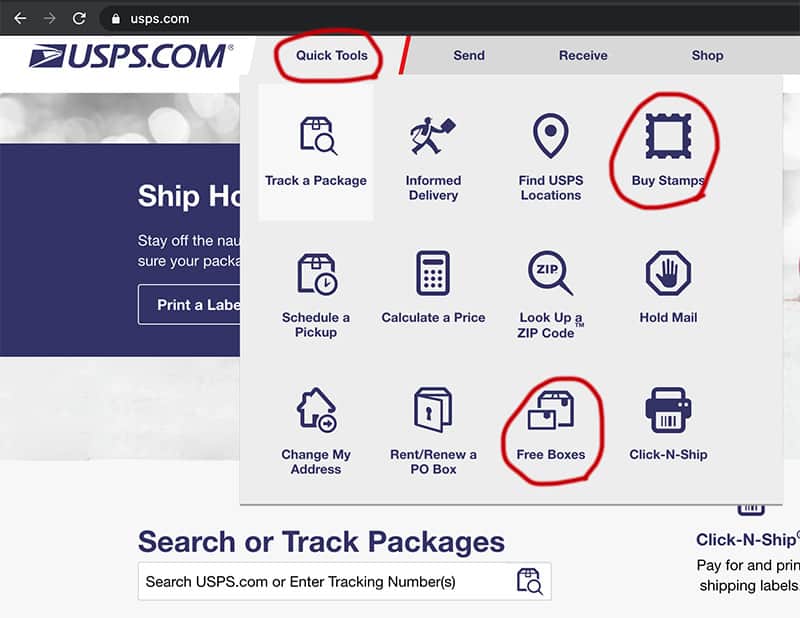 You can order any type of Priority Mail envelopes or boxes that you need. USPS will ship it to you for free. There are a variety of types and size options that are not usually readily available at your local post office. These include:
Priority Mail Medium Tube
Priority Mail Regional A Box
Priority Mail Regional B Box
Priority Mail DVD Box
Priority Mail Large Flat Rate Game Board Box
If you need a variety, the Priority Mail Flat Rate Boxes Variety Pack gives you four different box options. Keep in mind that if you do use these envelopes or boxes, you will need to ship Priority mail. You cannot use these boxes to ship first class for example or with a different carrier like UPS or FedEx. The full price list from USPS can be found here.
Using Your Own Boxes
If you want to use your own boxes and your own packaging, you definitely can still do that. You can still ship your own packaging as Priority Mail or Priority Mail Express. However, you cannot ship them with Flat Rate rates. You will need to use the flat rate boxes in order to get the flat-rate pricing.
If you will be using Priority Mail Express with your own packaging, it is recommended to order these free stickers shown below. Another option is the Priority Mail Express window envelopes. That way, the "Express" lettering will be easily visible for the postal workers to sort your package.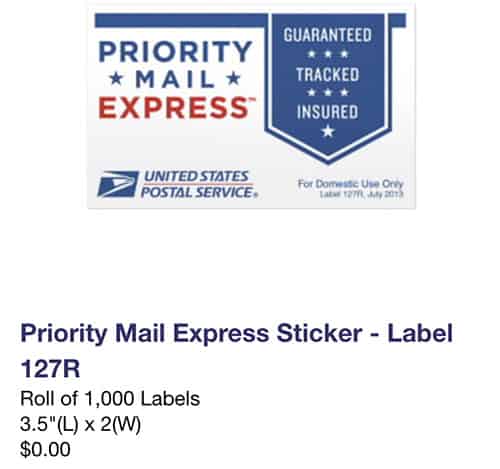 How to Create a USPS Click-N-Ship Shipping Label
In order to create a USPS shipping label, you will log onto your USPS account. Then, you will choose the option "Click-N-Ship®" under the same Quick Tools tab that we saw earlier or you can click on the Send tab next to it and find "Click-N-Ship". Once you click on that, it will pull up a page as seen below. There are five easy steps that you will follow to create a label.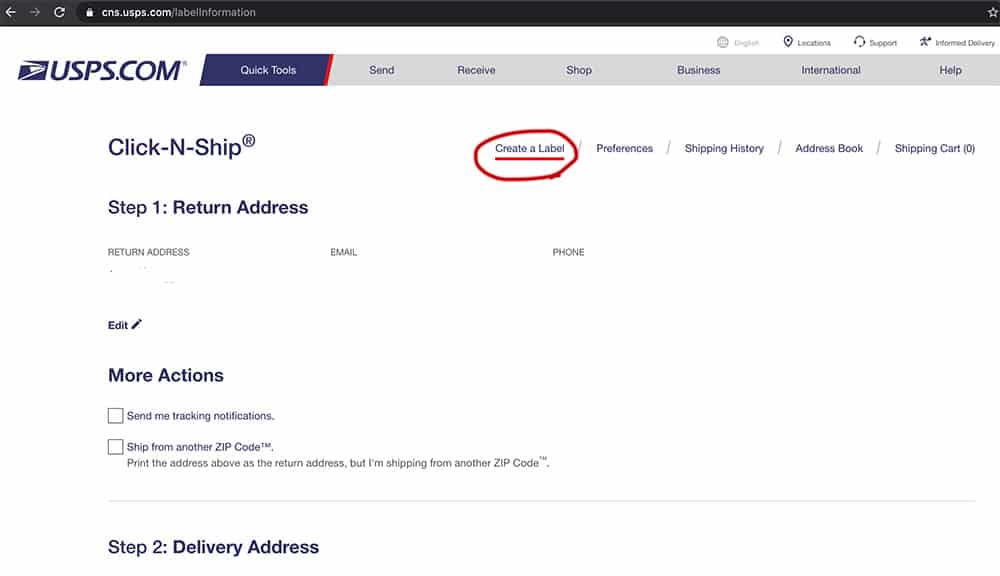 Return Address
This will have your personal information such as your return address, email and phone number. You will have additional options such as tracking notifications and shipping from another zip code, even if your return address is different. We have removed our personal information in this screenshot.
Delivery Address
This is the destination address. If you are shipping the same exact package to different people or addresses, you can actually batch them up in this step to save you time. Batching means you can add multiple addresses in this step so that you do not have to start over with creating a label for every package. You can do this for up to 20 identical packages.
You have additional options here such as sending the recipient an email notification or holding the package to be picked up at a nearby location for the recipient to pick it up.
Shipping Date
You can choose a day up to 3 days from the date you are creating the label but make sure to send the package on the date that you chose.
Package Details
This is where you will be entering the weight of your package. If you are using any of the Priority Flat Rate boxes, your package can weigh up to 70 lbs depending on which flat rate box that you are using. If you will not be using flat rate boxes or you will be using your own packaging, having a scale is extremely useful and necessary. You can find one on amazon for around $20. A scale is definitely worth the purchase to avoid having the package recipient pay extra fees that can occur from wrongly estimating a package weight. Make sure to round up to the closest ounce if you get a fraction.
Service Type
Here you will choose whether you will be shipping regular Priority Mail or Priority Mail Express.
You will then be given all the shipping options with prices and shipping speed. All Priority Mail automatically comes with tracking and insurance coverage up to $50. Priority Express covers up to $100. If you want additional insurance, you will enter the package value to see additional costs for additional insurance. You can also add additional services such as signature confirmation of various restrictions.
After your selection, you will add the label to the cart. You will click on the cart again to pay for the label using your standard card payment or PayPal. You can print your label right away or save it as a PDF to print later. Then, you will attach this label to your package and it is ready to go.
The USPS Click-N-Ship page also has the option to set your preferences and address book for future use. This is very useful if you will be sending the same type of packages such as a certain flat rate box. That way, the service types, and package types are already chosen. You can also track all your previous packages on the "Shipping History" tab.
How to Schedule A USPS Click-N-Ship Pickup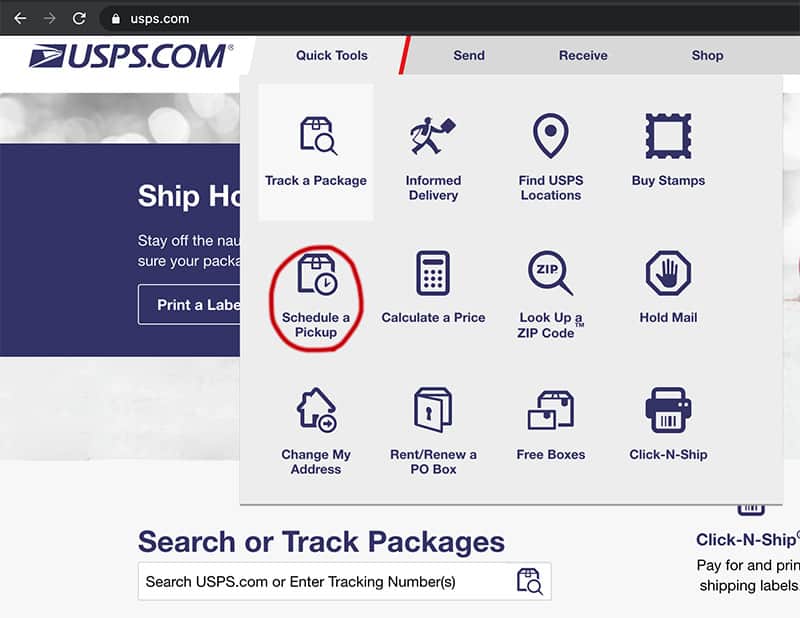 Once your package(s) are ready, you will go back to the "Quick Tools" tab and choose the "Schedule a Pickup". You will enter your address information to see pickup availability. The only other question for the first step is whether there is a dog at the address.
You will also pick where you will be leaving your package for pick up. It can be the front porch, mailbox, or various other options given below along with any other special instruction.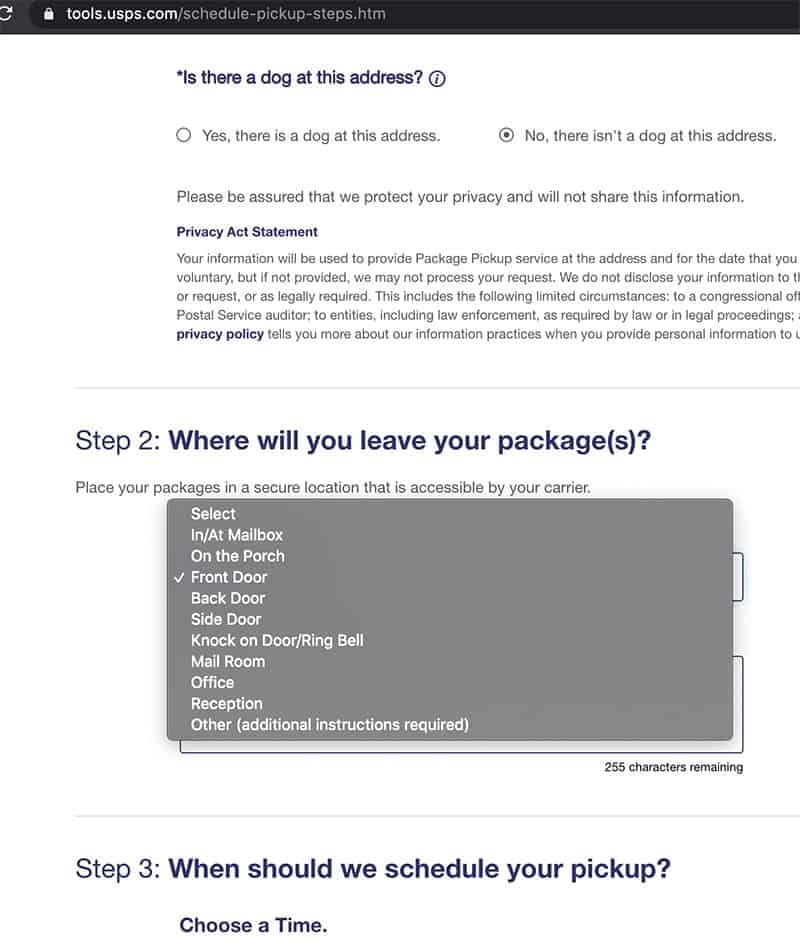 You have the option for the package to be picked up during regular mail delivery. Alternately, you can schedule a specific time, which is a premium paid service. It costs $24 per pick up at the time of this writing.
Other Shipping Options
If you are shipping with a platform such as eBay or shipping software such as Pirate Ship or Shippo, postage will be cheaper than buying directly from USPS or USPS Click-N-Ship. This is because they have a negotiated commercial shipping rate.
If you will be shipping packages throughout the year, it will be worth it to create a Pirate Ship account. It is free to sign up and use. Pirate Ship will give you a better rate on USPS postage than directly buying from USPS. We personally use Pirate Ship instead of USPS.com. You can check how to ship a package using Pirate Ship here or a step-by-step video tutorial.
Even if you buy postage from Pirate Ship, you can still schedule for pickup at your home the same way that we went over earlier. This is because Pirate Ship package uses USPS as a carrier. You will get better pricing with Pirate Ship while still being able to take advantage of everything USPS.com offers. This includes tracking and arranging your parcel pickups. We wish we were sponsored by them but we are unfortunately not.
Additional USPS Guides To Know
If your USPS package arrives damaged or got lost, make sure to submit a claim with USPS. It helps to recover some of the cost or the cost of the item(s). This amount is up to $50 for Priority Mail and $100 for Priority Mail Express. If the mail is missing, you can submit a missing mail search request here before submitting a claim. You can also read here to see how you can file a USPS insurance claim for lost and damaged mail.
Video: Everything About USPS Click-N-Ship Shipping Tutorial For Beginners
Video: Everything About Pirate Ship Shipping Tutorial