Nowadays, there seems to be a fake of every fashion item. When a brand becomes too popular, replicas pop up everywhere. So in this post, we will go over a celebrity favorite brand for feminine clothing that you might have seen all over Instagram, Reformation clothing. I recently accidentally bought a fake Reformation dress online and learned a lot about how to spot fake Reformation clothing.
To help my fellow Reformation fans, I want to share what I found so you will know what to look for when it comes to fake Reformation clothing. I will also go over how it happened so that you can avoid a similar situation. While this may not be an all-encompassing guide, I hope to help you know what to look for when it comes to real vs fake Reformation clothing.
UPDATED Summer 2021
As of Summer 2021, I have seen additional fakes that are coming out and wanted to update this resource. So go ahead and read the rest but I also want to point out these important points.
There is a website online that makes the EXACT COPIES of very popular styles and prints. This includes the Nikita dress in Olympia and Christine dress in the Lemonade prints. If a seller is selling one to you the real thing, claiming that they "removed the tags" due to some excuse like sensitive skin, BE WARY!
Check the fabric and seams. Fakes are made with polyester while the real thing is made with viscose. The texture is different. No matter how well the styles are copied, the fabric will not be easily copied. The viscose composition that Reformation uses on their fabric will shrivel and harden as soon as it touches water. A normal polyester or polyester blend won't do this.
The most common styles of fake Reformation clothing are the Nikita, Juliette, Christine, Kourtney, Gavin, and Doutzen. The Sigmund and Embry are becoming popular as well so fakes should be out there for those.
The Gavin dress is copied heavily in the light blue "Petunia" print that Hailey Bieber was seen wearing. The fake includes a lining with an awkward cut.
There is nothing wrong with someone selling you an item that is fully disclosed as a dupe and charging the dupe price. But selling a fake as a real and making money off of you by lying is wrong and illegal!
If you have seen obvious fakes, fill out this contact form so I can update this resource!!
*One disclaimer to know is that many factories could pump out variances in detail. So if there are some things I missed, it is because I have not seen them yet.
How I Accidently Bought A Fake Reformation Dress
We have always known that there are fake luxury goods from top brands like Hermes, Chanel, Louis Vuitton, Gucci, and more. Replicas extend to more contemporary brands like Coach, Tory Burch, etcetera. But it never even occurred to me that people would make fake Reformation clothing items.
If you are familiar with Reformation clothing, their prices are not cheap to the average person. When they have a sale, the items go quickly! So Reformation is extremely popular on reselling websites like Poshmark, Mercari, and Depop.
I had been eyeing a particular style and print from them and was delighted to see one from a seller in Australia. I messaged her to see if she was firm on the price since shipping is very high to the US. That should have been a red flag in retrospect because she immediately offered a 50 Australian dollar discount. So in total, I paid $142.84 without thinking twice that it could be fake.
The bad thing about Depop is that, unlike Poshmark, they only allow 4 pictures. They do have a video option but most sellers do not use it. This seller had used 2 stock photos from the website out of the 4 allowable for the post. She only took a picture of the size tag that I couldn't zoom in on. She shipped the dress right away with DHL so it got here in less than 5 days all the way from Adelaide, Australia!
I excitedly opened the package and as soon as I held the dress, it turned out to be a disappointing fake. If I ever wondered what fake Reformation clothing looks like, this is it. But how do you tell if your Reformation clothing item is real or fake? Here are the top dead giveaways.
Spotting Real vs Fake Reformation – How can we tell the difference?
1. Fabric
Because I own the same exact style dress in the same exact size from Reformation in a different print, it was easy to see the difference. The fabric texture and weight are completely different in comparison. The real dress is a much thinner, lighter, organza-like material that is 100% viscose.
The fake dress is much heavier and thicker. Not to mention the print is very off from the stock photos from the website. The fake fabric claims that it is 53% viscose, 47% rayon but even that composition could be completely made up.
2. Care Tag
The fabric care tag with that has the composition completely butchered the heck out of the English language. See the fake tag versus the real one here.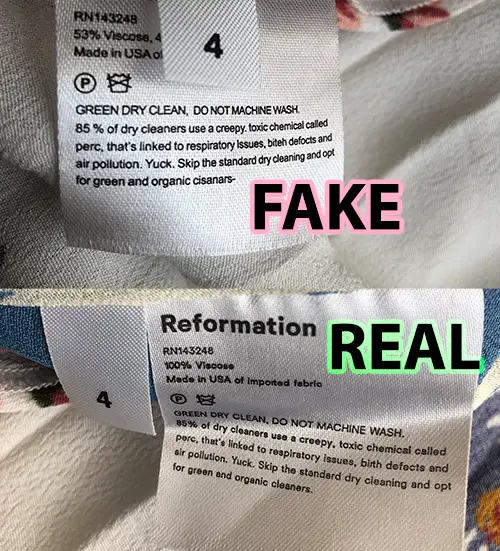 The Fake Tag
GREEN DRY CLEAN, DO NOT MACHINE WASH. 85% of dry cleaners use a creep, toxic chemical called perc, that's linked to respitory issues, biteh defocts and air pollution. Yuck. Skip the standard dry cleaning and opt for green and organic cisanars-
The Real Tag
GREEN DRY CLEAN, DO NOT MACHINE WASH. 85% of dry cleaners use a creep, toxic chemical called perc, that's linked to respiratory issues, birth defects, and air pollution. Yuck. Skip the standard dry cleaning and opt for green and organic cleaners.
Check the tags for spelling errors. It can be very subtle so grab that magnifying glass if necessary. Wouldn't you hate to get "biteh defocts" from dry cleaning?
3. Unlined Fabric
The fabric tag of the brand is poorly stitched onto the top of the piping on the dress. Furthermore, real Reformation dresses with viscose fabric are normally double-lined. Otherwise, they are pretty thin and would be see-through if there is only a single layer. This also makes for better-quality construction.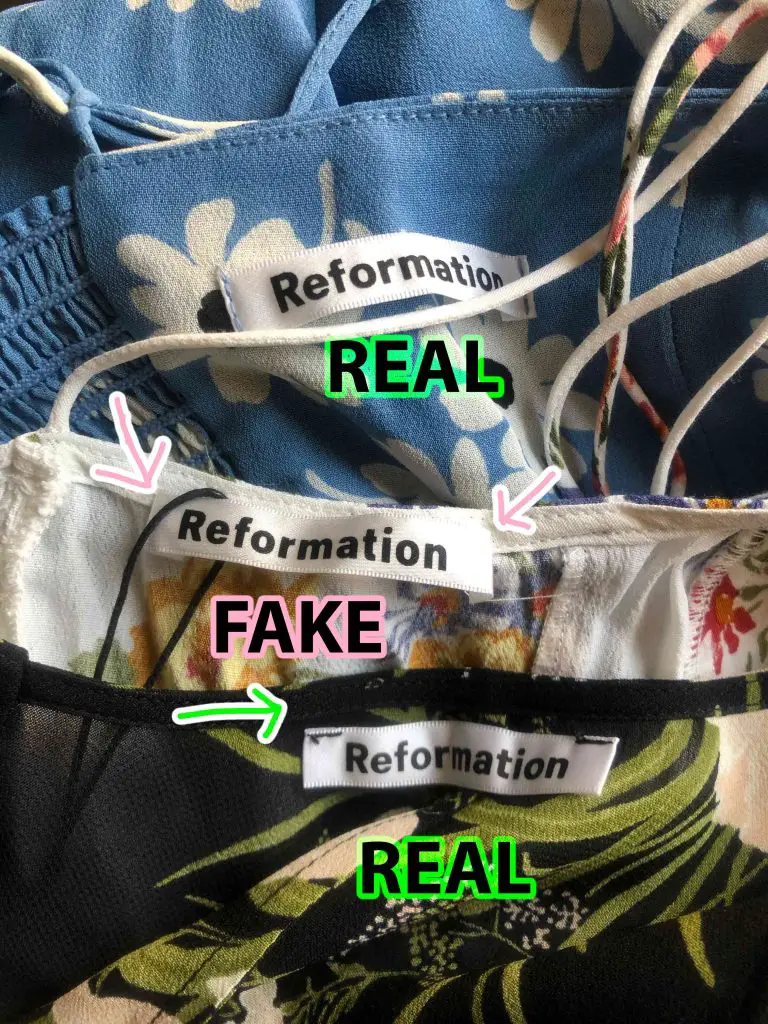 Some pieces, like the bottom photo shown above, are single-lined. However, the brand tag is placed below the piping, not on top of it.
4. Construction
The bodice part of the fake here is sewn with the cups exposed. The cup size is also much bigger.
5. Zippers & hooks
The fake didn't even bother to use YKK zippers and completely skipped the hook closure on the top.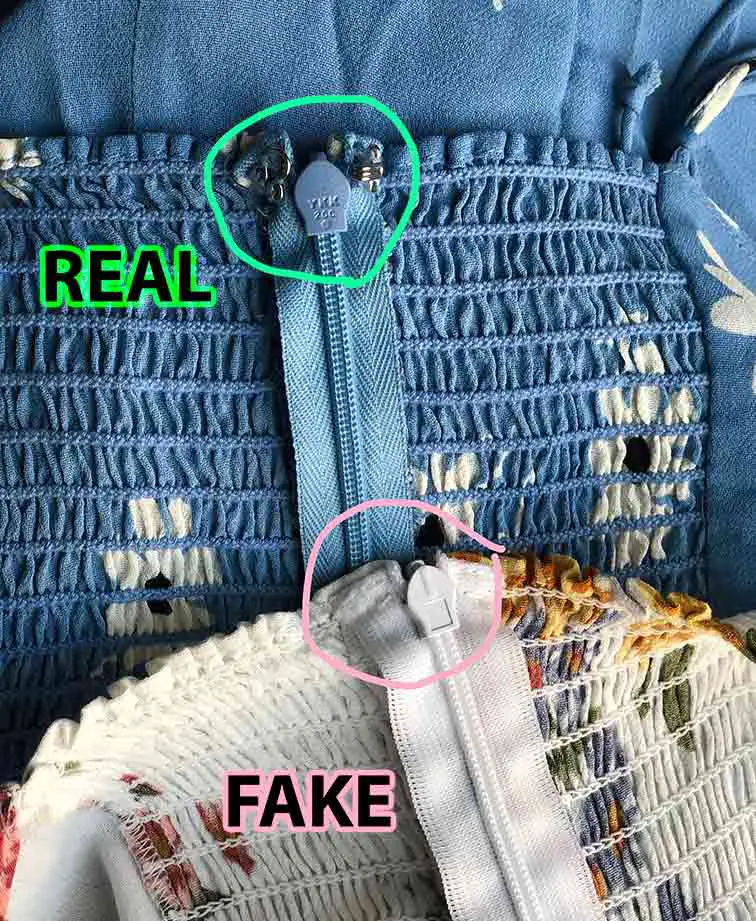 6. Sizing
This was so off and a dead giveaway on top of everything else. Reformation does not do vanity sizing so a size 4 is pretty small compared to brands like Banana Republic or Loft. The waist measurement laid flat for the real dress is 12.75" and 13.5" for the fake dress. The placement of the slit from where the waist is attached to the lower part is 9.5" for the real and 11.5" for the fake.
7. Cardboard Tag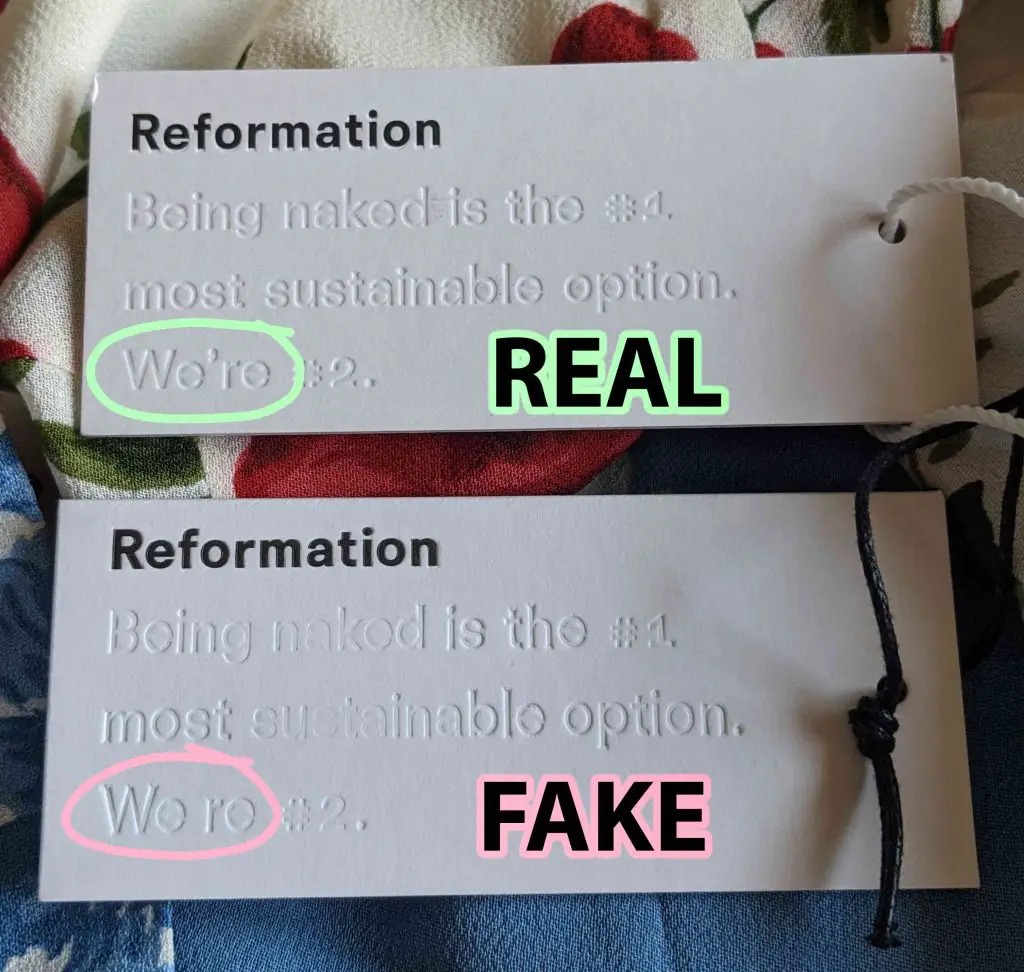 Here is something that should be so easy to copy but the fake managed to get this one wrong too. Do you see it? The fake is missing an apostrophe on the "We're". The imprint is uneven and weaker in some places. The Green circles are real Reformation Tags and the red circle is the knockoff Reformation Dress that I received. The fake Reformation dress also has a black string, while the authentic tags have a white one.
The knockoff Reformation dress is clearly lacking in copying well. The profit margin in copying such small details may not be worth it for the people that are doing it. Designer purses like Louis Vuitton sell for thousands of dollars, so spending more time in making better copies is something that may make sense for them.
However, for a dress that retails for $200-$300 where it may be hard to tell on an Instagram photo if it is authentic or a dupe. Therefore, it may not be worth the trouble for fakers to copy such small details. It could be why they left some jarring mistakes. 
How To Avoid This Mistake
In the future, I would skip buying from Depop altogether if something seems off. I would look for clear photos with the composition tag shown up close with clarity. Depop only allows four pictures per post. This, unfortunately, allows too many sellers who sell counterfeited Reformation dresses to litter their platform.
If you are buying from Poshmark, Mercari, or eBay, I would ask the seller to post as many photos as possible. This way, you can look for everything in order to confirm quality and authenticity.
Poshmark is a very popular place to buy and sell Reformation. They allow over 10 pictures for the post, which would make spotting a fake easier than Depop. Poshmark also does not do international shipping so it is actually better for deterring companies with more relaxed copyright countries from selling fakes to buyers in the United States. Read here for tips on buying from Poshmark.
eBay allows personal messages including pictures to be sent between sellers and buyers. So if the listing is lacking close-ups of what you need to look for, you can simply ask them to send additional pictures
Which Sellers to Stay Away From
I had seen posts on eBay and Depop for dresses that are very cheap with the stock photos being used from the Reformation's website. However, I stay away from those when I see that they are shipping from countries like China or Hong Kong. The low prices and location are a red flag indicator that they are most likely fake Reformation dresses.
I can understand if people post items clearly disclosing that it is a "Reformation dupe" or "inspired by Reformation". They can charge that dupe price but it is wrong to sell a fake as an authentic Reformation dress. It can happen even buying from sellers with high ratings. I thought I was safe buying from a very credible seller with five stars from Australia.
Final Thoughts
When you are buying something online from reselling websites, a little common sense goes a long way. If a deal is too good to be true, it probably is. If you find sellers that are selling fakes of any brand, report their accounts so other people do not have to deal with disappointment and frustration.