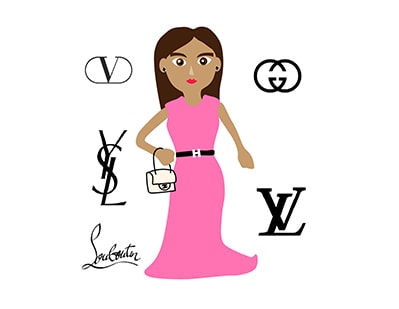 If you have high-priced designer items that you would like to sell, Poshmark is a great option. Traditional luxury consignment shops online tend to charge very high commissions, leaving you with very little. However, selling your high-priced items with Poshmark will leave you with a higher payout than any consignment store out there.
In this post, we will go over what you need to know about selling high-priced items on Poshmark. We will go over the fees and what you can expect from the authentication process. In the end, you will be able to make the decision for yourself whether selling high-priced items on Poshmark is worth it for you.
Benefits of Selling on Poshmark
Lower Commission
Unlike other online luxury consignment stores that solely buy and sell designer items, Poshmark has a variety of brands. These include highstreets brands to high-end designer items. You can find shoes, handbags or clothing. To get tips on selling on Poshmark as a beginner, check out this post here.
What makes Poshmark a great place to sell high-valued items is Poshmark's in-house authentication service and the flat 20% commission across the platform (except anything under $15 is a flat $2.95). 
Websites such as the Realreal, Yoogi's closet, Fashionphile, and the likes offer a much more hands-off approach. They will authenticate, list, price, and ship the item for you. But that comes at a much higher commission, meaning less money for you.
Unless you are a frequent consignor at one of those online consignment shops, your total earnings from the sale will nowhere be at 80%. For example, we recently consigned a designer dress through Realreal and their commission was 45%. We also had to wait until the 15th of the month for a payout. This is because the Realreal allows a return for the item so the return window must pass for the customer before they pay your commission.

Active User Base
As of September 2019, Poshmark has over 50 million users across the platform. In comparison, platforms like the Realreal have 9 million users as of September 2018. While eBay has a much higher user base, Poshmark and other smaller platforms like Mercari and Depop are geared toward lower-priced fashion items.
Poshmark listings can also be found when a buyer is looking for a particular item on Google. They can then go on the post and purchase the listing without having to join Poshmark as a guest user. Poshmark allows this by assigning them a temporary username with letters and numbers. They then have the option to create an account after. This means that your potential buyer base extends to Google search, dramatically increasing your chance of selling. 
In-House Authentication
The rule of thumb with Poshmark that caters very well to its buyer is that any item that sold for more than $500 will automatically be first sent to Poshmark headquarters. This is where Poshmark authenticate will verify that a designer item is truly authentic. Once they verify that the item is authentic in the listed condition, it will be sent to the buyer. 
We personally find this to be very fair on both sides. On the one hand, the buyer has peace of mind that they are buying an authentic item. Meanwhile, the seller can feel confident that the item will not be returned once Poshmark inspects and ships the item to the buyer. This is because Poshmark purchases are final sale unless the item is not as described on the post. 
Selling Process For High-Priced Items on Poshmark
As with all other Poshmark listings, you will need to take clear pictures in a well-lit room. Include pictures of all angles, brand tags, and serial codes as applicable. Make sure to disclose every imperfection as you would want someone else to disclose to you if you were the buyer.
Once a buyer purchases your item, you will get a notification the same way that you do with other listings. Normally, when someone buys an item on poshmark, the shipping label will have the buyer's information and address. However, when an item sells for more than $500, the shipping label is posted to Poshmark's headquarters.
Pack the item well and include everything you posted in the pictures. Use proper packaging like tissue paper or bubble wrap so that the item does not move around during transport. Some people may go as far as to record themselves packing, taking the item to the post office, and handing the package to the postal worker with a scanned receipt. For high-valued items, you can never be too safe.
Once it arrives at Poshmark's headquarter, it takes about 2 business days for them to authenticate the item. Poshmark will notify you saying it has been approved by Posh Authenticate. They then re-package the item and send it off to the buyer. This process does take longer than selling items under $500 because the package has to travel from you to Poshmark's headquarter to the buyer.
You may also have to wait additional 3 days for the payment to be released if the buyer does not actively receive the item. If your buyer lives on the east coast, keep in mind that Poshmark's headquarter is in California. If that is the case, it can take 10 days to two weeks from the day that you sell, ship, and have your funds released, given that there are no other problems.
What About Selling Designer Items $500?
If your item is below $500, it will not automatically go to Poshmark's headquarters for authentication. It will directly go to the customer like any other order. It is a risk on both the seller's and buyer's side that the item is authentic and as described.
You can still sell a designer or highpriced item on Poshmark that is below the $500 threshhold. Poshmark will not authenticate the item for the buyer. However, make sure that you can provide proof of authenticity if the customer comes up questioning after they receive the item. That is why we always keep our receipts for all our expensive purchases.
With any online transaction, there is a considerable amount of risk on any platform. Being aware and covering all your bases on your end will help reduce these risks and know how to handle them.