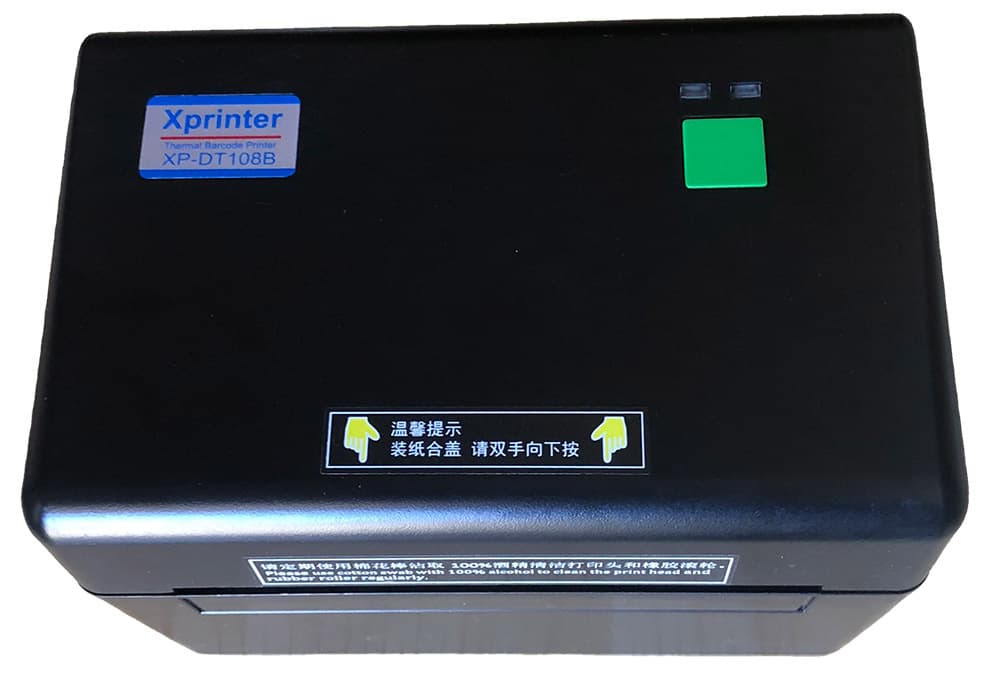 If you are on the market for a thermal printer, the price may be one of the first things you look at. We were on the market to find what is the cheapest 4×6 thermal label printer out there and to see if they work as well as other more established thermal printers. The Meihengtong label printer also known as the Xprinter XP-DT108B was one of the cheapest options available so we went ahead and purchased it to share the information out there.
While we refer to the Meihengtong X-printer XP-DT108B, the same review applies to the MFLabel DT108B. That is because they are both pretty much the exact same printer but at different price points. See the amazon listing for yourself, they are the same in almost everything except the brand name and price.
We were able to purchase our Meihengtong label printer from amazon for $89.99 plus tax, which was the cheapest 4×6 thermal printer we could find on amazon at the time. Right now, it is $120.99 with a ten percent coupon. The MFLabel is currently $149.99. Our curiosity was whether the thermal printer would be comparable to something like the Rollo with a similar rectangular design and if the lower price would still meet our business needs. There is a video option at the end of the post if you rather watch than read on.
Pricing in other regions:
Quick Facts
Works with Mac, PC, Chromebook, Android USB-C mobile
Does not have ios or wireless capabilities
No custom service or support available
Works with ANY thermal labels!!!
Resolution: 203 dpi which is standard for most thermal printers
USB only
Easy to clean printhead
1 Year Warranty
Basics: What Is a Thermal Printer?
As with all of our thermal printer review, we will start with what is a thermal label printer. Like all other thermal printers, both the Meihengtong and MFLabel thermal printers use heat to transfer images to heat-sensitive labels. You do not need ink, toner or paper like a traditional printer. Instead, it uses the 4×6 labels that are the only extra and recurring cost for the life of the thermal printer.
What Are All The Design And Features?
When we purchased the Meihengtong thermal printer, it did not have good reviews at less than 3.5 stars but it has come up since then to almost a 4 star. It is a compact rectangular design like the Rollo that sits evenly on your desk. Like the Rollo, the body cannot hold labels inside so it will have to be fed through the back. Again, that is something to keep in mind for your workspace because you will have to have labels at the back.
It is a 203 dpi printer (dots per inch), a metric for the printers for clarity. Amazon recommends a 300 dpi for printers for product SKUs as a minimum requirement but 203 dpi is the minimum for postage.
Front and Side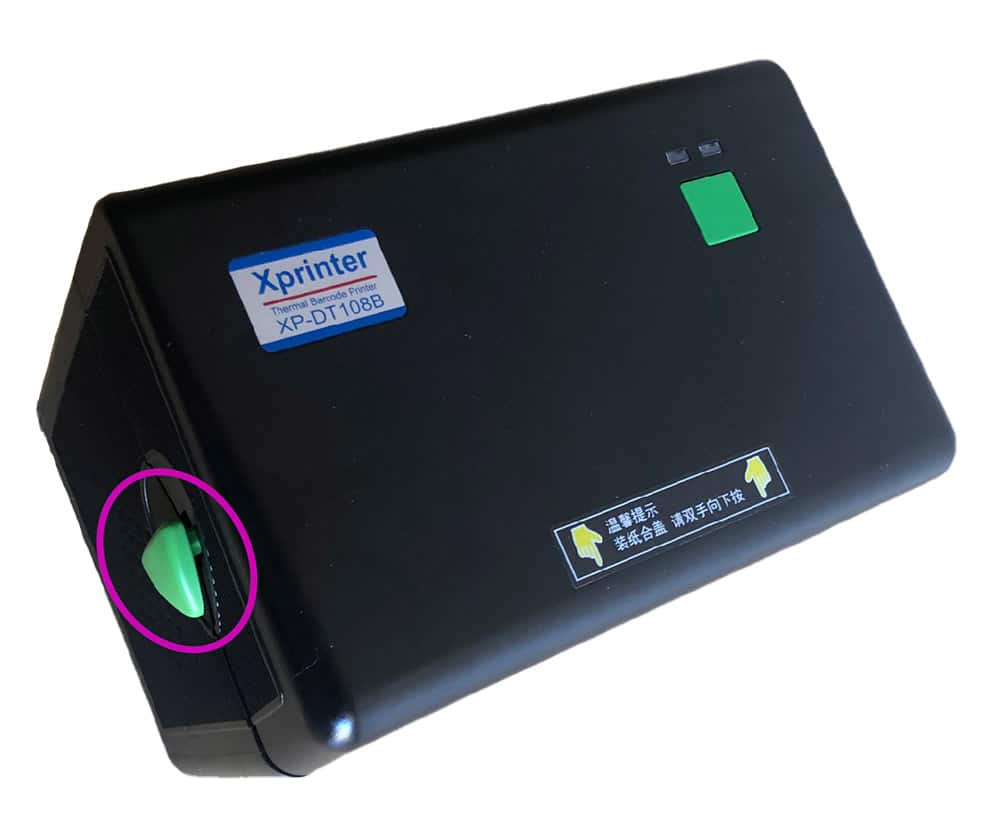 The thermal printer is as minimalist as it could be on the top. There are no buttons anywhere on top or front. There are levers on both sides to press down towards you in order to open the printer and access the inside.
Inside
Once you open the printer, you will find the print head, roller, and adjustable label guides. The plastic on the guides are not well built. They do not feel robust, like you can possibly break them if you flex them too hard. The printer does not have serrated edges to cut the labels like other thermal printers.
The print head is easy to get to so if you happen to get a label jammed, it is very easy to clean the adhesives off of the printhead. They do in fact tell you to "Please use cotton swab with 100% alcohol to clean the print head and rubber roller regularly". The printhead looks the same design as the printhead on the Rollo thermal printer.
Back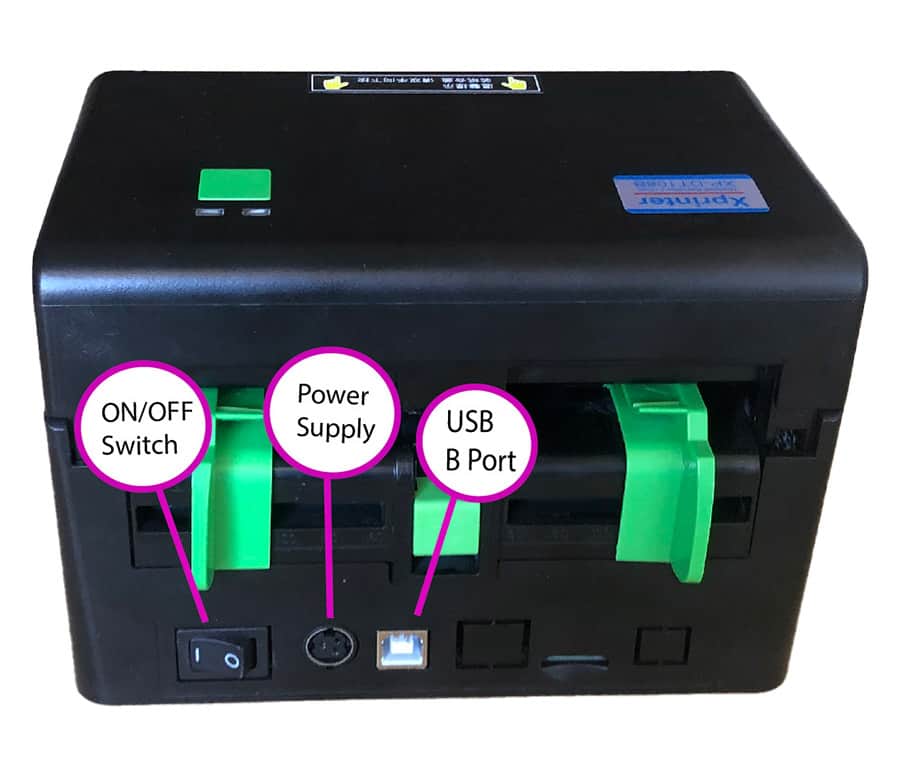 The back bottom left corner has the on/off switch, which we will always mention because some other thermal printers do not come with this (ahem). You then connect your power source and usb.
The power supply is a three prong proprietary port, rather than a barrel-type plug like Zebra, Dymo, Brother or Rollo. That is worth mentioning because if you lose the power supply, it would be harder to replace. We are not sure what kind of port it even is to search for a replacement. It looks similar to a DIN port, which is not commonly used anymore. The usb is a standard usb cable which you will be using. The guides stick out through the back.
Compatibility
We tested it for compatibility with mac and windows. They post that it only works for PC but we found a driver that allows compatibility with Mac also.It did not work with their instruction but it will work with ours. We have a step-by-step video tutorial on how to install and calibrate the printer with both a Mac and a Windows at the end of the post.
Is Buying The Meihengtong or MFLabel Thermal Printer Worth It?
The good
The price point of the Meihengtong printer makes it tempting. It is less than $125 brand new and the price can drop less than $100, which is when we bought ours. That makes it one of the cheapest 4×6 thermal printer on the market. The MFLabel is not as tempting at $150. The thermal printer does have a one year warranty although its competitors offer a 2 year warranty.
The thermal printer does print fast because of its lower 203 dpi, which is the lowest requirement for a shipping label. The printhead is easy to clean because it is easy to get to. It will work with Mac and Windows through our step-by-step guide.
The best part about both the Meihengtong and MFLabel printers is that, like the Rollo thermal printer, they do not require proprietary labels like the Brother QL-1110NWB or the Dymo 4XL. They will take any 4×6 labels, including the free ones from UPS that have the perforations to tear it off. Read here to find out how you can get free shipping supplies.
The bad
The printer is Made in China, which can be common for a lot of products but everything in Chinese. Some instructions are followed by an English translation, which would be helpful if all of the writings had them. The build is not of quality plastic, the flex on the label guides are not great.
When we first opened our printer and performed some test prints, we kept getting a red light error. It was to the point where we were going to start a return but we let it sit for a day. We found out the main issue was the calibration. Keep in mind that this printer will require calibration before use. 
The driver that comes with it is a banana CDR, which is a burnt copy of the driver. Most computers these days do not even have CD drives so we are not sure they expect you to install the driver with this. It came with a user manual but if you open to look at the instructions, there is a picture of a different printer.  
Installation was not easy. People are having trouble calibrating it according to the amazon reviews. That is why we made an installation guide to make it easy for you. Other companies would have this support on their website.
Labels do have to sit outside of the printer, which takes up a lot more counter space as opposed to a clam-shell design. This is the same complaint we have about the Rollo printer. While it does not require a proprietary label, the thermal printer does not have a cutter built inside so you will need to use a perforated type of label to tear it off.
Lastly, it is a private label product so customer support is not available. You have to resort to figuring out yourself on the internet or find the amazon listing and hope your questions are answered under their "questions and answers" section. Those are all things you should keep in mind when you are looking to buy this thermal printer.
Meihengtong Xprinter XP-DT108B and MFLabel DT108B Cheapest 4×6 Thermal Printer?
Overall, the price point and design are better than Dymo 4XL, which is a wildly popular thermal printer. If you are savvy and are able to look for the information that you are needing online, are able to follow our step-by-step reviews, and buy it for under $100, it can be value for money for you and your business.
Otherwise, there are much better options out there at any price above $100. If your goal is to look for the cheapest 4×6 thermal printer, these are not your only options. Instead, look for new thermal printer listings on Amazon. Companies or new private labels usually start off brand new listings with big discounts to get ratings. You will be able to get the cheapest 4×6 thermal printer that way.
Video: Unboxing and Review of Meihengton Thermal Printer
Video: How to Install Calibrate Meihengtong and MFLabelThermal Printer on Windows
Video: How to Install and Calibrate Meihengtong and MFLabel Thermal Printer on a Mac