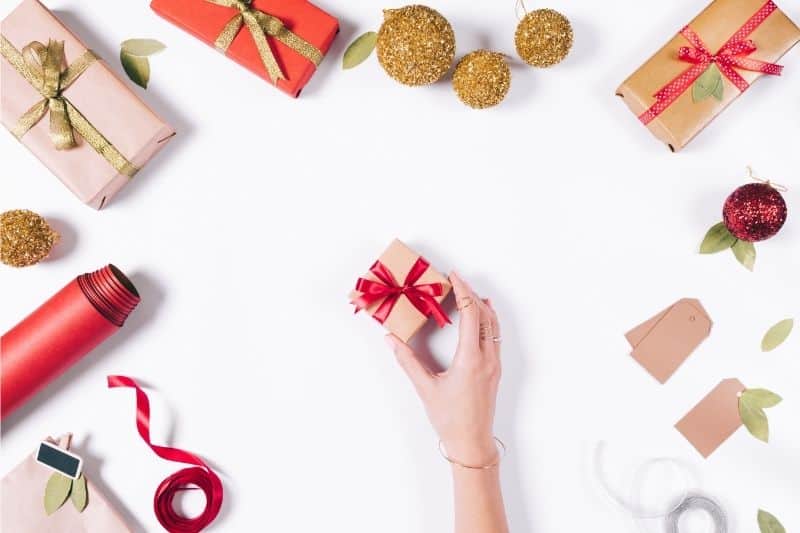 Shipping doesn't have to cost a lot of money. When it comes to saving money on shipping, it is simply knowing what your options are and what service you need to use to get the cheapest rates. In this post, we will go over the cheapest way to ship small items. We will also give you current shipping rates and other important tips to keep in mind when shipping small packages.
For context, small items are things like:
Cards
Handmade jewelry
Costume jewelry
Keychains
Ornaments
Small trinkets
Knitted items like beanies, socks, and dolls
Etcetera
Shipping Small Items With USPS
When it comes to shipping small items, the first thing is to consider weight. If your item weighs more than a pound, we will look at your shipping options towards the end. But for packages that are small and light, USPS First Class Mail is generally the cheapest way to ship small items.
However, there are three types of USPS First Class Mail. Let's go over the difference and when you should use each type.
Letters
This is the cheapest and thinnest type of First Class Mail. This is a great option for custom cards or other flats to ship. However, most other small items may not qualify to be shipped as a letter. Shipping as a letter does not include tracking so this may not be a good option to use for shipping to customers. Your package, even if it is not a letter, must be able to meet these USPS physical criteria:
Rectangular
Length: More than 5″ long but less than 11-1/2″ long
Width: More than 3-1/2″ long but less than 6-1/8″ long
Thickness: More than 0.007″ thick but less than 1/4″ thick
Maximum weight is 3.5 oz
There is a non-machinable charge if your package is either:
Has a clasps, strings, buttons, or other similar closure devices
Rigid (does not bend easily)
Uneven because it has something else inside (pens, pencils, coins, etcetera)
If enclosed in any plastic material such as poly bags, poly wraps, or any external surface that is not paper.
Postcards or Flats or Large Envelopes
This category of First Class Mail is generally larger in length, width, or thickness than Letters. However, it must be less than either 15″ long, 12″ in width, or 3/4″ in thickness. As with Letters, it must be rectangular in shape. Other requirements include:
Flexible
Uniformly thick
Unwrapped, sleeved, wrapped, or enveloped.
If your package does not meet these criteria, it will be shipped to the next First Class Mail type. Postcards or Flats also do not come with tracking so it may not be ideal for small businesses shipping to customers. These are traditionally used for offices sending documents in yellow manilla envelopes.
Small Packages or Parcels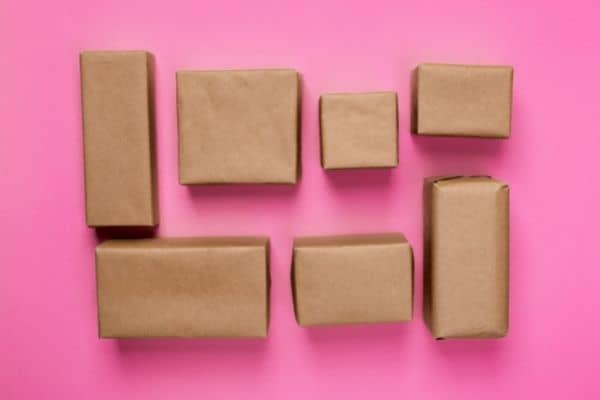 Most small businesses shipping to customers will want to ship their small items in this option because this comes with free USPS tracking. To qualify as a small package, your package must be:
Rigid
3/4″ in thickness
Must be large enough to hold all mail markings on the address side of the parcel. This includes, delivery address, return address, mailing labels, postage, barcode and endorsements. For example, if you're shipping a small piece of jewelry in a thin case, it may not be large enough to ship on its own. However, putting the package in a small poly bag will solve this problem.
Your package weighing up to 15.9 ounces can qualify for First Class mail but only if you buy your postage at a commercial rate. eBay and other shipping software like Pirate ship and GoShippo.com offer commercial pricing.
If you buy postage from your USPS retail counter, your package weight cannot exceed 13 ounces to qualify for First Class mail.
So if you have any packages weighing over 13 oz, even if it is under 1 pound, you will not be able to buy a First Class rate at your local post office counter.
This is why it is so important to get commercial pricing for anyone who ships a package, especially as a small business owner. Both Pirate ship and GoShippo.com are completely FREE to use in order to get USPS commercial pricing.
USPS First Class Postage Rates 2021
*Updated as of August 1, 2021.
Below are the most updated USPS postage rates. Note that the Postal Regulatory Commission is reviewing a price increase for First Class Mail that will go into effect on August 29, 2021, if approved.
| | | |
| --- | --- | --- |
| Weight in ounces | USPS Retail Price | USPS Commercial Price |
| 0 to 4 oz | $4.10 | $3.03 |
| 4 to 8 oz | $4.85 | $3.49 |
| 8 to 12 oz | $5.55 | $4.09 |
| 12 to 15.9 oz | $6.30 | $5.23 |
What About Shipping Small But Heavy Packages?
As mentioned earlier, USPS First Class Mail is great for packages weighing less than 1 pound. However, if your package weighs more, you have several options. The first is to consider USPS Flat Rate services. These include any of the Flat Rate Envelopes and the USPS Flat Rate Small Box. USPS Flat Rate Envelopes are our secret for shipping most of our online sales.
Another option is to use USPS Cubic Rate. The Cubic Rate considers only the dimensions of your package and the distance that it is traveling to, instead of the weight. That makes it a great option to ship small but heavy packages. For more details on how shipping with Cubic Rate works, check this post here.
Last Shipping Tips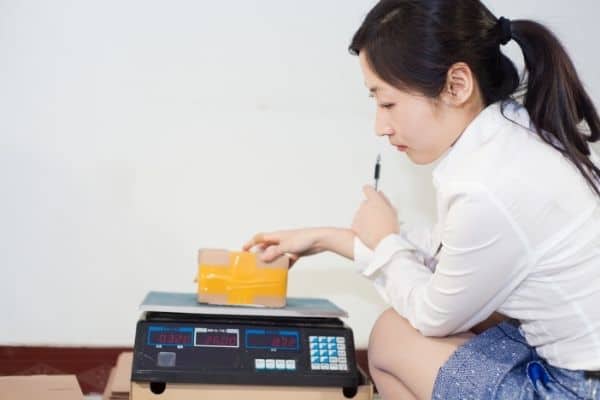 While USPS First Class Mail is a great option to get the cheapest shipping rates for small items, there are some things to keep in mind. USPS First Class mail does not come with built-in insurance like USPS Priority Mail. Therefore, it is not recommended to ship anything expensive like expensive jewelry or valuable coins.
Another tip is to make sure that you round up the weight to the next ounce. For example, you will need to round 4.4 oz up to 5 oz, instead of rounding down to 4 oz. You want to give your package an allowance for the weight of the shipping label and packing tape, no matter how small of a weight they may be.
Make sure you have a shipping scale that can properly weigh your package. Otherwise, your actual package weight is more than what is on the shipping label, your package may come back to you. Or worse, the cost difference is charged to your customer.