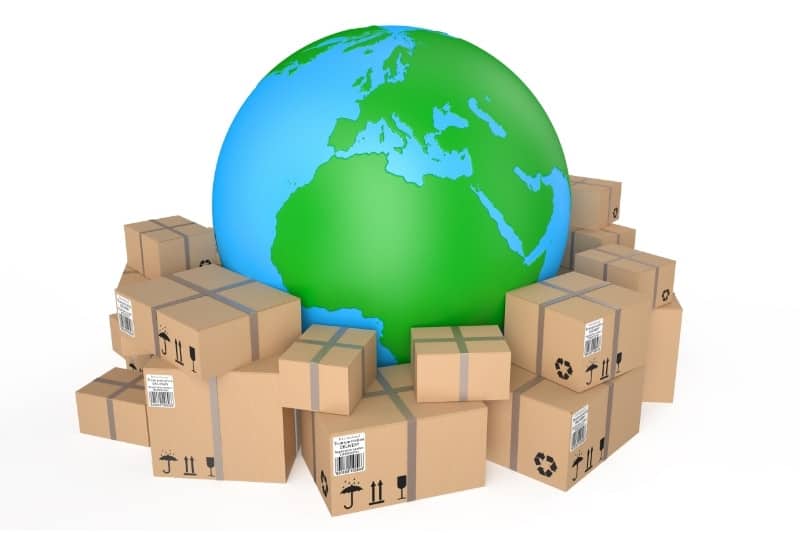 Being able to buy and sell goods in 180 countries is what makes eBay one of the best marketplaces online. If you're not familiar with eBay's international shipping program, it is one of the most hassle-free ways to buy and ship worldwide. But there are certain requirements to understand so let's go over the basics of what you need to know about eBay's international shipping for both sellers and buyers.
eBay's International Shipping For Buyers
If you're in the 180 countries where eBay is active, you can buy from an eBay store in the US. However, if the seller is using eBay's Global Shipping Program or GSP as the shipping service, you must be on a list of 103 countries and territories that this shipping service is offered.
If you are in a country that GSP ships to, make sure your mailing address meets eBay's criteria. That means it must be a residence or street address, not a P.O. Box, FPO, or APO address. Only a small list of countries are eligible to be shipped to with  anP.O. Box addresses.
Once you make an international purchase and have paid, eBay sends out a premade shipping label to the seller. The seller does not see the final destination address. Instead, the address they will be given is to one of eBay's logistics company's locations depending on what country you're buying from.
Pitney Bowes is eBay's logistic company that checks and sorts the item. And then repackage them to their final destination with the correct paperwork. The seller DOES NOT fill out any forms nor do they have the options to do so. The seller CAN NOT mark the item as a gift or adjust the selling price for the export form if GSP is chosen as the shipping service.
Each country may have different customs duties and taxes on imports so it is important to understand what your country requires. You don't want to be surprised by a huge bill in order to receive your package.
eBay's International Shipping For Sellers
eBay makes it easy to sell internationally through its Global Shipping Program or GSP. There is no fee to join this program but there are certain listing fees and charges that do apply as well as an international fee. For all selling fees, check here.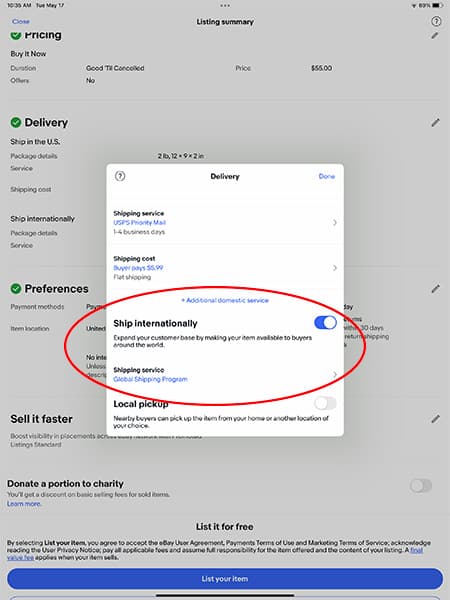 In order to have this option, make sure you select to have "Ship internationally". Then, make sure the shipping service is with the "Global Shipping Program". There is a list of requirements that you will need to meet to use this shipping service, such as
Your item must be physically located in the US
Your item must be listed for sale on eBay.com
The item must not be ineligible, illegal, hazardous, subject to export restrictions, prohibited by eBay, or prohibited by the Global Shipping Program. See the eBay User Agreement and the International trading policies and FAQs for complete details
Your package must not exceed the maximum weight or dimensions as outlined here
Your item's sale price, including shipping and handling, must not exceed the maximums outlined here
If an auction-style listing ends with a final sale price that exceeds the maximum allowed for the country to which you're shipping (including shipping and handling), you're responsible for arranging alternate international shipping, and complying with applicable US export rules, regulations, and procedures.
Why Use eBay's Global Shipping Program?
While you do have an option to ship directly to the customer, it may be in your best interest to use eBay's GSP for several reasons. First, eBay's logistic company Pitney Bowes takes care of all the customs forms and paperwork. Once your international buyer paid for the item, you will receive a shipping address to one of the US Global Shipping Center locations.
When your package arrives at their address, your work is done. They're responsible for shipping to the package's final destination. Secondly, it is a lot cheaper to ship to one of Pitney Bowes's locations here in the US than to ship internationally. Even if you use shipping software such as Pirate Ship, it is generally much cheaper to ship to a US address than an international address.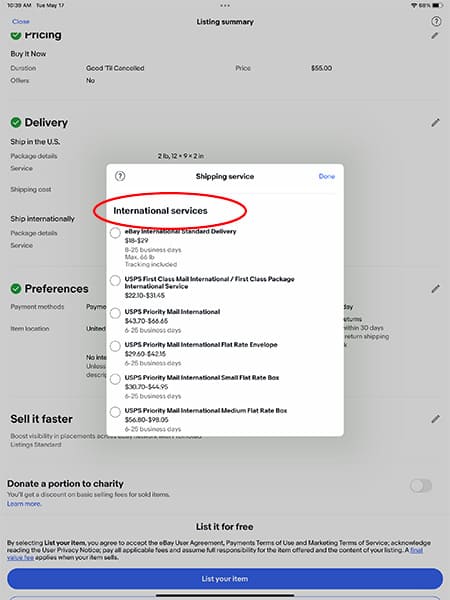 If you're shipping on your own, you're also responsible to take care of certain shipping risks such as lost or missing packages. There is less protection for you as a seller if something goes wrong that is out of your control. If your buyer leaves a neutral or negative review due to a shipping or handling delay, it will be removed.
And lastly, it is a lot less work for you to ship an item to a US address without having to worry about logistics or paperwork. You will have peace of mind once the package gets delivered to eBay's GSP address. And the rest will be taken care of by eBay.
More Tips
If you still prefer to ship internationally on your own, make sure you use shipping software to get the best shipping rates. The shipping software that will give you the most carrier options is Shippo. You can get USPS, UPS, FedEx, DHL Express, and many more global shipping partners.
While they have free options, you can also get a free trial for their premium plans. Take advantage of their two free months of Pro Plan at Shippo with code FREEPRO2.
Read Next: How To Get The Cheapest Shipping For Your Small Business