If you are in the market for a thermal printer and are browsing Amazon with the Dymo 4XL in your cart, pat yourself on the back for having the forethought to dig deep into a Dymo 4XL thermal printer review before hitting that purchase button. The Dymo 4XL label printer has been the top dog in the ship from home/eBay community for many years and we don't understand why given that there are many better alternatives out there.
If you already own this printer, our apologies in advance. We live in a world where there are superior and inferior products. There are different manufacturers and brands, which hopefully will drive each other in the most beautiful capitalistic manner to produce better products and services for the consumer. This is a Dymo 4XL thermal label printer review, but not a normal review.
We are not going to schmooze you over this machine in hopes that you buy it using our coupon code so we can get a small commission on the sale. We want you to make an extremely informed decision, find a printer that will fit your business needs and workflow the best, and only THEN buy it through our link as a way to say "Thanks." Or better yet, go on eBay and get a second-hand one cheaper and save yourself some money.
Quick Facts
Here are some quick facts and questions about the printer. We won't get into print speeds because we believe that speed isn't something that will make or break most businesses on a day-to-day basis. Also, the way that speed is measured and advertised is very limited in scope.
Works with Mac or PC (also Linux) via USB ONLY
Will not work with iOS, Android, or Chromebook
Is not Wireless, or easily networkable
Price fluctuates from $100-$270 based on charts (usually $200+) 
300 dpi while most thermal printers are 203 dpi (300 is a better, clearer print)
Cheaper feeling build than other printers
Harder to clean printhead and sensors
Proprietary label design (only works with punch hole labels)
No power button
Prints up to 4.16'' wide labels (yes it can print smaller)
2 Year Warranty (if you don't use 3rd party labels)
There are better value thermal printers than the Dymo
Rule of Thumb For Buying A Thermal Printer
The rule of thumb that I have found over time testing and studying dozens of models is simple:
Any thermal label printer compatible with your system is better than the Dymo 4XL.
There might be an exception to this rule one day but for now, we have found this rule accurate.
We are going to go over why, but we have found it to be an inferior product in comparison to almost every other thermal printer on the market. We will go over its price point, build quality, design (flaws), and user experiences. This review is strictly opinion from personal use and anecdotal evidence from other users of the Dymo 4XL for mostly shipping label purposes.
Price
This Dymo 4XL thermal printer review will start with the price, which is surprisingly variant. Take a look at this amazon price tracker, it varies from $100 to $279 and averages about $230. At the time of this writing, it is at $279 on Amazon and $306.99 on the Office Depot website. Amazon is the seller during this price tracking, not 3rd party sellers.
Not only is the machine expensive but Dymo also recommends that you purchase their proprietary labels. They are at a much higher price point than other thermal printers.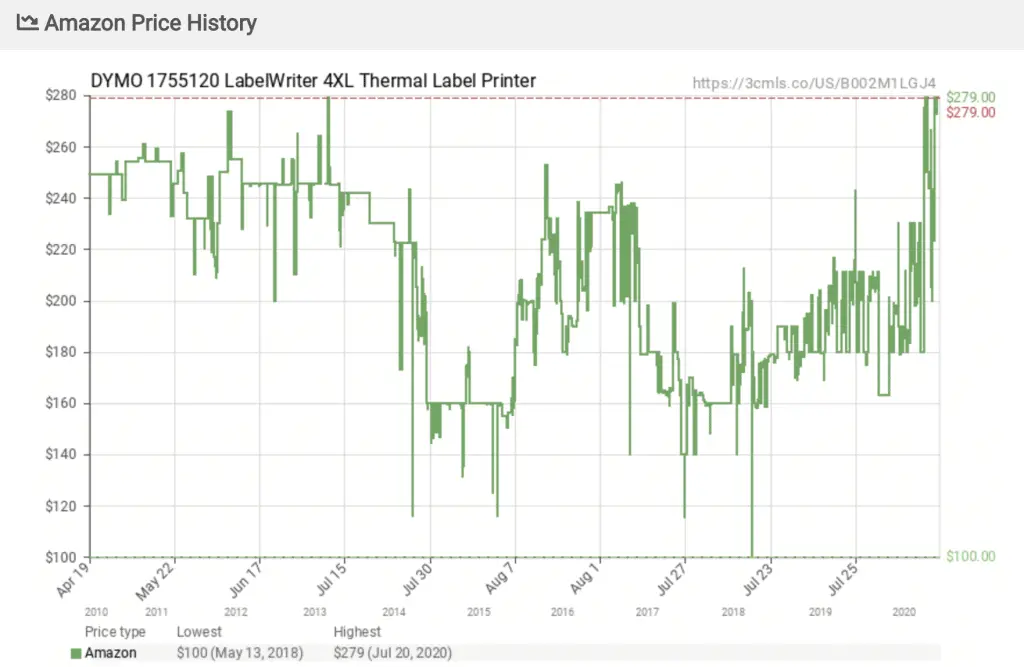 The Dymo branded labels on Amazon will cost about 9.5 cents per label. This is much more expensive in comparison to a comparable third-party label on Amazon purchased in bulk quantities. Doing that brings each label down to 2.2 cents per label.
Even if you managed to get your hands on the printer at the lowest end of their price fluctuation, the recurring cost of Dymo branded labels will definitely add up.  If you choose to use a 3rd party label manufacturer, a malfunction with the printer will not be covered under Dymo's 2-year manufacturer warranty.
Technology and Compatibility
Does the Dymo 4XL work with Mac?
Yes, the Dymo 4XL is compatible with MAC, as well as PC and Linux with USB only. Nothing special here, there are no mobile, bluetooth, or wireless capabilities. Well, there are ways to network it with a complicated workaround that isn't technically "wireless" but it's better than using it with one computer on USB. It takes some patience and tinkering depending on the print server that you use. However for most, easy installation wins, and it's not easy to install it on a network.
Does the Dymo 4XL work with eBay?
Yes, the Dymo 4XL is compatible eBay as well as with every selling platform that supports 4×6 printing. This includes eBay, etsy, poshmark, shopify, paypal shipping, pirateship, USPS Click N Ship, Shippo, Amazon, and many more.
Installing the Dymo 4XL is pretty easy and straightforward on both Mac and Windows. It comes with free Labelwriter software that may be valuable if you need to print custom address labels. Or if you are familiar with their software and don't want to learn new software.
Another good note related to tech to end on, the Dymo 4XL does have a 300 dpi printhead. That is a higher resolution than most other popular thermal printers which usually only have 203dpi. The higher resolution will print images with small text clearer than a 203 dpi printer. 
Design
Build
Going into the build, if you've come across different thermal printers or if you're going to the store or currently at the store, pick up and feel the Dymo 4XL printer. Compare the plastic and build quality to other thermal printers. You will find that it is built with a rather flimsy plastic as compared to studier materials that are used to build the Brother or Zebra thermal printers. Annoyingly there is no on/off switch.
If your printer needs to be power cycled because of a lost connection, you will need to yank out the power supply and then plug it back in. Every other thermal printer we have used has been built with a power switch in mind EXCEPT the Dymo 4XL.
Printhead
Getting to the printhead is difficult the way it is designed. In order to get to it, you must take off the front cover and press a lever to lower and expose it. On other thermal printers, the print head is usually on the top or bottom exposed in the open and easily seen. For maintenance needed, for every roll change takes a q-tip, dip it in some isopropyl alcohol and wipe it. The difficulty in cleaning the printhead will cause problems in longevity and if you ever have to replace the printhead, good luck. 
Loading Labels
Another design we don't like is the spindle where the labels are loaded. The spindle is an integral part in order for the printer to work. If you lose or break this plastic piece, the printer is inoperable.  Labels must be loaded very tightly on the spool and positioned with the punch all the way to the left. Otherwise, it will be fussy and spit out multiple blank labels in protest.
Label Requirement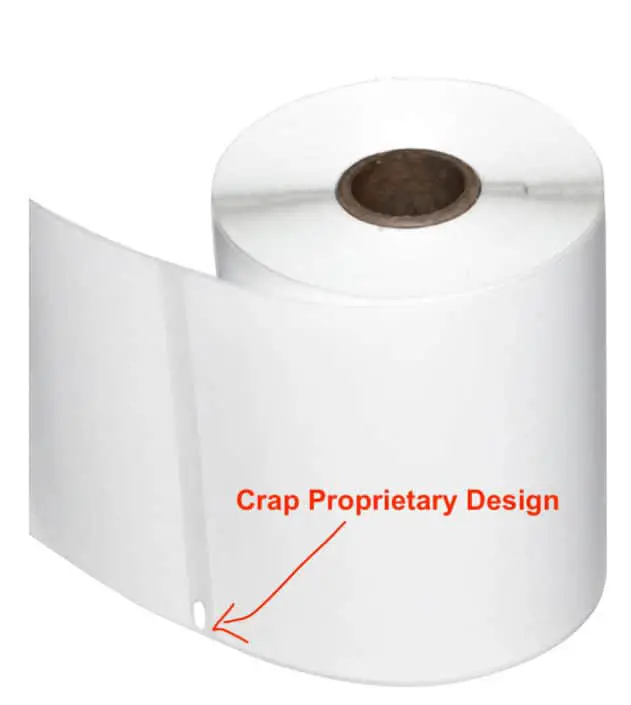 The proprietary notch between the labels themselves is another design that we despise. That notch may have been engineered with good intentions. Perhaps to sense label size, thus bypassing need to calibrate when changing labels. It is how the Dymo 4XL senses where the label starts and where the label ends. Sounds good right?
Unfortunately, it limits the compatibility of what labels you can actually use. THEY MUST HAVE THE NOTCH otherwise they will not work. It also creates the need for a buried sensor that "reads" that notch. That sensor can get dusty, or sticky with adhesive if you get a jam, and you will get a jam if you print enough labels. It's not a matter of IF, it is a matter of WHEN. Getting that buried sensor clean can be a bear.
You will not be able to clean it with a q-tip. You will have to get a thin card soaked in alcohol, or a cleaning card and push it through the underside of the sensor, and pray that it will work. If you have any issue with the printer, Dymo has the liberty to blame it on the usage of third-party labels.
Where you load the labels it is printed in capital letters saying, "DYMO'S WARRANTY DOES NOT COVER MALFUNCTION OR DAMAGE THAT MAY BE CAUSED BY THE USE OF NON-DYMO LABELS." We are not sure how they can prove whether you used a label from them. However, they definitely stress that you buy and use their overpriced labels for their overpriced printer. 
Alternatives to the Dymo 4XL
The Dymo 4XL wouldn't be so bad if we didn't have anything to compare it to. However, it falls short in price, compatibility, tech, design, cost of labels. The 300 DPI printhead is better than the 203 DPI printhead most of the alternatives will have when it comes to clarity of images and small text. However, for postage, 203 DPI will still work fine. If you are interested in exploring alternative options we have compiled some resources below to take a look at.
If you're looking for a printer that has today's technology with mobile, wireless, and Bluetooth capabilities, check out the Brother QL-1110NWB. Unfortunately, this printer has been selling out due to its recent popularity. It usually is $279 but when it sells out you will find that 3rd party amazon sellers are around $399.
Rallying in popularity, you may want to check out the Rollo. Here is a direct comparison video of these two printers or you can read the blog here.
Or if you like the Rollo Design but want a cheaper AND Wifi-capable thermal printer, check out this printer here.
If you are looking for a cheaper, used thermal printer, you may want check out the Zebra LP2844.
Compatibility Breakdown
Below are a quick value and compatibility emoji breakdown of the thermal printers mentioned above as well as some other models. (They are all better than the Dymo)
Brother QL-1110NWB  (US)
Brother QL-1110NWB (Canada)
Brother QL-1110NWB (UK)
Mac ✅ PC ✅ Chromebook 🚫 
Android Mobile ✅ iOS ✅ Wireless ✅ 
DPI 300
Customer Service 🤷‍♂️ (Haven't called them) 
Uses Proprietary Labels ☹️ 
Price (overall value) 👍(~$100 more than but you get mobile printing, sells out at MSRP of $279 frequently)

FreeX Thermal Printer
203 DPI Thermal Printer 
USB for Mac and PC 
Wifi for Mac and PC 
This does not work with iPhone or Android a this time.

Meihengtong Chinese Thermal Label Printer (US)
Meihengtong Chinese Thermal Label Printer (Canada)
Meihengton Thermal Label Printer (UK)
Mac ✅ PC ✅ Chromebook ✅ 
Android USB-C Mobile ✅ iOS 🚫 Wireless 🚫 
DPI 203
Customer Service 🤷‍♂️ (Doubt it's good but never called) 
Uses Non-Proprietary Labels 😀
Overall value👍👍

Beeprt BY-245  (US)
Beeprt - different model (Canada) 
Beeprt - different model (UK)
USB Mac ✅ + Windows PC ✅ Chromebook 🚫
Android + iOS bluetooth ✅ (poshmark labels are giving me issues on iOS. I am able to get ebay, pirateship, (android works for poshmark), other downloadable 4x6 labels have been working fine.) 
DPI 203
Customer Service 🤷‍♂️ (Doubt it's good but never called)
Uses Non-Proprietary Labels 😀
Price (overall value) 👍👍

Rollo Thermal Printer (US)
MUNBYN Label Printer - Similar to Rollo (Canada)
MUNBYN Label Printer - Similar to Rollo (UK)
USB Mac ✅ + PC ✅ Chromebook 🚫 
Mobile 🚫 Wireless 🚫 
DPI 203
Customer Service 👍👍
Uses Non-Proprietary Labels 😀
Price (overall value) 👍

Zebra LP2844
USB Mac ✅ + PC ✅ Chromebook ✅ (mac driver is fuzzy but will scan)
Mobile 🚫 Wireless 🚫
DPI 203
Customer Service - Buying used don't expect customer support from Zebra
Uses Non-Proprietary Labels 😀
Price (overall value) 👍👍
Last Thoughts on Dymo 4XL Thermal Printer Review
Ending on a good note, we do like that the printer is designed to contain the roll of labels. It takes up less desk space than some of the newer style printers to come out of China in the last few years. These need stands or a stack of labels behind them. Personally not a fan of the behind printer stacks, but to each their own.
If you're thinking of buying one or are on the fence, again, we wouldn't recommend it.  There are better options out there.  I hope you found this review informative and valuable in your decision-making when it comes to your thermal printing options.