If you are on the market for a thermal printer and come across Rollo and Dymo 4XL as contenders, you are in the right place. Thermal label printers are great for shipping labels, whether you are needing to print them for eBay, Poshmark, Amazon, or your small business. Both the Rollo and the Dymo 4XL are two very popular thermal printers that are often recommended. We will go over what you need to know to compare Rollo vs Dymo 4XL thermal label printers.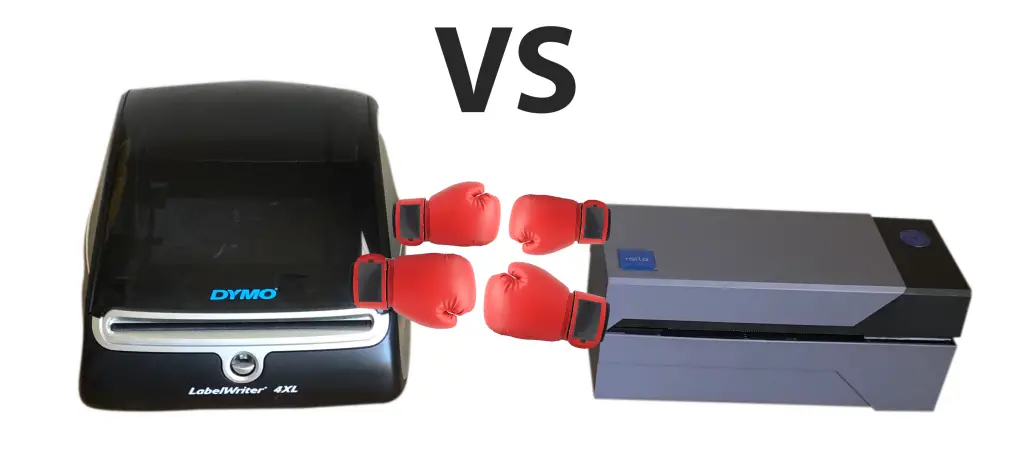 You may even see that Dymo has been around longer so there are a lot more reviews and even recommendations for it. DO NOT FALL FOR THAT, at least until you have read through the rest of this comprehensive review and comparison.
The categories of this review and comparison will focus on which thermal printer is better based on the following criteria:
There will be a visual summary table of each category at the end of the page as well as a Youtube video.
Price: Rollo vs Dymo 4XL
Rollo sells them on Amazon for $169 to $179 pretty consistently unless they sell out, then the price goes up to the next seller. You can also find them refurbished for about $149 on amazon but availability is not consistent.
Because of the way the Rollo is designed, which we will go into next, you will need some kind of a label holder for your labels. These plastic label holders go behind the printer and cost about $15-$20. This is an extra one-time cost to consider but if you have the stacked fanfold labels, they will not require a label holder because they sit behind the printer. We concocted our own free solution with a used box cut up and a chopstick through. Not the prettiest thing to look at but it does the job!
The price of the Dymo 4XL tends to fluctuate throughout the entire year. Sometimes they go on sale for as low as $150 and can even climb up to $270. At the time of this review, it is about $240 on Amazon. Other sites like officedepot.com offer them for a higher price.
Prices in other regions:
Winner: Rollo 👑 for consistency and is usually cheaper. 
Design: Rollo vs Dymo 4XL
As with other thermal printers, both use heat to transfer the image onto the label, instead of ink or toner. Rollo's design is a simple, rectangular box. A disadvantage of the small size and design of the Rollo is that the label have to sit outside of the body, behind itself. This takes up more space on a desk if space and clutter are an issue for you.
This design is not a personal preference for us. The advantage of Rollo's simple design is that it is easier to troubleshoot. If you get a label jammed, you only need to push the lever on the sides to open up the printer and remove the jam. If adhesives are built up causing issues, the print head is easy to find and easy to clean.
The Dymo's is a clamshell-like design that contains the labels inside of the body. Aesthetically, we personally prefer printers with this type of design because it saves space on your desk. It even looks neater on the eyes. The Dymo uses a spool design for the labels. To load the labels in the correct orientation, you have to take it out of the shell.
Then, the spools must be put back on tightly after changing your labels and then feeding the labels through the front slot. If you get a label jammed or the labels are not loaded correctly, it will give you problems. The sensors and print head are harder to get to on the Dymo and clean if the adhesives from your labels smudge due to a label jam.
Overall, even though the Rollo is not ideal for space, the functionality is better. The Rollo is easier to troubleshoot a jammed label or clean the print head.
Winner: Rollo 👑 for ease of loading, cleaning, and clearing a label jam
Platform Compatibility 
You may see printing companies advertising that they are compatible with eBay, Amazon, Etsy, Poshmark, depop, mercari, Shopify, or whatever platform that you are currently or planning to sell on. The simple truth is that any 4×6 thermal printer will work with any platform that supports 4×6 printing. That means both the Rollo and Dymo 4XL will work with any platform that supports 4×6 printing.
This is because the platforms themselves do not support specific printers, they support specific printing formats. So if the platform can format a pdf in a 4×6 format, then they will support both of these printers, or any 4×6 capable thermal printer. Certain platforms like depop and mercari at the time of this writing, will not be compatible with either of these printers. They require cropping of their default 8.5×11 document.
Just keep in mind that when it comes to platform capability, it should not be a selling point from a company to you as a buyer. This should be a given.
Winner: Tie
Hardware Compatibility 
Previously, we went over the fact that when it comes to platform compatibility themselves, both the Rollo and Dymo 4XL are equal. As far as hardware compatibility, that remains the same. Both the Rollo and Dymo 4XL use only a USB port at the back of the printer for connection and the same style of the data port. Both thermal printers work with Windows, Mac, and Linux according to their websites. Neither Rollo nor Dymo will work with google chrome, android, or iOS. So with all that being said, they are equal.
Winner: It's a tie! Both work with all 4×6 supported platforms, Both are USB Mac and PC only
Labels Comparison
Other than the actual cost of the printer, you need to keep in mind a recurring cost. The recurring cost of labels is something that can add up. You will always need labels when you are using a thermal printer. Therefore, label cost should definitely be a factor when you are deciding on which thermal printer to buy. Not all 4×6 labels are made the same and not all 4×6 labels are compatible with every thermal printer.
Notch Labels
The Dymo labels have a punch notch between each label. That notch is how the Dymo 4XL senses where the label starts and where the label ends. The notch must be put on the left side of the printer where the sensor is located in order for the printer to work correctly. Dymo wants you to buy the labels from them, which is at a higher cost than a third-party company that produces these same notched labels.
Dymo goes as far as to even have a caution inside the label slot that says "DYMO'S WARRANTY DOES NOT COVER MALFUNCTION OR DAMAGE THAT MAY BE CAUSED BY THE USE OF NON-DYMO LABELS" in order for you to keep buying their overpriced labels.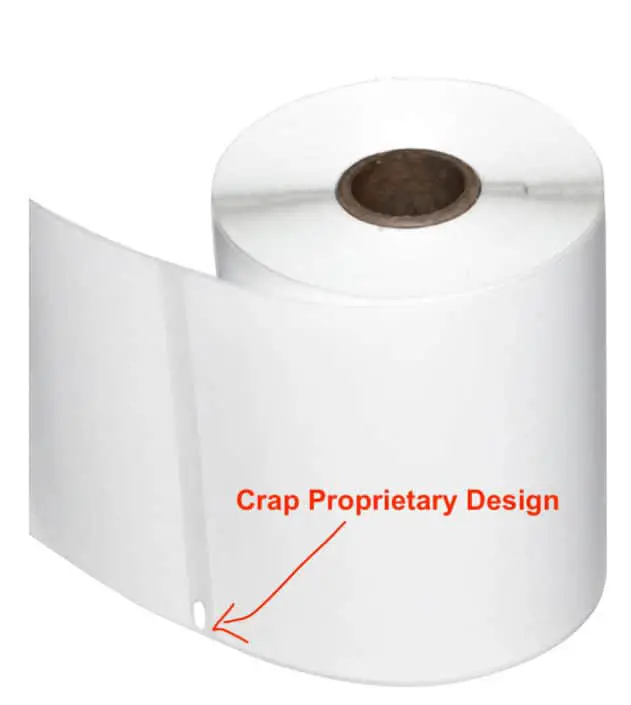 The Dymo branded labels on amazon will cost about 10 cents a label, which is ridiculously expensive. In comparison, you can get a third-party label in bulk quantities that bring each label down to 2 cents a label. That's less than five times what you pay for the Dymo labels! Needless to say, this really adds up when you consistently have large orders to fill. If you do break or jam your Dymo printer by using third-party labels, they will not cover damage or replacement. 
Non-Proprietary Labels
The Rollo on the other hand uses two sensors that recognize the gaps that are between each label. It is able to tell the length between the label and the wax-like paper where the labels peel off by having a gap in the paper. You can use other labels that do not have the punch or notch that the Dymo requires. Of course, you can still use the Dymo labels with the punch or notch. However, you may not want to because they are much more expensive. If you happen to have some from an old Dymo printer, by all means, use them.
The point is, you can use any 4×6 labels with the Rollo printer because it uses a non-proprietary design that does not require punched or notched labels. Rollo rightfully uses this as a huge selling point for their printers because label compatibility can be super confusing for people. Rollo makes it really easy by saying that the printer works with virtually all thermal labels from any brand.
By ordering in bulk from a third party, you can save a ton on labels.  In some instances, you can even get the labels for free by ordering from UPS or FedEx websites. See our resource guide here for free stuff!
Winner: by a long shot, Rollo 👑 for the nonproprietary label 🙌.
Reliability: Rollo vs Dymo 4XL
Reliability or a lack thereof is something that we've come to experience having used both of these printers extensively. We have had jams on the Dymo and wasted lots of labels on it. We haven't experienced this with the Rollo due to the design features that were mentioned earlier. This seems to be the consensus with other small business owners as well from Instagram and Youtube. From personal as well as anecdotal evidence, we will give this crown to Rollo as well.
Winner: Rollo 👑 for having less fussy sensors and label positioning.
Product Warranty: Rollo vs Dymo 4XL
Thermal printers are generally very reliable and should work for years and years to come problem-free. However, a warranty is a peace of mind for a lot of people in case of some unlikely manufacturing flaw or adhesive catastrophe. Rollo gives a one-year warranty on their products and will fix or replace it. The Dymo offers a 2-year warranty, given that you use their labels.
Remember, they have a huge disclaimer that was mentioned earlier that they will not honor the warranty if damaged from the use of third-party labels. It may be hard to prove from their part whether their label or third-party labels are used. However, it is still something to keep in mind.
Winner: Dymo (sort of) 👑 for two years (but not covered if used with 3rd party labels)
Customer Support: Rollo vs Dymo 4XL
This is a very important point for people that are not tech-savvy or people that want to avoid the hassle of dealing with troubleshooting a problem themself. If you would like someone to do a step-by-step walkthrough on the phone or to talk you through a problem on a computer chat, Rollo's support hours are M-F 8 am – 5 pm PST and Weekends 8 am – 12:30 pm PST. They can even take control of your computer remotely.
Meanwhile, Dymos customer support is Monday – Friday 9:00 AM – 5:00 PM EST. Rollo is open on weekends, they have a chatbox on their website. Rollo wins. 
Winner: Rollo 👑
Print Quality: Rollo vs Dymo 4XL
This may be another point of confusion for a lot of people because the perception may be that all thermal printers are created equal and therefore, the print quality is all the same. This is not the case. The Dymo 4XL is a 300 dpi printer while the Rollo is a 203 dpi printer. The dots per inch, also known as dpi, has to do with the resolution quality when printing.
The higher the number, the better the image quality will be. It is a pretty noticeable difference when you're printing small texts and images. But when printing just shipping labels, the quality is not as noticeable between 300 dpi and 203 dpi.
The Dymo's 300dpi image will show a crisper print because it has a higher resolution in comparison to the Rollo 203dpi printer. It may not be much of a difference to the naked eye but when you look at the 3D barcodes at the top right corner or if you are printing something that s non-postage related and you need images or small texts, it will be better with the higher resolution of the Dymo.
In most shipping cases, this is not going to make a difference because the postage minimum requirement is 203 dpi. However, it is worth mentioning. It is actually surprising that the Dymo actually beats the Rollo when it comes to resolution and print quality.
Winner: Dymo 4XL 👑 for 300dpi 
Software Packages: Rollo vs Dymo 4XL
When you buy the Dymo, you must install the Dymo Labelwriter software. With it, you can custom print addresses, messages, fragile stickers, or whatever you would. Normally, not many people that use a thermal printer uses that feature of the software. But we did have somebody reach out that they used this software for their business. In that specific instance, the Dymo 4XL wins over the Rollo.
If you already know of and are familiar with the LabelWriter software, it meets your needs, and your Dymo 4XL has worked well for you without any issues, by all means, get a replacement and continue to use that software. That way, you will not have to learn new software with a new thermal printer.
If you are using a third party software for listings on amazon or any other application, check with that software company first and ask if there are printer compatibility issues. A great place is to check their FAQs to look for their recommended printer. Some might even recommend the Dymo 4XL because they have their software programmed that way.
The Rollo does not come with any label writing software. To make address labels and other items mentioned above, you could use a third party program. It is probably only a small percentage of people that care about their printer company having its own software but it is worth mentioning.
Winner: Dymo 4XL 👑 for their Labelwriter Software Package
Which Thermal Label 4×6 Printer is Best?: Rollo vs Dymo 4XL
So with all that said, we would recommend the Rollo over the Dymo 4XL. Our reasons are because of Rollo's reliability, price, label compatibility, customer support, and how easy it is to clean.
Winner Overall: 👑 👑 👑 Rollo  👑 👑 👑
Summary Table of Comparison
| | | |
| --- | --- | --- |
| | Rollo | Dymo 4XL |
| Price | 👑 | |
| Design |  👑 | |
| Platform & hardware Compatibility | Mac USB and PC USB | Mac USB and PC USB |
| Label Compatibility | Any Thermal Labels | Dymo Punch Labels Only |
| Reliability | 👑 | |
| Warranty | 1 Year | 2 Year 👑 |
| Customer support | 👑 | |
| Print quality | | 👑 |
| Software packages | | 👑 |
Having a thermal printer for your home business is a welcomed luxury that makes packing and shipping processes smoother. A shipping label also makes a better presentation for the buyer. Now you know that Rollo is the superior thermal printer over the Dymo 4XL.