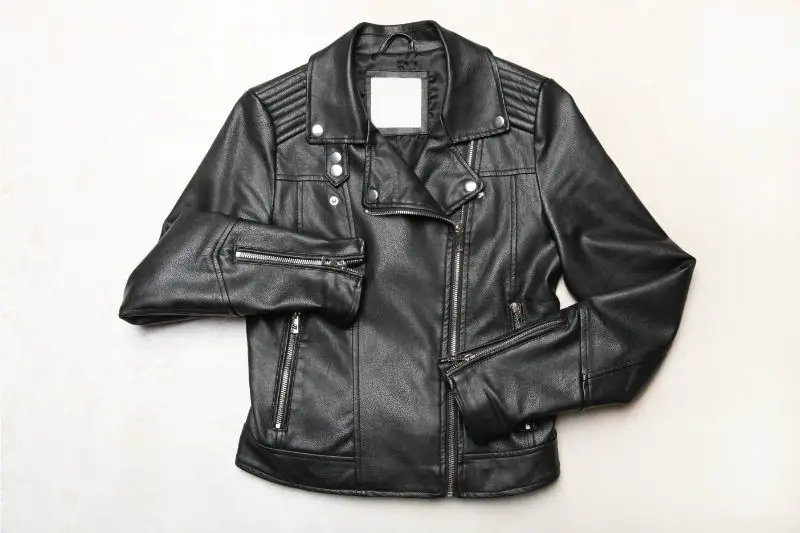 A well-crafted leather jacket is an investment piece that serves both style and functionality. With buttons, zippers, and other hardware that may cut into the leather during transport, packing, and shipping needs to be handled with care and thought. Whether it is lambskin, grained, or any other type of leather, we will show you how to pack and ship a leather jacket.
What You Will Need To Ship A Leather Jacket
Shipping a leather jacket or any item through a courier means that there are risks to how the package may be handled. Transfers between facilities en-route to its destination, your package may be exposed to outside elements like rain and snow. Packages could also be thrown around.
So packing the leather jacket well is important, especially for a pricey jacket. Ideally, you will need to find a box that will fit the jacket without the jacket needing to be folded or rolled in any way to prevent any creasing.
You will also need some bubble wraps, craft paper (shown later on), tissue paper, and some tape to wrap the hardware. We will also be buying the postage from home so that we get the cheapest shipping rates. You will need a Pirate ship account (free to use) to get a commercial rate on postage.
How To Pack A Leather Jacket (With Pictures)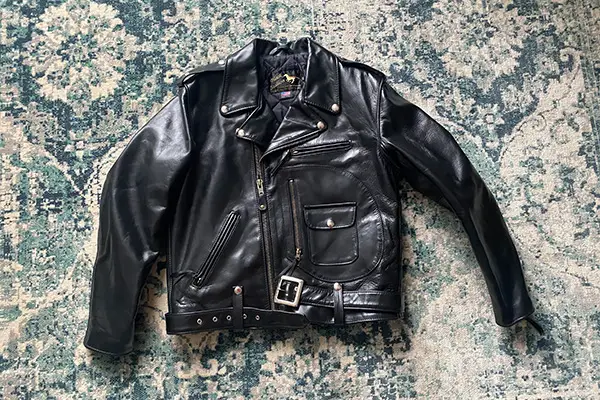 The jacket we have here is horsehide so folding or bending would create creasing.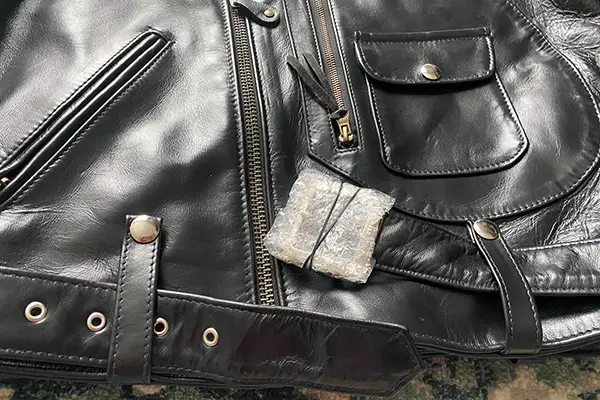 Hardware such as zippers, belts, buckles, and buttons can leave dents and marks on the leather. This particular jacket is currently no longer made and is very expensive. So we're putting the extra effort into individually wrapping each hardware.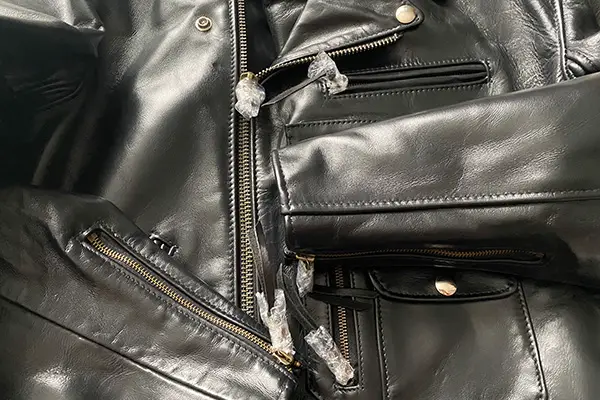 As you can see, the zipper teeth could potentially damage the leather so if your leather jacket has that detail, you can use tissue paper to cover them up.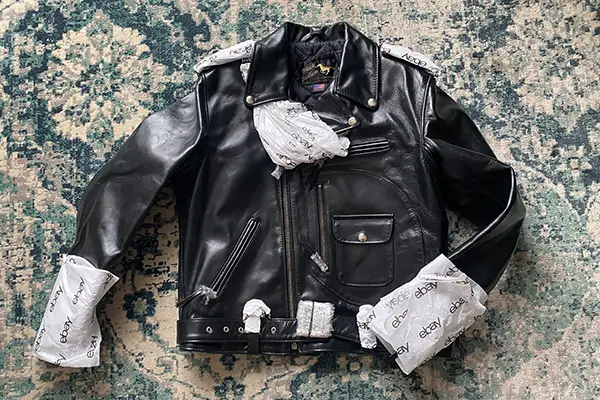 Once your leather jacket's hardware is wrapped and protected, you will want to place the jacket in a plastic bag. You can use a large, clear poly bag, or a dry-cleaners bag.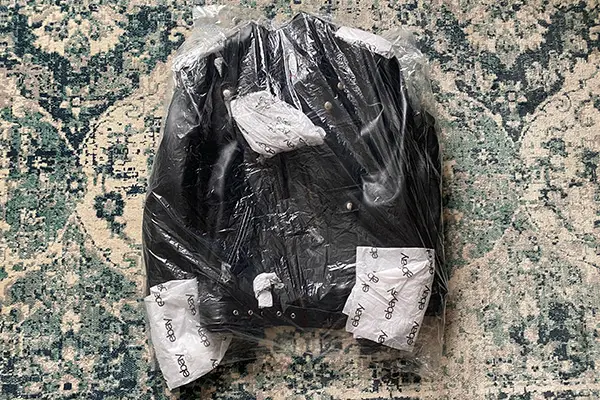 This is because we're using a cardboard box, the jacket may still be vulnerable to potential moisture from rain or snow during transit.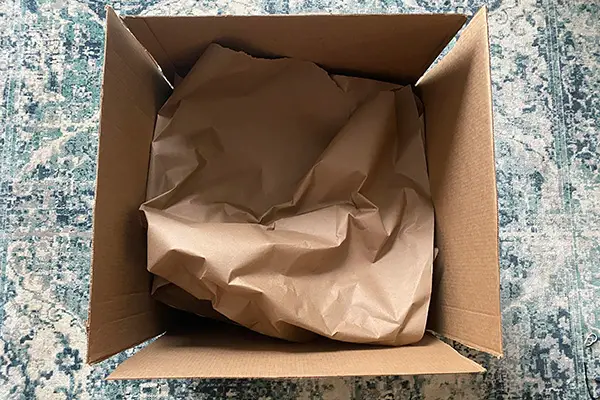 Once you place your leather jacket in the box, use craft paper to prevent shifting and movement between the spaces. You're now ready to buy postage.
How Much Does It Cost To Ship A Leather Jacket?
Once your package is ready, you will need to buy postage and the cheapest place to do so is from a shipping software like Pirate ship. We go through step-by-step how to buy postage from them below.
Read Next: Cheapest Way To Ship A Package: Step-By-Step With Pirate Ship
Our package ended up weighing 9 pounds, 8 ounces with dimensions of 22-inch length by 23-inch width by 9-inch height. It is going from Texas to Kentucky and the cheapest shipping rate is with UPS at $23.44.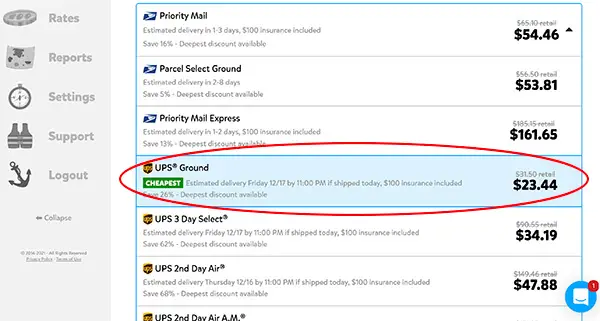 However, if the leather jacket is expensive, make sure to buy extra services. These include an adult signature upon delivery and additional insurance to cover the cost of the item.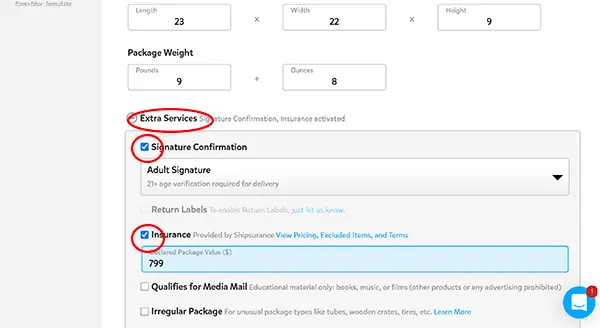 The cost to ship our leather jacket went up to $36.54 with UPS Ground.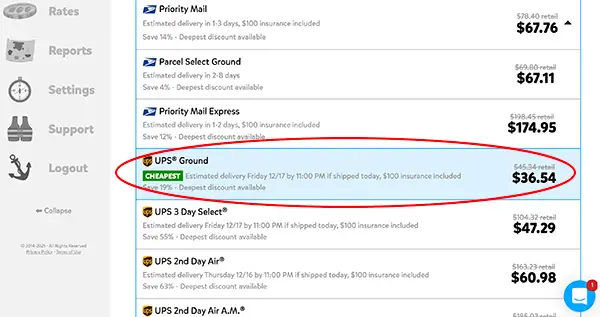 Last Tips
Shipping a leather jacket does take a bit more effort when it comes to packing. Unlike other coats or jackets made of other fibers, leather jackets require a bit more care to make sure it arrives as pristine as possible.
Read Also: The Cheapest Way To Ship A Heavy Winter Coat Or Jacket (With Pictures)