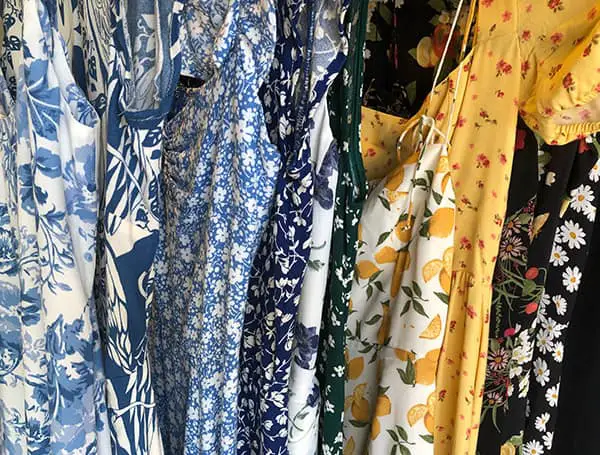 If there is a brand of clothing you won't be able to avoid on your Instagram feed in the summertime, it is Reformation. Reformation is a clothing brand that focuses on sustainability while creating a range of feminine and flattering designs. You will often see their clothing worn by celebrities such as Taylor Swift and Hailey Bieber. But their price tag does not come cheap. So does the quality, designs, and popularity make Reformation worth it to buy?
This post is unfortunately not sponsored. Here is a quick summary to get us started.
Why Reformation Is Not Worth It
Pricey
Clothing not durable
Some fabric pills easy
Inconsistent sizing within all styles
Most clothing pieces ask for specific dry cleaning, which is "green dry clean"
Why Reformation Is Worth It
Flattering
Beautiful prints and design
Sustainable (at the very least, more so than fast fashion)
Good resale value
Is Reformation Clothing Good Quality?
Reformation is most known for its sweet but sexy dresses, often with floral patterns and feminine details. Reformation clothing is usually made of a viscose/rayon material, linen, organic cotton, or a Tencel lyocell. They also have clothing made of other natural materials such as cashmere, cotton, and silk.
These materials are definitely better quality than other man-made fabrics that many fast-fashion retailers use. You can see and feel the difference compared to other cheaper materials such as nylon, polyester, and spandex combinations. Reformation's clothing is cut so that it lays on the body in the most flattering way, no matter your body type.
If you look at quality in terms of fabric durability though, Reformation clothing is generally delicate with the exception of their linen pieces. It is not hard-wearing or durable. You also have to be more careful with your laundry routine by taking it to the dry cleaners or hand wash and hang dry them to keep them in top shape. Let's go over the types of material you will find in Reformation clothing.
Viscose/Rayon Material
You will find this viscose and rayon combination in most Reformation dresses, tops, and skirts. Viscose is a semi-synthetic material made of pulp while rayon is made from cellulose fiber. There are also dresses made of 100% viscose, which looks like chiffon. No matter what percentage viscose is in the fabric, it is not advisable to wash those pieces in your washer, and definitely DO NOT put them in the dryer. Or else, they will shrink to be children's size.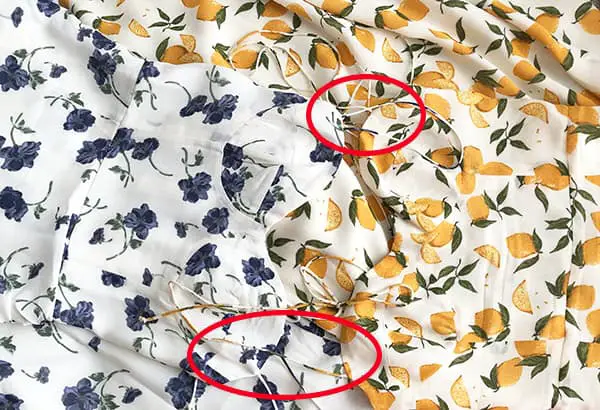 Reformation also makes dresses with tiny shoulder straps (Juliette and Kourtney) with this material. While this adds a stylistic touch, you would not want to sit on the dress and accidentally pull the straps too hard. We'd be afraid of ripping them off of the dress. Reformation's care tag says "green dry clean only" but it can get expensive and not sustainable to take clothing to the dry cleaners every time.
We have hand washed in cold water, hung-dried, and steamed with a steamer without issues. But we'd only wear Reformation dresses with this viscose material for special occasions like weddings, birthdays, or outings. Otherwise, the material can have pulls and pills with constant wear and wash.
Tencel/Lyocell Material
The Tencel lyocell material, which is found in many of their basic shirts and bodysuits, is very soft and comfortable to wear. However, they pill easily after a few wear and wash. It is helpful to have lint rollers on hand for this.
Natural Fabrics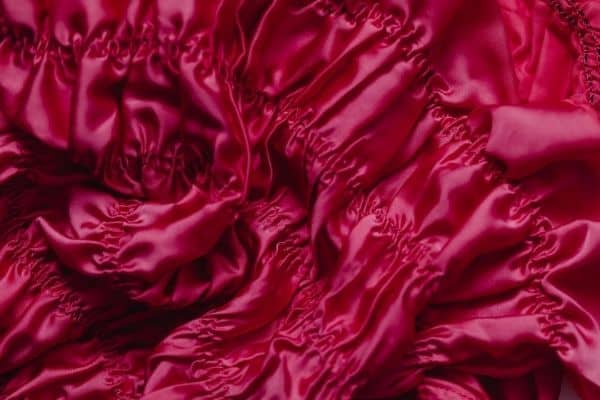 Reformation makes clothing with natural fibers such as linen, cotton, cashmere, and silks. There are many styles in a linen version that they have in the viscose. The linen is personally our favorite fabric from them because it is a lot more carefree and durable. We machine wash linen pieces without worry. Reformation also makes tops and dresses in cotton for the same price as their viscose material.
Cotton looks more casual than viscose so not many can justify wearing a cotton shirt that costs over $100. They also make sweaters with beautiful silhouettes in cashmere. Reformation's pricing for their cashmere sweaters is comparable with many other brands selling cashmere. They are not better or worse in quality in comparison to other mid-range brands.
Where Are Reformation Clothing Made?
Many of the older Reformation clothing was made in the USA. That was what attracted us to the brand in the first place. Sustainability doesn't just mean what the material is made of. It also includes how far the product is traveling to get to the target consumer. We appreciated that the clothing was made here in the US while paying livable wages to their workers.
However, in recent years, Reformation has expanded to make many of their clothing in China. It could be to meet the demand for the brand, especially now that its popularity is rising in other parts of the world. It seems to counter their message of sustainability to have the clothing manufactured and travel the distance.
Reformation Sizing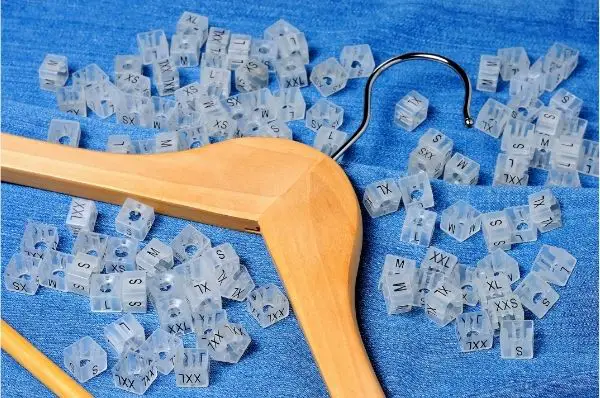 We have been buying Reformation clothing for years and years. It seems that in the past few years, their clothing has been made bigger after complaints that it ran too small. But no matter what the number is on the tag, their sizing can be tricky at first. Because not all styles fit the same or are consistent.
In fact, we find that even within the same style, the sizing can be sometimes off. For example, this same EXACT style of dress in the same size bought a few months apart, has different measurements.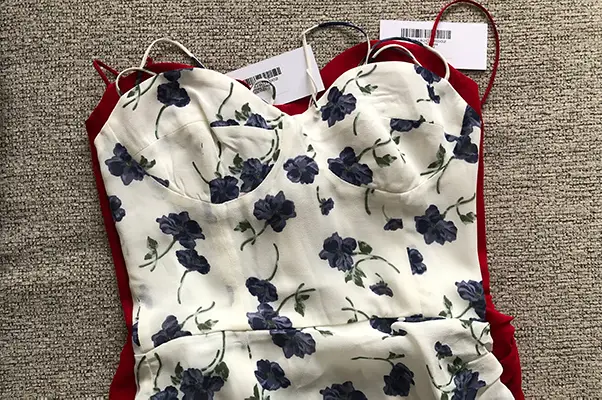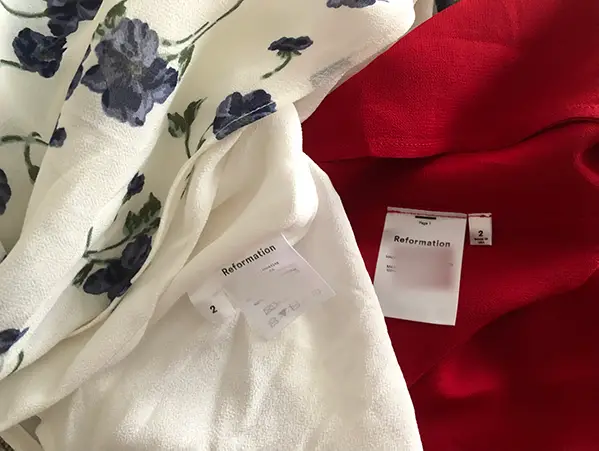 The red Kourtney dress was purchased more recently and it was almost a size bigger! This particular case may be a fluke.
Since women's bodies are all different, you may find that you're different sizes in their different dresses. For example, you could be a size 2 consistently in their popular Nikita and Juliette dresses but is a 0 in the Gavin dress.
Or, you could be one size in their viscose fabric but have to size down in a linen fabric. The best way to find out is by trying it on. Reformation offers free shipping and free returns. Once you know your sizing, it is much easier to shop with confidence elsewhere for a deal.
Where To Buy Reformation For Cheap?
Reformation does have occasional sales. Major retailers such as Nordstrom and Net-a-porter also carry the brand. These retailers have their own sales where they offer discounts on Reformation.
If you live in big cities like New York City, Los Angeles, or Miami, there are sample sales in the Spring and Summertime. You can also get a discount buying at online marketplaces like Poshmark and Depop. You just need to be cautious that you're not buying fakes. We will go over that next.
Reformation Fakes and Dupes
As with many brands with a rise in popularity thanks to being seen on so many famous faces, you will often find fake Reformation clothing. Our first experience buying from Depop was buying a fake Reformation dress. Since then, there has been a huge resurgence of fakes being made and sold on online marketplaces such as Poshmark, Mercari, eBay, and Depop.
These platforms are littered with questionable sellers who claim that it is a "factory piece". Or that "the brand tag is removed" or to message them first. There is no Reformation factory line like a J. Crew and J. Crew Factory. We wrote "How to spot fake Reformation clothing" and since then we have seen fakes where some details like a lining are being added in the Gavin dress.
Make sure there are clear pictures and take note of the tips that we went over. There are Instagram-based stores, as well as a major retailer that sells the same "Lemonade" and "Olympia" prints that are some of Reformation's best sellers for their Christine and Nikita dresses. It is one thing to sell an "inspired" piece but the price needs to reflect that.
Reformation Customer Support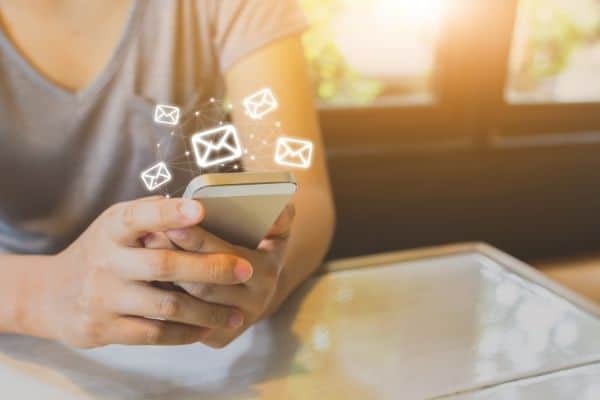 Reformation has a strange approach to customer support. You cannot call them to speak to them but you can text them. You can also email or reach out on their social media. They are very responsive in our experience so far but if anything changes, we will update here.
If they won't respond through email or text, try their social media or leave a comment on their Instagram post. When it comes to returns, they are strict. Make sure you know your return deadline.
Reformation Clothing Review
If you read online reviews, you will often find more issues than ones without. But people are more willing to leave a review when they have a bad experience as opposed to a good one. So to be fair, we will summarize the pros and cons here.
The resale value is one that is worth mentioning and should not be overlooked. If you tend to get tired of wearing the same thing, especially after taking many memorable pictures with it, Reformation clothing does very well on the resale market. That is why you will see them all over Poshmark.
There are very few clothing brands out there with the same demand on the secondhand market. It is a huge factor for us when it comes to buying a depreciating item like clothing.
Is Reformation Worth It?
After going through what you need to know about buying their clothing when it comes down to whether Reformation is worth it is entirely up to what you value. For timeless, sexy, and feminine dresses that make you feel like you're sparkling, buying Reformation is worth it. However, if you don't like the extra effort in laundering or you expect more durability in your clothing for the price, buying Reformation's may not be worth it.
The biggest complaint that people have is the price and wonder if the quality and design are enough to make buying Reformation worth it. But remember, the price includes the brand's hype, popularity, and demand. People pay for their design, patterns, and cuts, which are often copied. There is a design team that clearly knows what's flattering on a female body, no matter the shape.
There is a witty marketing team that knows its target market well. They also seem to have a huge PR budget for their clothing to be seen among influencers which adds to the demand. With all that said, if a piece of clothing can lift your mood and make you feel attractive, any brand, including Reformation is worth it. And no matter how imperfect a company may be in its past, we appreciate a strong effort for sustainability.