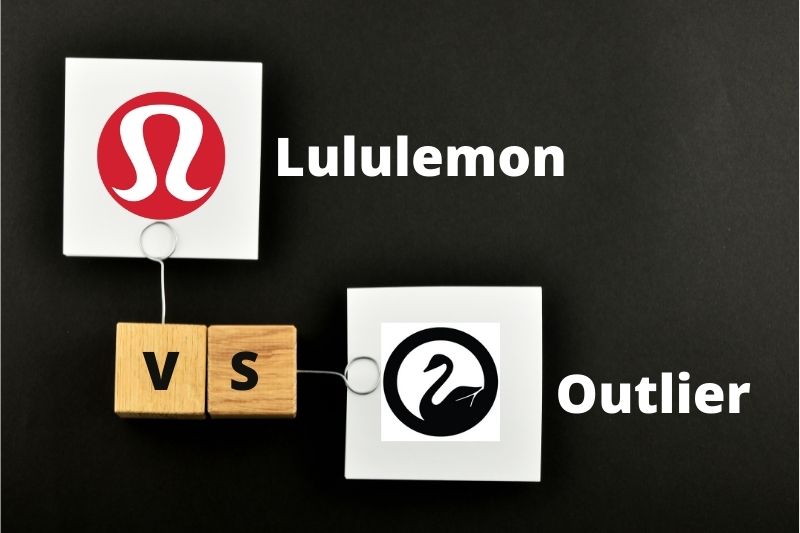 Lululemon and Outlier are clothing brands that offer versatility and comfort while looking dressy without the restrictions of actually being dressy. So which is better? Let's go over the pros and cons of Lululemon versus Outlier.
Lululemon Styles
Lululemon's most popular styles for pants are the ABC Pant and Commission Pant. Both come in four different fits, including the skinny, slim, classic, and relaxed fit. Both have the three-way stretch and have Lululemon's "anti-ball crushing" technology, which is basically a gusset on the crotch to allow you to move easier.
Lululemon comes at a bargain in comparison to Outlier. Both the Commission Pants & ABC Pants are $128. They also tend to go on sale so you can cop them for as low as $59.
Fabric
Lululemon's pants currently come in two main trademarked fabrics: Warpstreme™ and Utilitech™. There are other fabric types but these are the main two that are most popular and have been around for. Warpstreme™ fabric is stretchy and easy to move in. It does not wrinkle easily and you do not (and should not) ever have to iron it. You can do a quick steaming if you must then you're good to go.
The Utilitech™ is a four-way stretch material that is supposed to be abrasion resistant while still being smooth. Lululemon's use of fabric has evolved over the years. They used to have what they called Urbanite Swift fabric that was a two-way stretch pants. It was a sturdier and heavier fabric than the current Warpstreme™ version. But it was not as comfortable to wear or move in.
ABC Pants $128
The ABC pants are the more casual of the two. They are meant to look more like a pair of jeans with similar back pockets and rivets on the front pockets.
Commission Pants $128
Commission pants are the more dressy version and Lululemon's take on office slacks. The back pockets are hidden pockets, one normally with a zipper and the other with a snap button.
Outlier Styles
First of all, Outlier's price is steep and I haven't seen any sales from them either. But Outlier's pants are meant to be ones that you can wear anywhere and as often as you want.
If you think in terms of quality over quantity, versatility, and the cost per wear, the price will make a little more sense. Plus they're not a huge corporation and a lot of their stuff is made in the USA, instead of in countries with cheaper labor.
Outlier currently has four main styles of technical pants. For the sake of talking about technical pants, let's exclude other texture pants like linen. Outlier had other styles in the past too but let's stick with what they have currently.
Slim Dungarees $198
When you say a slim pair of pants, you can't go much slimmer than these pairs. They fit close to how a skinny pair of jeans would fit. They look like a pair of jeans with similar back pockets. The front pockets also have rivets that you would find in a pair of jeans.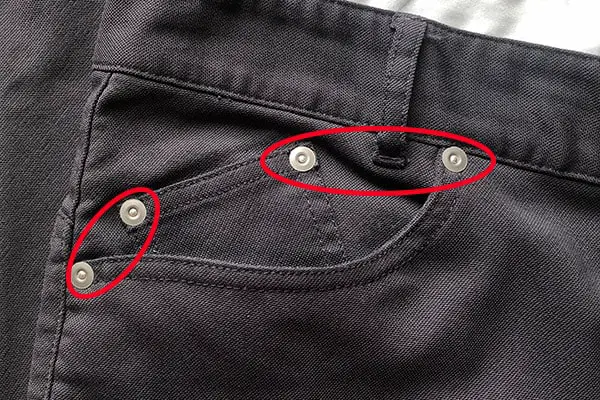 The Slim Dungarees are the most casual-looking pair out of the four. They do have the gusset so even though they're a very skinny pair of pants, they do not constrict movement.
Futureworks & Futuredarts $148
The Futureworks and Future darts are very similar at first sight with some minor differences. However, those differences make two very different styles. The Futureworks is the dressier version than the Futuredarts. Futureworks has silver buttons from Cobrax across all the colors while Futuredarts has matching colored plastic buttons to the pants.
Another minor difference is the pockets. Futureworks have cloth pockets while Futuredarts have mesh, stretchy pockets. But the main difference between the two is the fit around the legs and ankles because of how they are cut. The Futureworks have a very long gusset that reaches the knees. Here's the gusset of Futureworks (bottom) compared with the Slim Dungarees (top).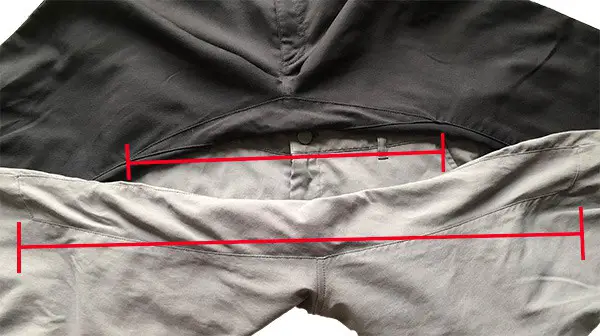 The legs on Futureworks are pretty much straight-cut so they look like a normal pair of chinos. Meanwhile, Futuredarts eliminate the gusset altogether. Instead, the cut from the crotch tapers all the way down to the ankles.
That doesn't mean it is a skinny cut like the Slim Dungarees. Outlier did some magic-cut that makes the Futuredart look more hip than your dad's work pants without losing the office vibes.
The differences pretty much end there. The fabric on both is the same with 97% Nylon, 3% Elastane canvas. Both look like a pair of slacks, just more textured and breathable than your regular chinos. They look ready to wear straight out of the dryer. No need to steam or iron them.
Given almost everything is the same with Futureworks and Futuredart, I ended up with Futureworks because I was looking for a dressier-looking pair of pants. The Futureworks replaced my Lululemon Commission pants.
Duckworks $295
Duckworks is the most dressy-looking out of the lot with a hidden closure instead of a button like the other pants. It is quite a thick fabric with minimal stretch. You can easily wear these to work but I wouldn't in the summertime. It is 100% cotton but the way this fabric is "duck woven" so that it is thick and dense is what makes the Duckworks superior.
Lululemon Versus Outlier: Which Is More Comfortable To Wear?
Comfort is a very subjective thing. It depends on how you like your clothing to fit and how sensitive your skin is. Maybe I'm too hairy in my legs to feel that big of a difference but both are equally comfortable. I can wear them all day but I wouldn't be able to wear a pair of jeans all day. The best way to know is to try them on.
Which Is More Hardwearing?
While I have not worn Outlier as long as I have with Lululemons, Outlier's fabric will most likely outlast Lululemon's. Why do I say this? I have been wearing many different pairs of Lululemon shorts and pants for over half a decade. I own both Commission and ABC pants. All of them show signs of after 6 months, despite rotating between at least four pairs.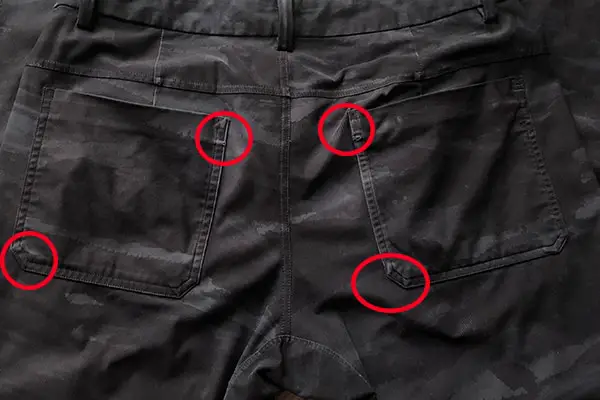 Look at these ABC pants with normal everyday wear and tear. You can see where the points of wear are because they are very faded. My wife washes them in cold water and air dries them most of the time.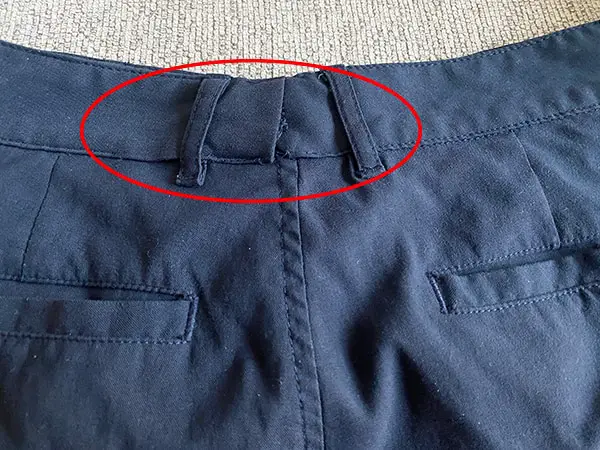 My outliers pretty much look the same since I got them. The only wear is the main button hole fraying, which is pretty minor. However, there is a weak point in the middle back belt seam in one of my pairs. I'm not sure if this is common since the other two pairs that I wear often are fine.
Lululemon Versus Outlier: Warranty
Lululemon offers one of the best and most generous warranties out there. They will repair, replace, or take back items with their quality promise as long as it is within a "practical lifetime". Lululemon also has excellent customer service when it comes to its product warranty. If the seams are coming off, you can bring them to their store to reinforce them.
Or if there are any other major flaws due to its construction and they can't fix it, they will replace them with a new pair. Even if the store associates are not always the nicest or most helpful, you can chat with an associate online.
Outlier does not offer any warranty or repairs. You can email them at best and each case is handled individually. We have not had to send anything for a repair yet but you can reach them here.
What We Like About Lululemon
Lululemon offers free alterations at their stores. This is great if you need to hem your pants. It is actually a great trick to save money as well because if only inseams 34″ or 32″ are on sale and you need a 30″, you can buy the longer inseams and have them hemmed to fit you.
You can find a physical Lululemon store in most major cities. They take up to two weeks but you can have it arranged for them to mail it back to you or to pick it up in the stores. Another great thing about Lululemon is that they stand behind their product.
As we mentioned under their warranty, they will repair or replace issues beyond normal wear and tear. Lululemon's styles and colors are also easy to identify with the size dot. We show you in the next article below.
Read Next: Your Ultimate Guide to the Lululemon Size Dot
What We Like About Outlier
Outlier was founded in New York and a lot of their clothing is still made in New York. Ours are made in New York. Some of their items are now made in Portugal though. But for us, we will always support small American companies that make most of their stuff here in the US over countries on the other side of the world.
Most of Lululemon's items are made in Vietnam. It is nothing against other countries but we find it more sustainable to buy more locally. We also like that Outlier is not oversaturated like Lululemon.
Lululemon Versus Outlier: Resale Value
Who doesn't hate depreciation? Fortunately for both Lululemon and Outlier, these brands have great resale value. Why should this be a consideration when you're buying from a brand? Because most clothing loses its value as soon as you check out and drastically as soon as you wear it.
With both Lululemon and Outlier, you can recoup 40-60% percent of what you paid for. Outlier performs a little better than Lululemon though because they are not as saturated on the resale market.
Lululemon Versus Outlier: Who Has The Best Technical Pants?
| | | |
| --- | --- | --- |
| | Lululemon | Outlier |
| Price | $128 | $148 – $295 |
| Warranty | Lifetime | None |
| Comfort | Same | Same |
Lululemon offers great value for money, especially when you can get them on sale or at an outlet store. You can also find Lululemon stores throughout the country for hemming or other issues. Outlier is more unique, you will not see everyone else wearing them and they are generally more hardwearing.
You can't go wrong with either but if you're looking for extra services and customer support and you have a budget to stick to, go with Lululemon. If you've tried Lululemon and haven't been impressed, try Outlier. You may be pleasantly surprised.