If you're looking to sell online, eBay is one of the biggest platforms in the world for buying and selling new and used items. With over 182 million users worldwide, it is a great marketplace to make extra money. So here are five must-know tips that you need to know for selling on eBay as a beginner.
5 Tips For Selling On eBay As A Beginner
In no particular order, here is what you must know to successfully sell on eBay.
1. Take Good Pictures
Whether you're selling on eBay or any other marketplace, taking good photos is CRUCIAL. In our over a decade of experience selling on eBay, most buyers DO NOT check descriptions. This is due to how the eBay app is laid out and because many people still use their phones to shop online. eBay allows up to 12 photos so it will make it much easier, in the long run, to include as many photos as you can.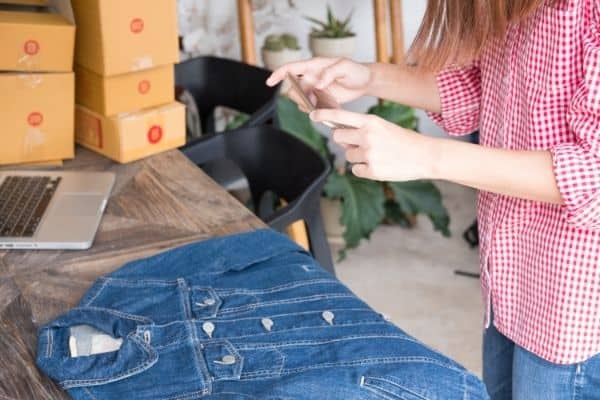 In order to avoid unhappy customers and return requests, you will want to include the following:
Close up photos of imperfections
Materials and care tags for clothing
Measurements
Close up of details such as zippers, embroideries, logos, etc
Many private messages about an item tend to include questions that could be answered by this list. So you will be saving yourself the time to pull out an item that is already put away if you have included the photos in the first place.
2. Do Not Take Your Sale Outside Of The App
You may from time to time get spam emails or emails from buyers wanting to take the sale outside of the eBay app. Whether it is to save on eBay fees or overall cost, DO NOT give out your personal email address or phone number to anyone on eBay's messages.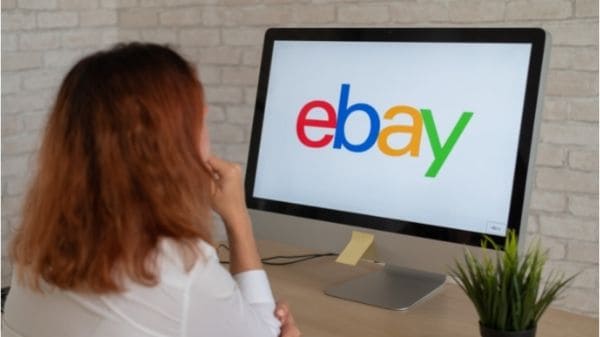 You do not want to risk losing your seller's account to save a few bucks. Especially if you're looking to sell long-term. You can reply that you will not sell outside of the eBay app if it is a real buyer. Or you can ignore or report spam emails.
3. Learn How To Ship
In addition to eBay's fees, shipping costs are one you can't avoid. While you can put an estimate while listing the item, you must know the weight and dimensions of your packages once you buy your shipping label. Make sure you have a  shipping scale and a measuring tape. 
eBay has a commercial shipping rate that gives you a discounted shipping rate to USPS, UPS, and FedEx. So make sure you use shipping with eBay or other shipping software that allows integration with eBay, such as pirateship.com and GoShippo.com.
There are also shipping tips and tricks that you are allowed to use to save money on shipping. If you're not sure what to charge for shipping, we have resources for you down below.
Read Also: How To Determine What To Charge For Shipping Selling Online
Read Next: The Shipping Secret You Need To Know To Save Money: USPS Flat Rate Envelopes
4. Say Yes To The Global Selling Program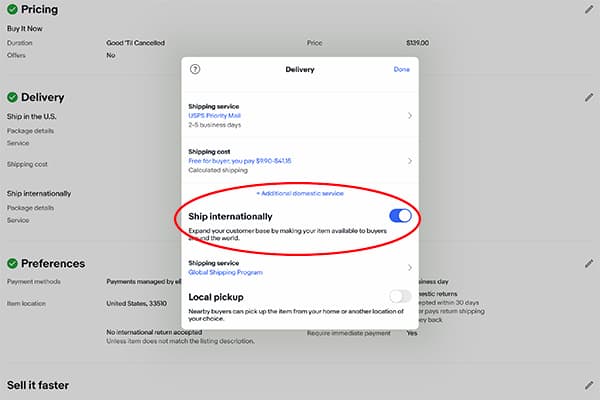 Since eBay is available in 180 countries, make sure that you are selecting to "Ship internationally". You don't have to know anything extra to ship worldwide. If a buyer is from overseas, eBay will handle all the shipping arrangements. The shipping address will be to a port in Kentucky where eBay arranges the final shipment once it clears customs.
Having international buyers opens up a lot more potential sales. Especially because certain brands and items are more popular overseas than here in the US.
5. Provide Customer Service
In rare cases, there will be unhappy customers. They either didn't look clearly at the pictures, didn't see flaws in the descriptions, or changed their minds for any reason. Even if you don't allow domestic returns, a buyer can attempt to return their purchase. While it may seem unfair as a seller to have to accept a return or give a refund, you will want to put on your best customer service hat.
It is easier to accept a return and resell the item than to deal with a potential prolonged issue where eBay or PayPal will have to step in. eBay gives you 3 days to accept returns so make sure you're responding to the case before they have to step in.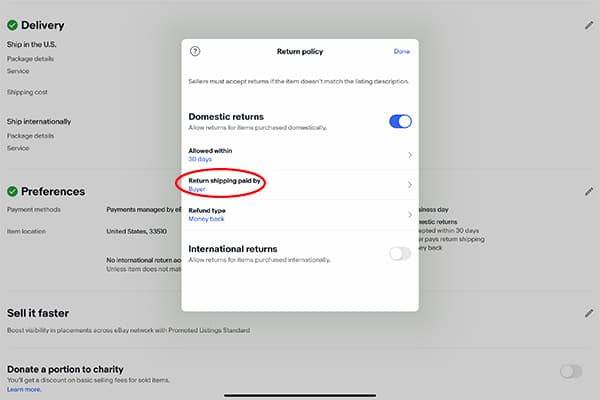 The best thing you can do to prevent returns is to make sure you take good photos as we mentioned earlier, answer any questions as soon as you can, and select "customer pays for return shipping" on all your listings.
You will want to use your best discernment based on what the item is and how much it costs. You can offer a partial refund for the buyer to keep the item or have the customer send it back. Sometimes, a customer will open a return case and forget to send the item back within eBay's return period. In that case, the return case will close.
Last Tips
While there are many selling apps to choose from, eBay is undoubtedly one of the best. If you're interested in other similar platforms, we have many resources here that you can check below.
Read Next: Poshmark Vs Depop: The Clear Winner in 2022