If you are looking into expanding your small business or e-commerce business, one way is to offer to ship to Canada. You may be surprised to find out how easy and affordable it is to ship to our northern neighbor. Here, we will go over what you need to know about shipping to Canada. We will go over the cheapest method to ship a package there. We will also provide a step-by-step guide on how to ship your package from the US to Canada. Additionally, we will address some common questions and concerns with shipping to Canada.
This post is intended for individuals and small home businesses shipping to Canada. Large e-commerce platforms such as Amazon and eBay already have systems implemented that deal with international shipping, including to Canada. If you opted out of eBay's global shipping program, this method can be used as an alternative.
US-Canada Trade Agreement
Before we go over the steps on how to ship to Canada, you will need to know about the Customs Duties and Taxes rules. This will help ensure that you or your customer will not be surprised by unexpected fees upon delivery.
The US and Canada have a free trade agreement along with Mexico. The three countries formed a United States-Mexico-Canada trade called the USMCA. For full information on the USMCA trade agreement, check out ustr.gov. For the purpose of our interest in shipping between the US and Canada, you will need to know these two rules for custom duties and taxes.
Shipments from the United States valued at less than $150 CAD (the equivalent of approximately $118 USD at the time of this writing*) are not subject to customs duties.
2. Shipments from the United States valued at less than $40 CAD (the equivalent of approximately $31.50 USD at the time of this writing*) are not subject to taxes.
*The exchange rate between Canadian dollars to US dollars is subject to fluctuations. Please always check for the most current exchange rates.
If your item is valued above these thresholds, it is important for both you and your buyer to understand that customs duties and taxes will be collected before they can receive the item.
What Is The Cheapest Way to Ship To Canada?
When it comes to shipping any packages anywhere, the cost to ship will generally be dependent on several factors. These are usually the weight, dimensions, value of the item, and distance that your package is traveling to. Currently, the cheapest method to ship packages weighing less than four pounds from the United States to Canada is via USPS. However, you will not be able to buy the cheapest postage at USPS.com or your local USPS store.
The cheapest postage for shipping to Canada is with Pirate Ship's Simple Export Rate. While we have written a lot about Pirate ship, including these posts here and here, we have been looking for other affordable shipping software. At the time of this writing, we still have yet to find a cheaper option to ship to Canada. Pirate Ship's Simple Export Rate is still the cheapest method.
Simple Export Rate uses USPS as a carrier in the US. Once the package reaches Canada, Canada Post will take over the delivery to your customer.
How Much Does it Cost to Ship to Canada?
Below chart shows the most updated chart directly from pirateship.com at the time of writing.

How Long Does Shipping To Canada Take?
Shipping speed will vary depending on the type of carriers and service you choose. Simple Export Rate gives an estimate of between 1 to 3 weeks.
Delivery times are affected by holidays, world events, and with other factors out of a carrier's control. If shipping speed is a priority for your shipment, there are options with other carriers at the end of the post.
Rules to Using Simple Export Rate
While PirateShip's Simple Export Rate gives an extremely affordable rate, you need to keep in mind that it is restricted to packages that meet certain requirements. There are four criteria that you must meet.
Your package must weigh less than 4 pounds total.
The item(s) value must be less than $400.
Any of the dimensions are less than 24".
The Length + Height + Width added must be 36″ less than total.
How to Ship to Canada Using Pirate Ship
If you meet all the rules for using Simple Export Rate, you will need to sign up for a pirate ship account if you do not already have one. Buying postage from home for shipping anything will require that you have a shipping scale and a measuring tape.
First, log on to your pirate ship account and choose "Create a Single Label". Copy and paste all your buyer's information here under "Ship To". Pirate Ship uses Google autocomplete for addresses so it should match with what you have pasted. You can set up or modify the address where you will be shipping from also.
Canadian addresses are similar to US addresses. They will have the building number, street name, and options for the apartment number. Then it will be the city name and province, which is equivalent to our state. The zip code has a combination of letters and numbers. The example below is from an actual sale we have sent to Canada. We have blurred out the address due to privacy reasons.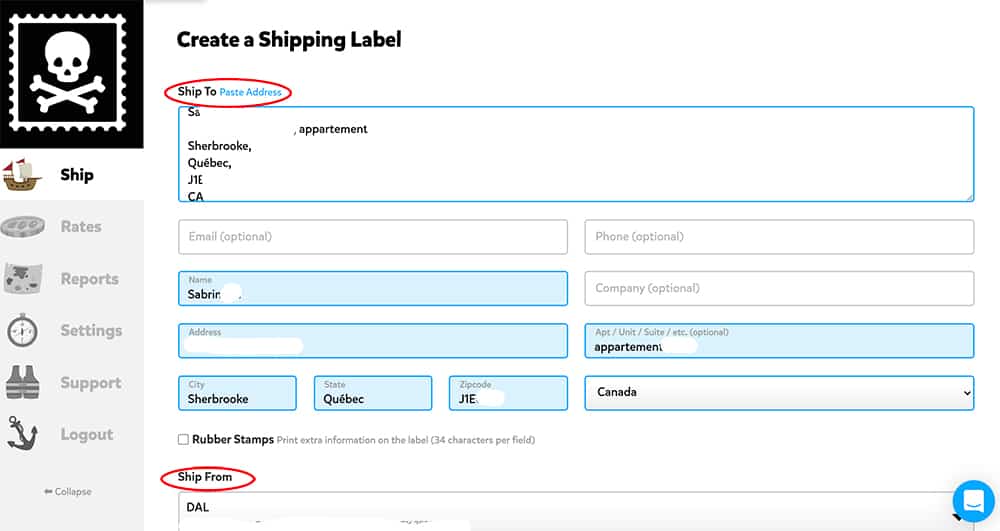 Next, you will enter the packaging information. Your package can be of any type. It can be a poly mailer, a box, or an envelope, as long as it meets the weight and dimensions requirements mentioned earlier. Make sure to click on the box for "Customs Form" which will open up more fields.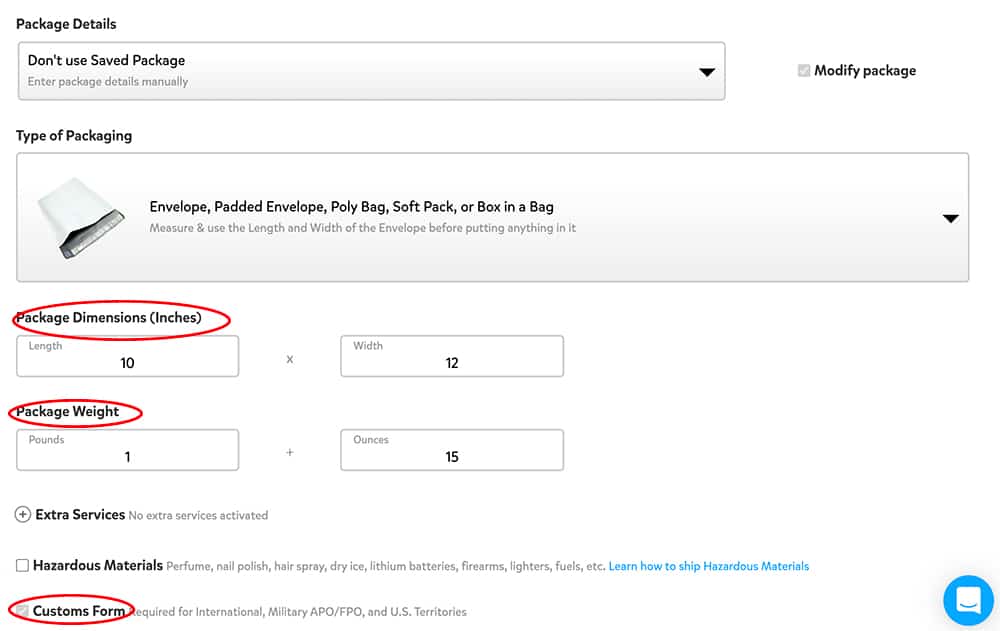 You will need to describe the contents of your package along with the value of your item. The package weight here must match the weight entered under Package Details in the previous step. You will then click "Get Rates" to get the price.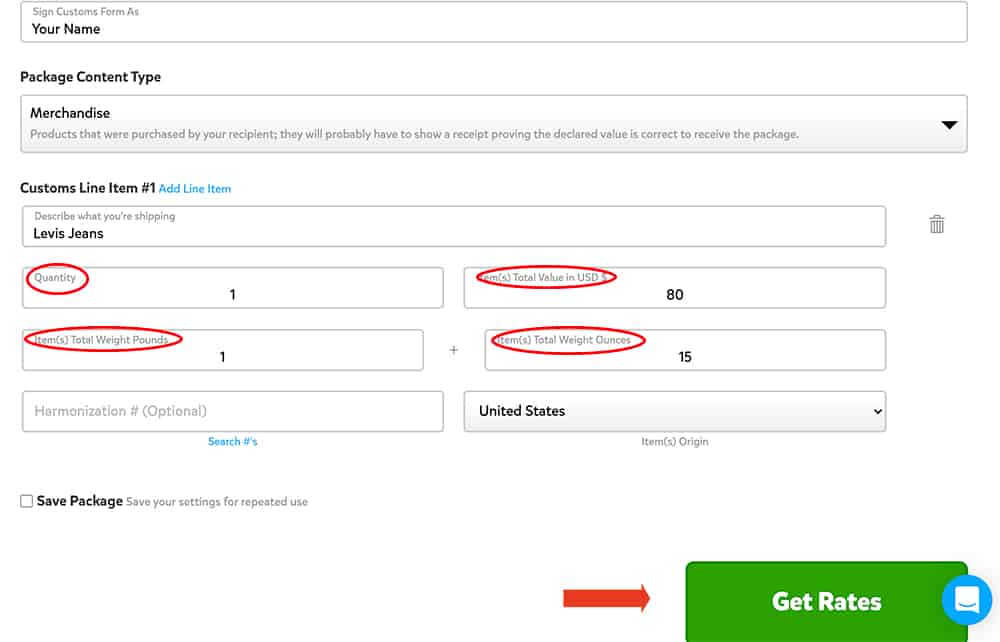 You will be given the price of the cheapest service automatically, which will be "Pirate Ship Simple Export Rate". This also gives you the estimated shipping time, which is currently 1 to 3+ weeks. There are additional shipping service options if you click on the box, however, they will be more expensive.
Since the package we entered is closest to 2 lbs, pirate ship gave us a 2 pound rate from the shipping rates chart we saw earlier. Once you buy the label, you will be able to print the label right away. Your custom form will also be a part of the shipping label.  There is no additional paperwork needed.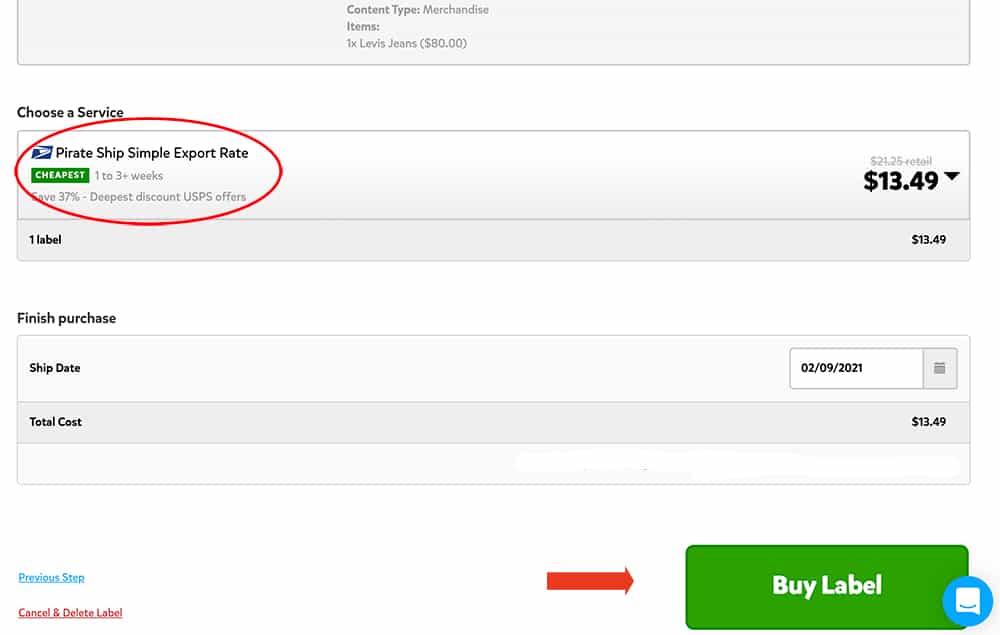 One thing you will need to note with Pirate Ship's Simple Export Rate is that it does not have insurance for lost or damaged mail. You can buy third-party insurance on top. It is definitely recommended if a lost or damaged package will cause a big loss for your business. It will still be cheaper to ship with Simple Export rate with the added insurance than to ship the same item with USPS Priority International or UPS.
If you have any issue, you can ask for help using the blue chat icon on the bottom corner. We find Pirate ship to be very responsive and helpful whenever we have used them.
Can You Track Your Shipment to Canada?
Using Pirate Ship's Simple Export rate with USPS allows you to track to the package destination the same way that you would be able to track your packages here in the US. There are also various tracking services that are able to track international packages. We have used 17Track in the past since they are a free service. 
What Are Other Options for Shipping to Canada?
While Simple Export Rate through Pirate Ship's Simple Export is the most affordable, you need to know other options if your package does not meet the simple export rate requirement. It could be that your package weighs more than 4 pounds or your dimensions are larger than the requirement or your item value is more than $400. Additionally, if your customer requires a speedier service and is willing to pay for the cost, it is also important to know what other services are available to you.
UPS and FedEx
Both UPS and FedEx offer various shipping speeds. The cheapest option with UPS will be through UPS Standard but it will be the slowest service they offer. The fastest service with UPS will be UPS Worldwide Saver, which offers next business day delivery by end of day for urgent speed requirement.
The cheapest option for FedEx will be with FedEx International Ground or FedEx International Economy. The fastest shipping option will be with FedEx International Priority, which can provide overnight or within 1 business day for some destination.
DHL
DHL is another option and the company specializes in international shipping. Like UPS and FedEx, they offer shipping speeds that are more affordable but slower speed to 1 business day. If your package does not meet the criteria for Pirate ship's Simple Export Rate with USPS, it is worth the few minutes to get a quote from all the available carriers to ensure that you are getting the best pricing.