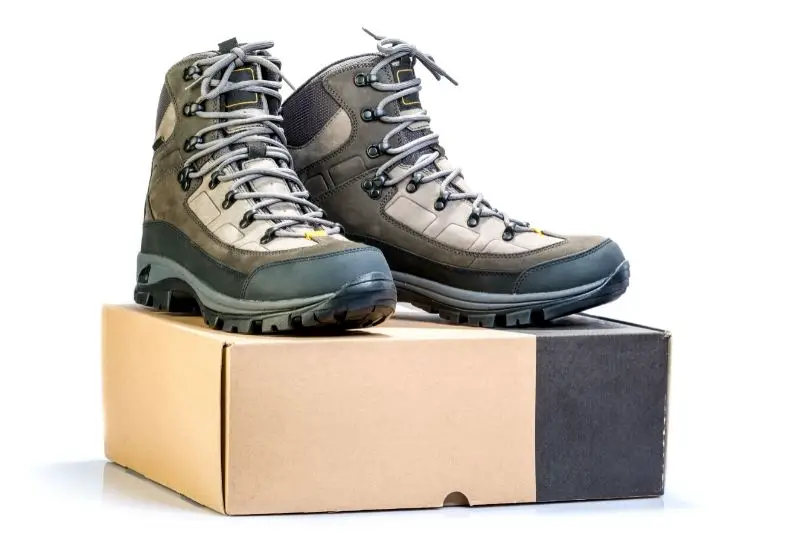 Boots can be bulky and heavy to ship. Whether you have the original box or not, we will go over how to ship boots and the cheapest way to ship them. As with shipping any package, you will need to know the weight and dimensions of your package. So make sure you have a shipping scale and a measuring tape.
How To Ship Boots In Original Box
The easiest way to ship boots is in their original box. A box gives the package structure and shipping it is as simple as adding a shipping label to the box.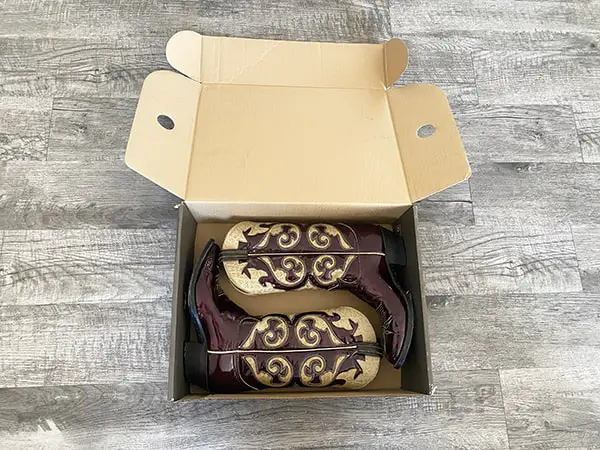 Make sure that your boots are protected from moving and scratching each other during transit. You can do this by wrapping each boot with tissue paper and adding additional paper inside the box.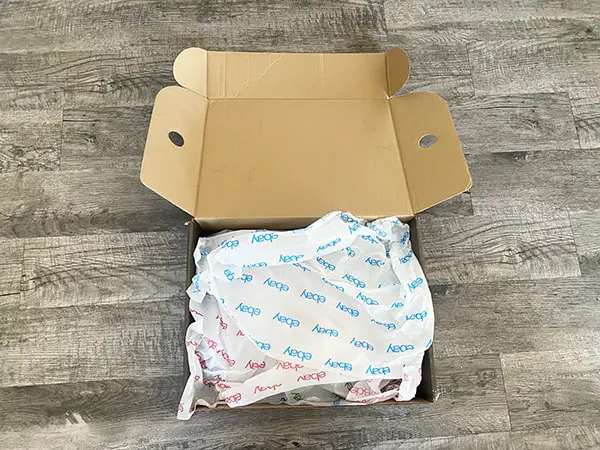 However, if you need to protect the boot box as well for presentation, you will need another box. You can reuse other boxes that you may have as long as the box fits inside, including amazon boxes. Or you can order boxes that will fit a standard boot box such as this one from amazon.
For example, this Ariat boot box is 18″ Lx 13.5″ W x 5″ H so this will fit inside with room for fillers. You will need to put in fillers such as bubble wraps, kraft paper, or air pillows to prevent the boot box from shifting inside the mailing box during transit.
How To Ship Boots Without Box
If you do not have the original box with your boots, there are multiple ways to ship your boots. The first and simplest way is to find a regular cardboard box that fits the boots inside. This is a good option if the destination of your boots is not far from your shipping address. Using a regular cardboard box will give you options to ship with FedEx or UPS, in addition to USPS.
Or you can use the free Priority mailboxes that are available at the post office. Even if your local post office does not carry the boxes you need at the front, you can ask to see if they have some at the back. You can also order them at USPS.com and USPS will deliver them to your door for free.
Read Next: Where to Get FREE Shipping Supplies For eBay, Amazon, Poshmark, Mercari, Depop & Etsy
Using a USPS mailbox does limit you to ship with only USPS. However, it can be the most affordable option if you're shipping long distances. For example, if you're shipping from Florida to Washington state or Alaska, a USPS flat rate box will give you the cheapest shipping rate.
You can use a side-loading Priority Medium Flat Rate Box as we did in the video below. As with shipping boots in their original box, make sure you are using fillers such as tissue paper to keep the boots from moving around the box.
How To Ship Boots For Cheap
How much it costs to ship your boots will depend on the weight, dimensions, and distance that the boots are going to. As we mentioned earlier, USPS flat rate boxes are great for long distances. However, for shorter distances, you will see that there are cheaper alternatives.
To get the cheapest shipping rates for USPS and UPS, you will need to use shipping software. A shipping software will give you commercial pricing on your postage. Pirate ship is the easiest one to use and is completely free. It also comes with $100 built-in insurance in case of lost or damaged mail.
Read Next: Cheapest Way To Ship A Package: Step-By-Step With Pirate Ship
How Much Does It Cost To Ship Boots?
Our boots weigh 4 pounds and 13 ounces, going from Dallas, Texas to Chicago, Illinois. The dimension of our box is 18″ Length x 13.5″ Width x 5″ Height.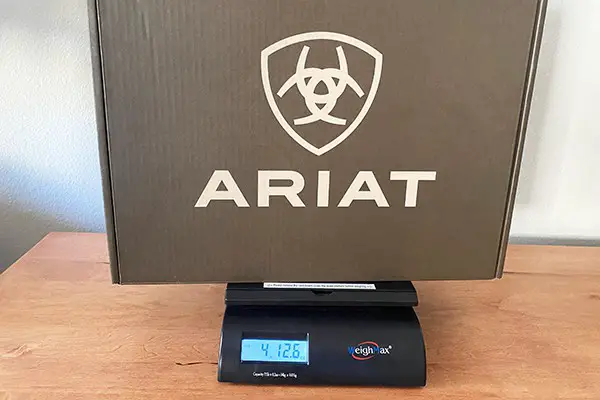 You will select a "Box or Rigid Packaging" under the Type of Packaging and enter the dimensions and package weight. Pirate ship does round up the 13.5 inches width to 14 inches.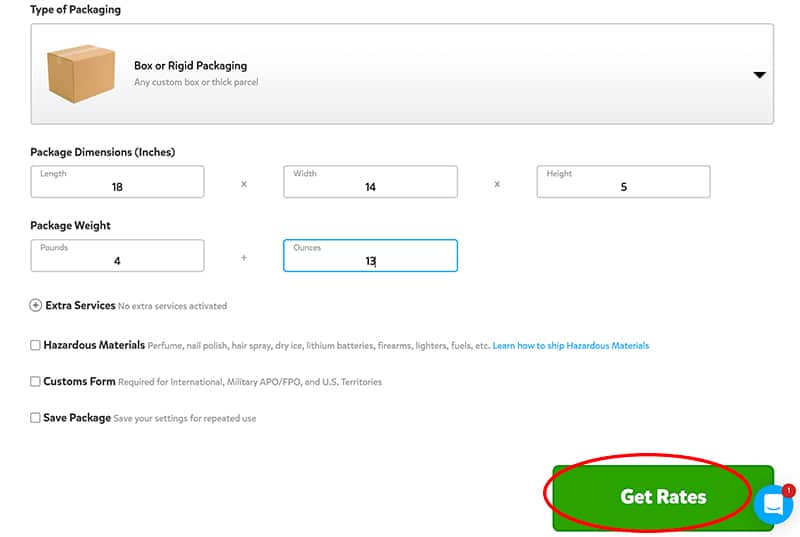 When you select "Get Rates", you will find that UPS is the cheapest service. With UPS Ground, it was $10.80 to ship an almost five pounds box of boots from Texas to Illinois.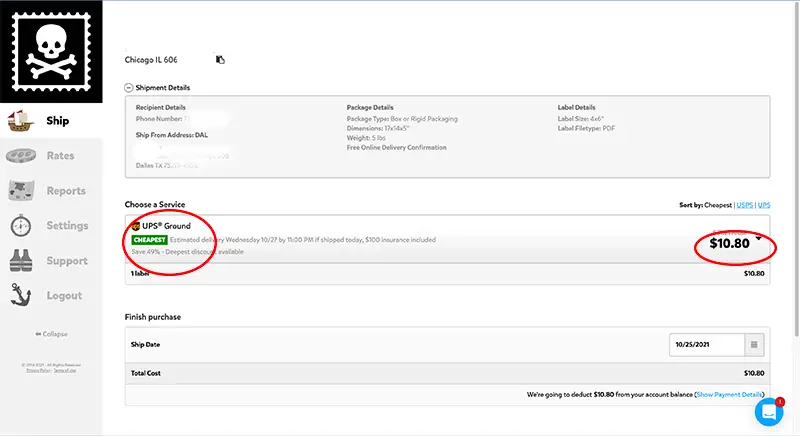 Last Tips
Shipping boots does not have to be complicated. There are many options and ways to ship a pair of boots, depending on the level of care that your boots may require.
If you're not worried about the condition that the boots may arrive at their destination, you can stuff the boot with tissue paper and ship it in a large poly mailer.
Otherwise, use the tips that we mentioned earlier and as outlined below to get the cheapest rates to ship your boots.
Use Pirate ship to get commercial rate on your postage
Protect your boots from moving or shifting inside the box
Use USPS Priority Flat Rate box for shipping long distances
Use other boxes for shipping shorter distances