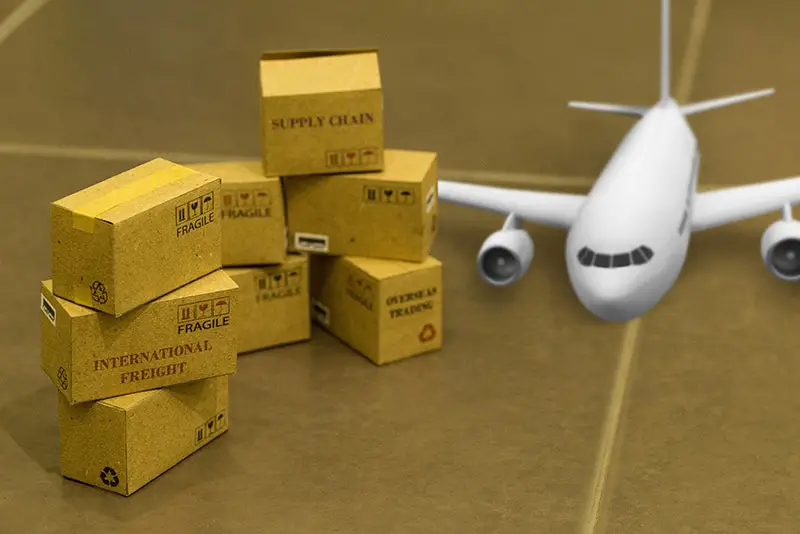 Shipping internationally does not have to be complicated. In fact, it can be almost as easy as shipping domestically. In this post, we will show you how to ship internationally with USPS online. We will go over a step-by-by instruction along with what you will need to ship internationally with USPS Click-N-Ship.
To skip the long lines and even longer postage buying process at USPS, buying online will save you a lot of time. Additionally, buying from USPS Click-N-Ship online will be cheaper than buying postage at the counter. Even so, know that there is an even cheaper option to buy USPS postage for domestic and international packages at the end of the post.
What You Will Need
To ship a package from home, you will need a shipping scale and a measuring tape. Having this will at home will allow you to buy postage without waiting in line. You will also avoid fees that can be tacked on later if you get caught entering the wrong package weight from guessing.
This tutorial is for individual senders. If you are a commercial sender, you will need the following additional information.
License Number
Certificate Number
Invoice Number
HS Tariff Number
Country of Origin
We are individual senders so we do not deal with Commercial shipping. This tutorial will not cover the scope for commercial senders.
USPS account
Make sure that you have a USPS account. It is free to use and helpful to have all your USPS needs in one place. You can order FREE USPS shipping supplies, track your lost and damaged mail claims, and buy postage online. If your USPS package is lost or damaged, we have instructions for how to file a USPS claim here.
USPS Flat Rate Envelopes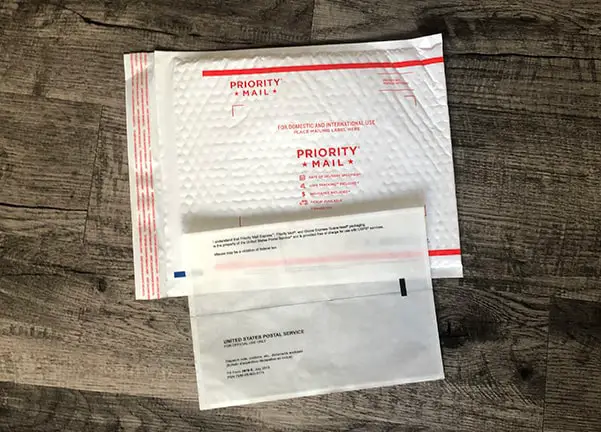 You can use your own packaging to send USPS Priority Internationally. However, if your item can fit inside one of USPS envelopes or boxes, it can be much cheaper. Normally, packages under 1 lb are cheaper to do regular USPS First Class or USPS Priority Mail. However, we find this to not be the case, as you will see in our example step-by-step instruction.
Customs Envelope Form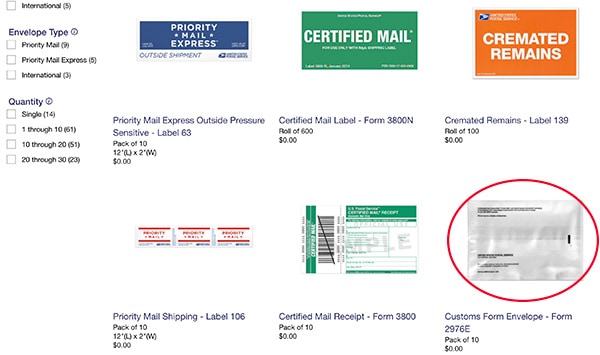 You can order this for FREE under Shipping Supplies. It is under Form 2976-E. It has a sticky back that you can peel off to stick onto your package. The front will have an opening to insert all the forms you will print out. If you need to ship your package out right away and you don't have this, don't worry.
Just take all your forms with you to your local post office. They will be able to give you one. Even going to the post office with everything else ready except having this envelope form will still be faster than buying postage with them.
How To Ship Internationally With USPS Click-N-Ship
Once you have all your shipping supplies ready, verify the internationally shipping address on google. This is to make sure that the address is valid. If there are numbers or letters missing, the package may get lost.Log into your USPS account and go to Click-N-Ship under Quick Tools.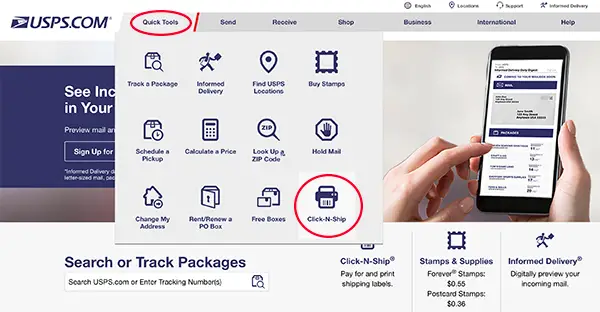 Step 1: Return Address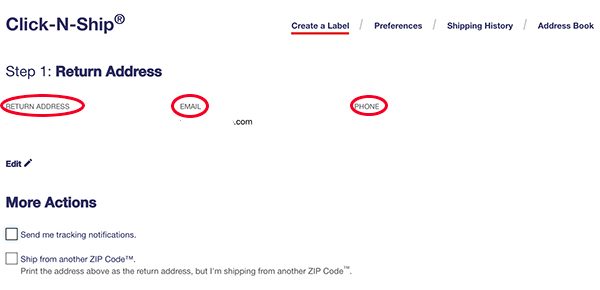 Enter your Return Address, along with your phone number and email. We have removed our personal information for this tutorial.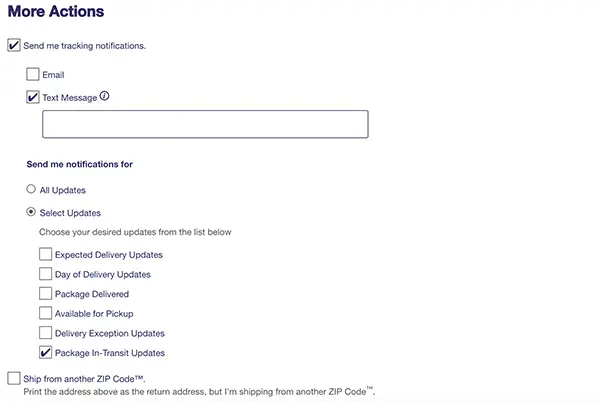 Click on Send me tracking notifications if you want to be notified. There is an option for text or email and the type of updates you would like to receive. If you don't want to be bothered, you can skip this step.
Step 2: Delivery Address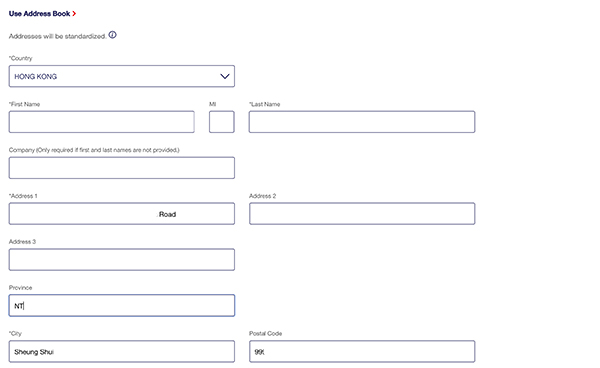 Next is entering the Delivery Address. The package we're shipping is to Hong Kong. The same applies to anywhere else that you are shipping to. You can check whether you want to Send the recipient an email notification or Hold for Pick Up a Post Office.
Step 3: Shipping Date
Choose the shipping date up to 3 days from today.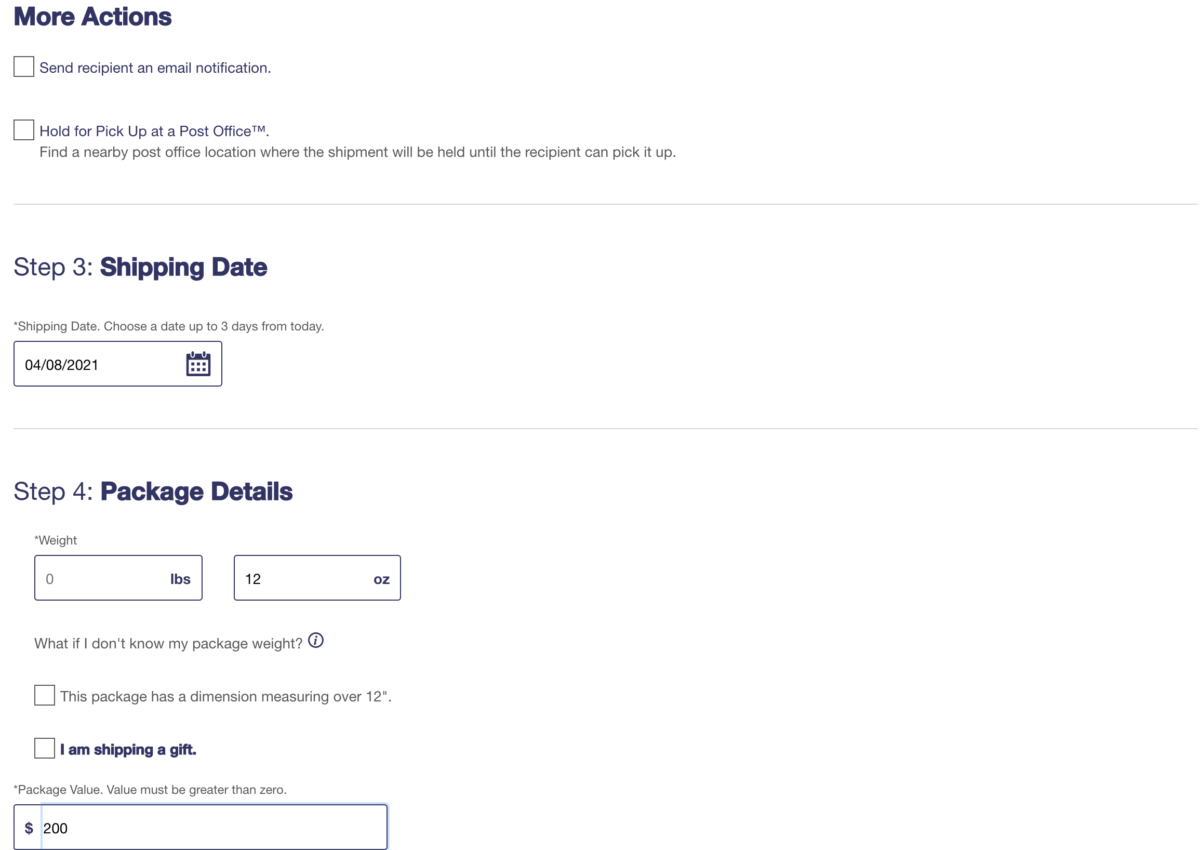 Step 4: Package Details
Enter your package weight. If you're between ounces, round up to the nearest full ounce. For example, if you have 8.4, round up to 9 ounces. If you have 12.9, round up to 13 ounces. Click the next appropriate boxes that are applicable to your shipment. Then enter your Package Value.
Step 5: Service Type
Go ahead and click on the arrow to select a service type. We chose Priority Mail International because it was requested by our recipient. Don't worry about the cost at this point though. You will still be able to see how much other services will cost before you have to pay.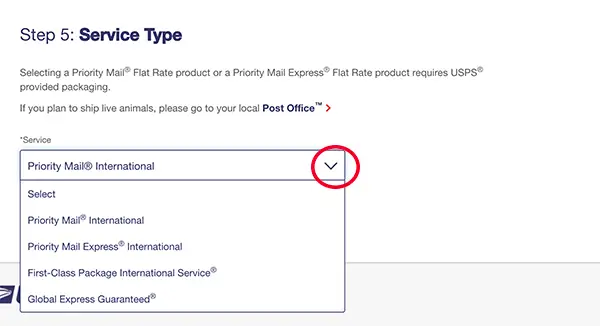 Step 6: Non-Delivery Options
Here, you will have two choices: Return to Sender or Treat As abandoned. There may be fees for choosing the latter option.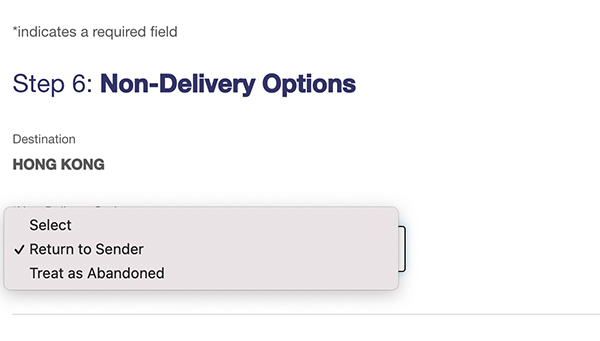 Step 7: Package Information
Choose the type of Contents, enter the Contents Description and any additional Comments about your package.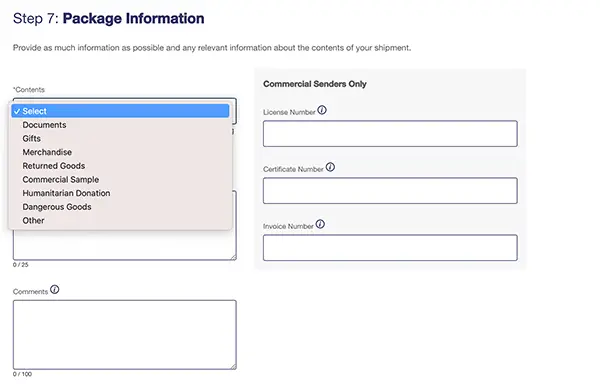 Step 8: Item Information
The information they request is repetitive. Enter the same values that you have entered under Step 4 and Step 7. Add Detailed Description, Item Value, Quantity, and Weight. Make sure the weight and item value matches with what you have written before.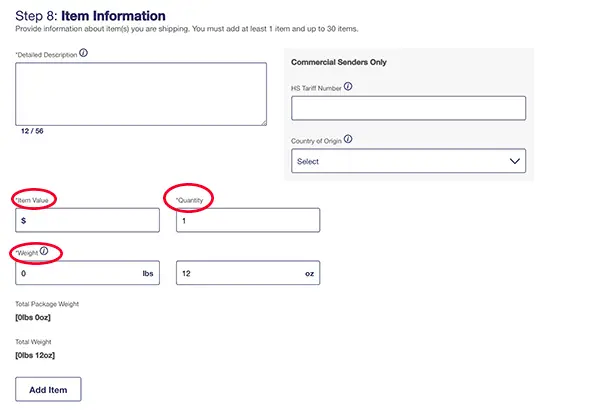 Step 9: Export Information
Select an AES Exemption. You can find full information on AES exemption at USPS here. For our shipment, since it is valued under $2500, we will select this option. Make sure you are following all required export laws, including Restrictions and Prohibitions.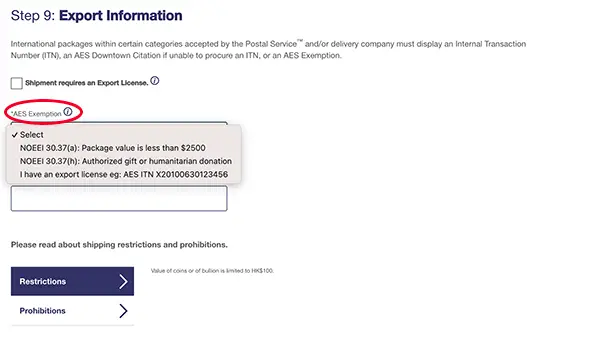 USPS International Shipping Rates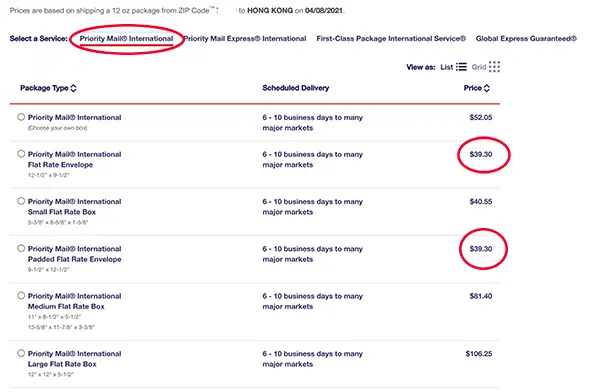 Here, you will be given all your international shipping rate options. It will also give you an estimate of how long it will be for your package to arrive at the recipient's address. These are how much it cost to ship from the US to Hong Kong. We are centrally located in the US.
The price of shipping internationally will depend on where you live, where your package is going and the type of service you choose. You can use your own box, in which case the weight and dimension of your package will also determine the price of shipping. For our 12 ounce package though, you will see that it is cheaper to go with a Flat Rate Envelope.
On top, you will see a tab for other services. Click on each one to find the shipping rate. Normally, First Class packages are cheaper for domestic shipments. But here, Priority Mail International gave us the most affordable rate using a Flat Rate envelope.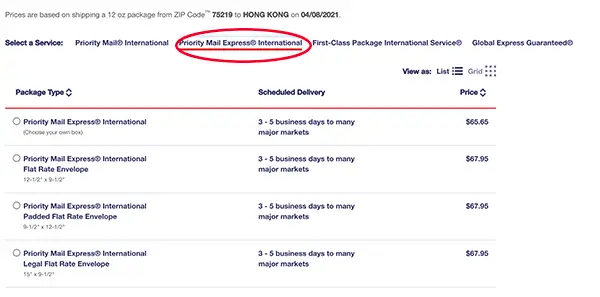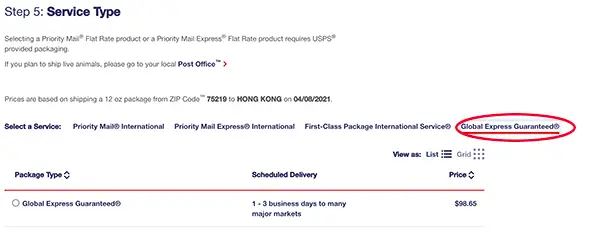 USPS International Insurance
UPSP has a built in insurance for up to $200 for Priority Mail International. Since our package value is below, our built-in insurance is free.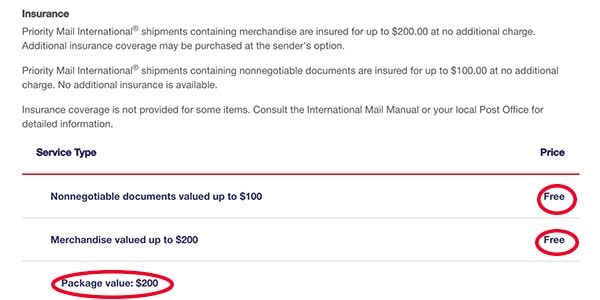 Buying Postage
Once you select the service type and package type, you will see your total cost. We chose the cheapest rate, which was a Priority Padded Flat Rate envelope for us. Make sure you select Non-Delivery Options again.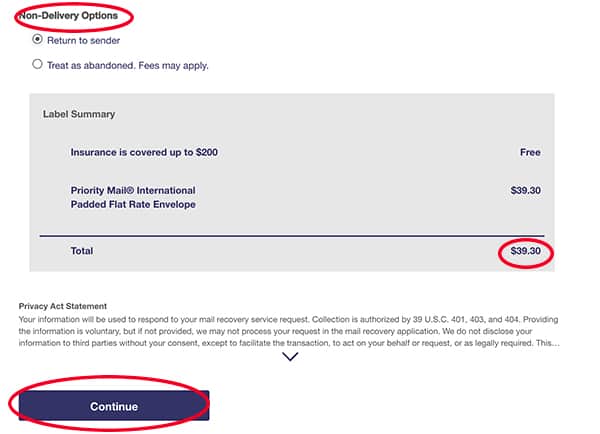 Continue to purchase the postage of your choice and your payment information. You will then be able to print the shipping label, along with the customs forms. You can also save the shipping labels to PDF to print later.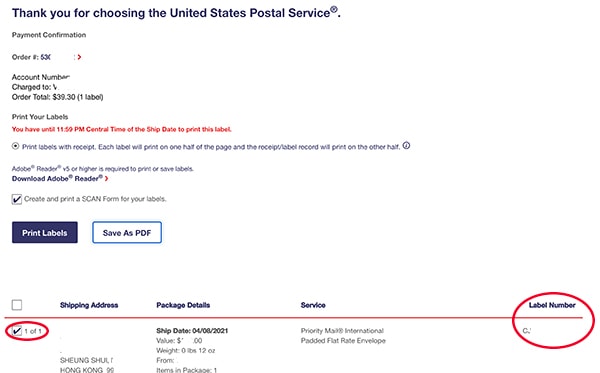 There should be 3 pages total for one shipment. You will need to print them all out. You will then fold them and place them all inside the Customs Envelope Form. You can drop off your package at the post office or you can schedule to have USPS pick up this package online.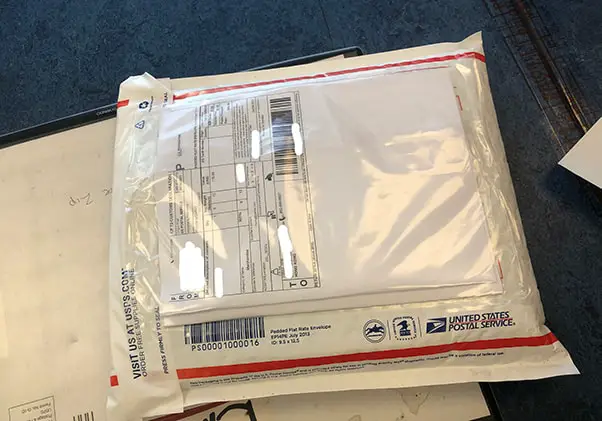 USPS Schedule Pick Up
USPS schedule pickup may not be available in all areas but you will see whether this service is available to your address. Follow the steps, including where you will be leaving your packages and choose a time. You will then be able to choose a day when this service will be available to you.
Finding Your Postage
To find all your USPS activities on one page, click on Activity History under Your Account.
Cheapest International Shipping
While being able to ship internationally with USPS online through USPS Click-N-Ship is a good option to have. It is cheaper to buy online than retail. However, know that there is a better option available with Pirate ship. Pirate ship has some of the most competitive rates for shipping internationally with USPS still as the carrier. See their pricing chart below.

We go through how to ship internationally with Pirate Ship, using Canada as an example here. For this same package that we have sent with 12 ounces, it would have cost us $15.49 instead of the $39.30 that we paid. The difference is the service type. The $15.49 is for Simple Export Rate, which takes longer than Priority International.
However, we could have also bought this same service at Pirate Ship. For the same exact service type (Priority International) and package type (Padded Flat Rate envelope), it would have been $37.35 with Pirate Ship, instead of $39.30 with USPS Click-N-Ship.
If you need to ship Priority, the difference may not be much to you. Especially if you don't want to bother with keeping up with both USPS.com and Pirate ship's website. Nevertheless, having more options empowers you to make the best choice for you.