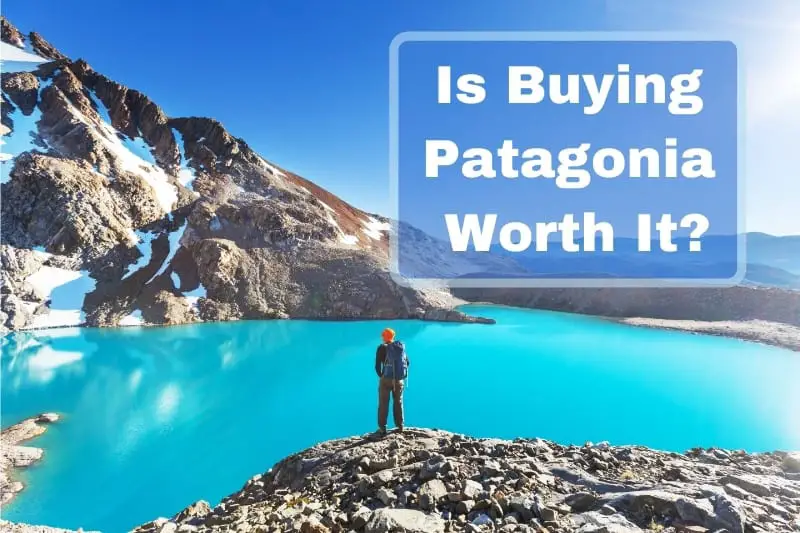 When it comes to an outdoor brand that is easily recognized anywhere is the brand Patagonia. You will often see the Patagonia logo somewhat subtle but clearly meant to be noticeable, placed on the left chest of most of their outerwear. But the price tag for their clothing doesn't come cheap. So we'll take a look at what exactly you're paying for and if buying Patagonia is worth it.
How Much Is Patagonia Clothing?
Here is what items from Patagonia generally cost.
Women's
Tanks and T shirts – Starts at $29 for Capilene tanks, $39 for short sleeve Capilene T shirts, and $55 for Capilene long sleeve shirts
Button-down shirts – Starts at $79 (Snap shirt)
Casual Jackets – Starts at $89 (Micro D Snap-T Pullover)
Technical Jackets – Starts at $99 (R1 Daily Zip Neck)
Vests – Starts at $79 (Classic Synchilla Vest)
Men's
T shirts – Starts at $35
Button-down shirts (short sleeve) – Starts at $69 ( Snap shirt)
Button-down shirts (long sleeve) – Starts at $79 ( Pima Cotton shirt)
Casual Jackets – Starts at $119 (Lightweight Synchilla Snap-T Pullover)
Technical Jackets – Starts at $99 (R1 Daily Zip Neck)
Vests – Starts at $79 (Classic Synchilla Vest)
Why Is Patagonia So Expensive?
There are a variety of factors that contribute to why Patagonia is expensive. Let's go over them so that you can see if these make Patagonia worth the money.
Responsible Material Sourcing
As of 2021, 87% of the fabric that Patagonia uses is from recycled materials while 100% of their virgin down is traceable and 100% of virgin cotton is grown organically. Recycled materials include synthetic fibers like spandex, polyester, nylon to natural materials such as cotton, down, wool, and cashmere.
While you don't have to be an expert in environmental issues, it is important to know the number of textiles that end up in landfills. According to the EPA, in 2018 alone, 11.3 million tons of textiles end up in landfills. This number makes up a whopping 66.4% of all textiles.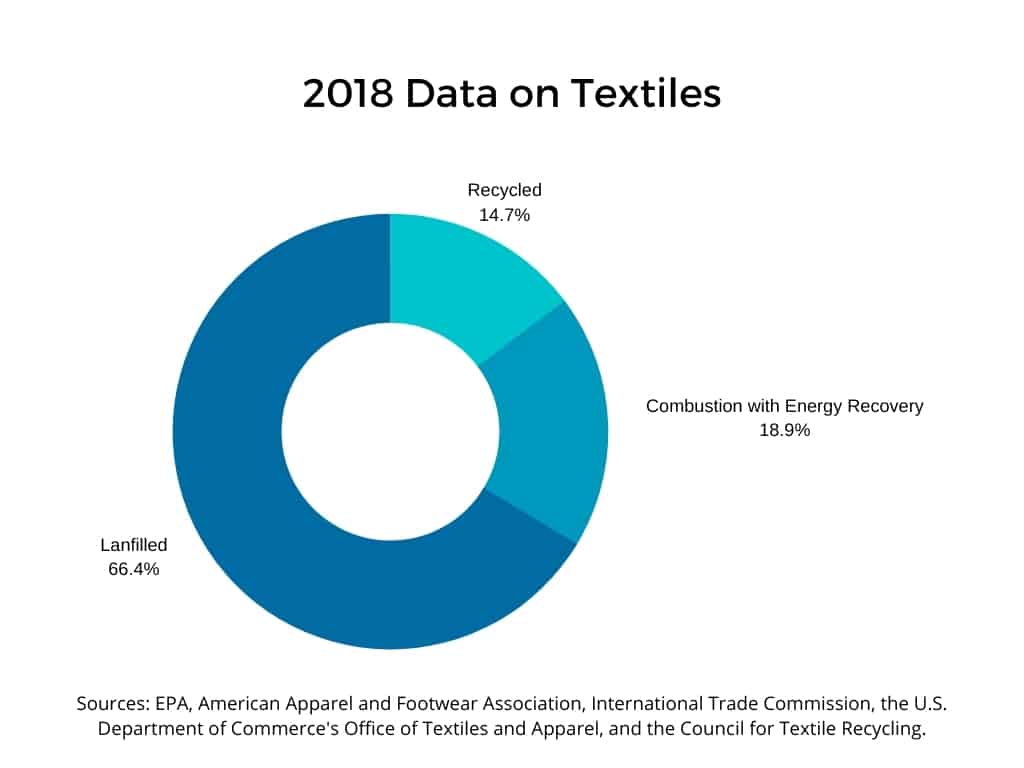 Patagonia's commitment to using recycled material keeps textiles from landfills.
Excellent Customer Service
At the forefront of any great company is its investment in the customer service experience. Patagonia has great customer service from our experience. The people we talked to have always been not just helpful but went above and beyond.
One particular instance that came to mind was when we had sent in a repair for a jacket before we moved. We completely forgot that we even had a repair coming back from Patagonia until we received an email. We called customer service to see if they could reroute the jacket to our new address. Because the jacket had already been sent out, they couldn't reroute it with their carrier.
So they sent a gift card in the amount that it would cost to buy the same jacket from their website. It was unexpected but really made our day. We have heard of many similar stories from Patagonia's customer service.
Amazing Product Repair And Replacement Program
When we look at a brand, we look at whether the brand stands behind its product. Patagonia offers one of the most generous programs when it comes to its product warranty. They have an "Ironclad Guarantee" that allows you to send in a repair if something is broken, ripped, or damaged.
They will try to fix it or replace the item. If they're not able to do either, they will give you a refund or gift card. You can find the repair form here. All you have to do is fill out the form, print it, and mail it out with the item that you're sending in for a repair.
Patagonia's product repair program is also in line with the sustainable message that they preach. For us, it is always better to repair first before buying anything new. We will always support a brand that practices what they preach by offering free repairs to buy less.
Solid Performance And Longevity
At the core of any brand is being able to deliver what they promise. For Patagonia being an outdoors brand, that means their clothing must be able to withstand the elements and perform as intended. In this regard, you will not be disappointed with Patagonia.
What makes Patagonia worth it is the thoughtful technical design and materials used. We have down jackets from 10 years ago that are still just as warm. We even have vintage jackets from the 80s that we wear every fall and winter. They have held up very well, even when the care tag has worn off.
Great Resale Value
A huge part of sustainability is to reduce and reuse. That means if an item is no longer serving you, you can pass it onto someone else. It is even better when you're able to resell it and recoup some of the initial investment that you paid for.
Most clothing brands depreciate significantly in value once it leaves the store and especially once it's been worn. Patagonia has a strong brand with a strong following that allows most of their clothing items to retain a good resale value. It is similar to Lululemon in this respect.
Read Next: Is Buying Lululemon Worth It?
Environmental Responsibility
Patagonia is big on environmental responsibility from sourcing materials to giving back for environmental causes. As mentioned earlier, they use mostly recycled material in their clothing, as well as organic. They're also a part of the 1% for the Planet program that gives back to environmental solutions.
Read Also: The Most Sustainable Ways To Get Rid Of Your Clothes
Social Responsibility
Patagonia works with their suppliers to ensure that their workers have "safe, fair, legal and humane working conditions." They're a part of several programs that follow responsible labor practices including the Fair Trade and Fair Labor Association. For a full list of all the social programs that Patagonia is a part of, you can check their page here.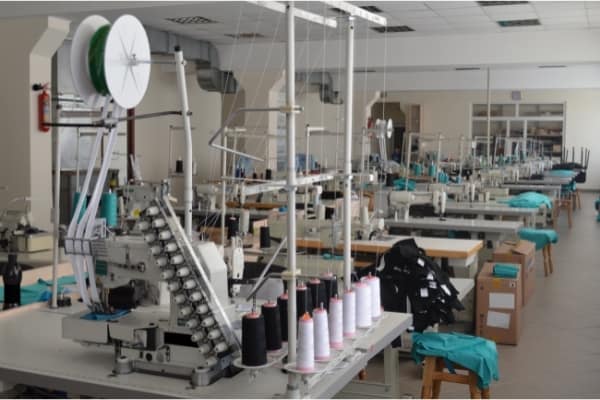 Is Patagonia Clothing Worth The Money?
While Patagonia is pricey, its commitment to the environment and workers, excellent customer service, quality guarantee, and strong resale value make most Patagonia clothing worth the money. This is true especially when it comes to their outerwear.
However, certain women's clothing items such as dresses and skirts are not the best value. When we think of Patagonia, it is for performance and outdoor gear. We don't look to outdoor brands for everyday fashion or lounging. We normally reach for other brands when it comes to this category.
How To Save Money On Patagonia
While buying retail can get expensive, you can still save money on Patagonia by buying on sale from their website or finding them on eBay, Poshmark, or other similar marketplaces. Patagonia also has its worn-wear website where you can buy used items that are in excellent condition.
Patagonia is also sold in large retailers like Nordstrom and REI who tend to have more sales throughout the year. So you can find good discounts through them.