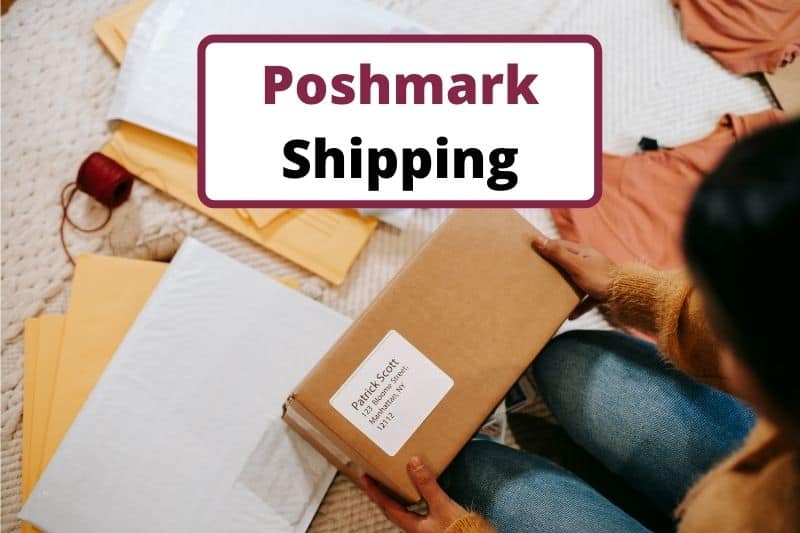 Spring is just around the corner so this is a great opportunity to go through your closet for a refresh and sell off items that you no longer enjoy. If you are new to selling on Poshmark, your first sale can be the most exciting part. But what are you supposed to do now? In this post, we will go over Poshmark shipping for beginners.
Many people get excited about the idea of selling but get stuck on what to do when the item sells. What tools or materials do I need to ship my Poshmark sale? What boxes am I allowed to use? So let's go over everything you will need as a beginner to pack and ship your Poshmark order. We will also give you tips for additional tools that will make your life easier when your sales grow.
Poshmark Shipping For Beginners: The Basics To Know
There are only three steps to packing and shipping your Poshmark order: print the shipping label that's emailed to you, pack the item, and drop it off at your local post office.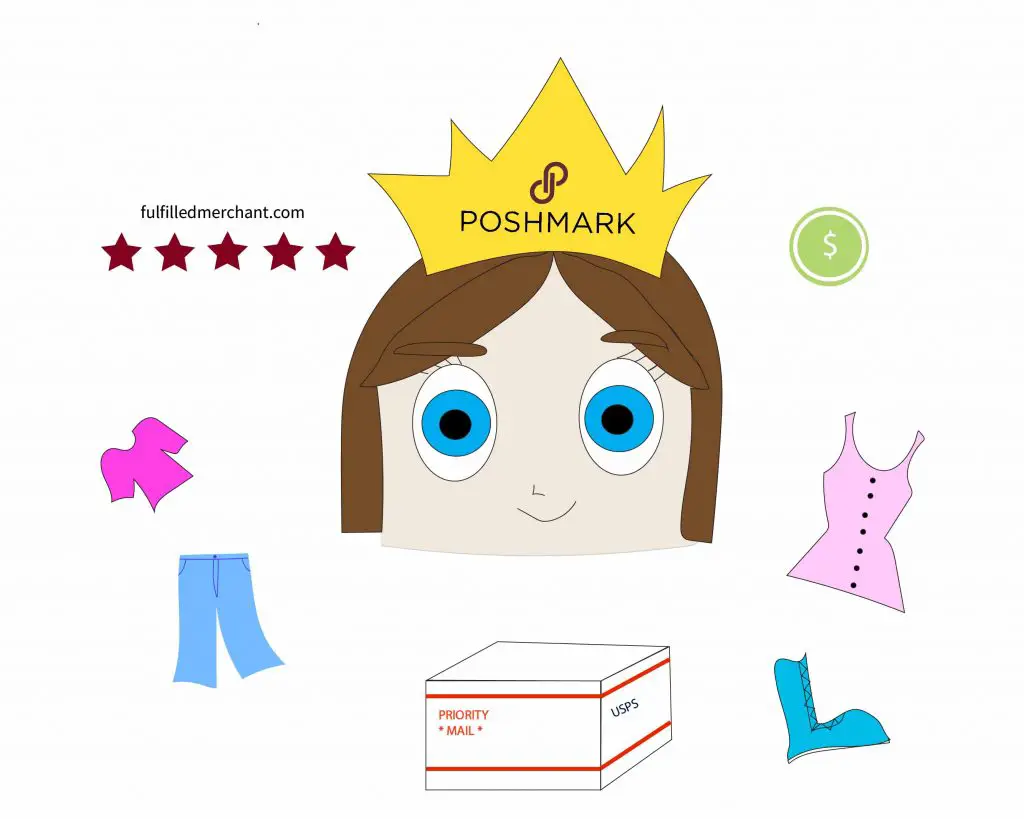 Step 1: Print Your Shipping Label
The first step to take once your item is purchased is to print the shipping label. You DO NOT need to buy a shipping label at the post office, it is already paid for. A shipping label will automatically be sent directly to your email. If you did not receive a shipping label, check your junk or spam folders.
Another option is to download it by going to "My Sales" on the Poshmark app. You will select the specific order and click on "Download Shipping Label". If you do not have a printer, you can print from a public computer, a friend's house, the library, or an apartment business center.
Step 2: Pack Your Order
Next, you will need to pack your order. Packing can be confusing for a lot of people because they may be unsure of what packaging material is allowed. What boxes or poly bags can be used to ship a Poshmark order? Do you have to go out and buy them? The simple answer is you can use almost any type of packaging, whether it is a box or a bag.
You do not have to go out and buy any shipping material, there are a lot of free resources available to you. You can reuse bags or boxes that you received from ordering something online. If you do not have shipping material at all, go to your local post office. They will have poly bags and boxes you will be able to take to pack your order.
You can use any Priority envelopes or boxes, including flat rate boxes of any size. As long as your item fits inside, you can choose Priority flat rate small, medium or large. The only restriction is that you cannot use any envelopes or boxes that say "EXPRESS".
Step 3: Drop off your package at USPS
Lastly, once your package is packed with the shipping label on it, you will need to take it to the post office. Poshmark only uses USPS as their sole carrier so you will need to find a USPS location to drop your package off. You don't have to stand in line. You can drop them off in the wall drop off by self-service kiosk.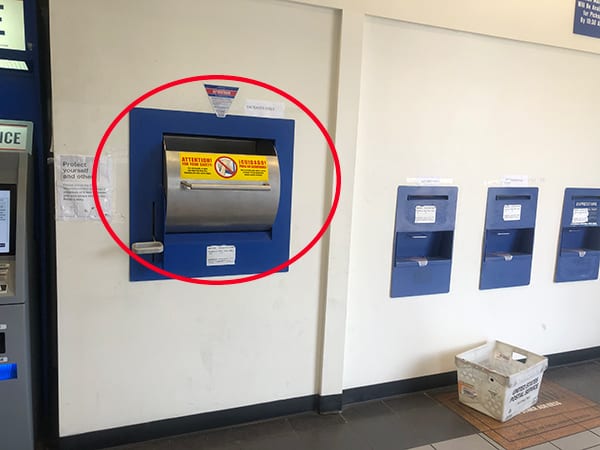 If you do want a receipt for dropping the package off, you certainly can stand in line. It will be quick once the line moves. Some people find that getting a drop off receipt give them peace of mind.
Where to Get Free Packing Material
As we mentioned earlier, you can get FREE Priority Mail Flat rate envelopes and boxes at your local USPS store. You can order them with your USPS account for more boxes and bag options.
Another handy tool to have for shipping are these waybill pouches from UPS. These are clear protective pouches where you insert your printed label. You then peel the back off, stick it to your parcel and close the top strip. They are also FREE at your local UPS store or you can order from UPS.com. We absolutely love this little guy. They eliminate the need for cutting your labels with scissors or having to tape your labels.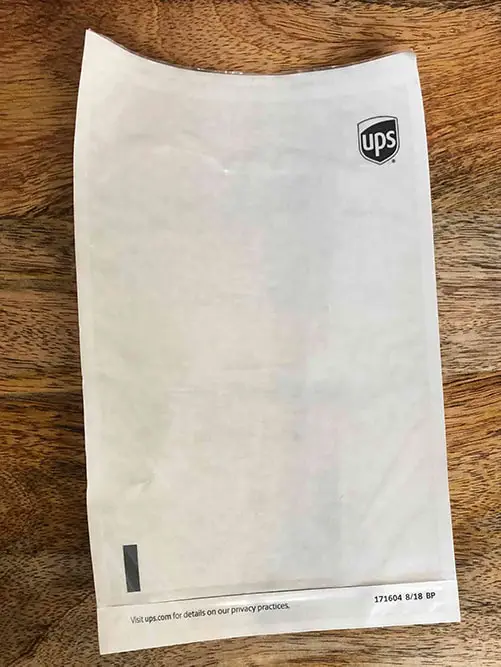 Check out this post here to see how you can get additional free shipping supplies and material. You will want to have these resources on hand as soon as you can for a sale. That way, you are ready to ship your sale right away when a buyer purchases your item. The faster you can drop off your package at the post office, the better it will be for your account ratings.
Tools That Make Packing Orders Easier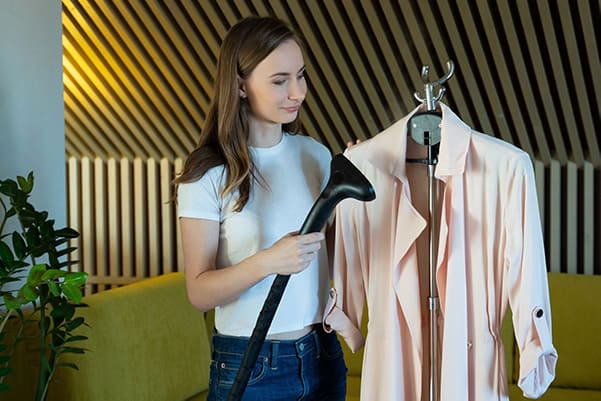 Poshmark can be more than a place to offload your pre-loved items. You can make it a profitable place to make extra income. Some people sell on Poshmark semi-full time or even full time. Once you have understood Poshmark shipping for beginners and wish to grow your store, there are tools that can make packing your sales easier.
They are a great investment and do not have to cost a lot of money. These tools make your items seem better-taken care of and give a better presentation for your customer once they receive their order.
Steamer
When you are taking pictures for your listings, steaming your garment makes the item look much cleaner and appealing. A portable steamer like this one on Amazon is great value for money. The steamer you choose does not have to be a particular brand. You can also use your portable steamer in your suitcase for a trip so it is super handy to have.
Lint rollers
A very affordable tool but one that is a must as Poshmark shipping for beginners and beyond is a lint roller. If you have pets or have clothing with fabric that tends to collect a lot of lint, lint rollers are crucial.
Most people would not want to receive something with someone else's pet hair or lint on their purchase. You can buy these lint rollers in bulk on Amazon or get them for $1 at the dollar store. You can also use them for yourself so it has multipurpose use.
Poly mailers
Cute poly mailers are definitely not necessary but it honestly makes a great presentation. It makes us happy to send such fun designs off to our buyers so they can share a simple joy.
You can shop around and find them on Amazon or eBay. We get them in the bulk of 100 or more, otherwise, they can be costly which takes away from your earnings.
Tissue paper
Packing your sale in fun tissue papers can make the item seem like it was from a boutique. You can get these from the dollar store, reuse them from birthday presents or buy them in bulk from amazon. They also add filling to the space if you are using a box to ship. The less your item moves around in the box, the better.
Thank you stickers
Thank you stickers make a nice touch to seal up a package or add them on the outside of your parcel. If you own a thermal printer, you can print these season-themed "thank you" stickers for absolutely free.
Clear poly bags
An alternative to using tissue paper is packing your items in clear poly bags. We recommend folding your clothing after you have listed them and packing them neatly in these bags. Storing your inventory in these clear poly bags helps you keep organized while still being able to see the contents of the bag. They also protect the item from dust, lint, and even odor.
However, we recommend that you wait to close the bag with the sticky strip until the item sells. This is because some potential buyers may ask for additional information such as certain measurements or additional pictures.
Thermal Printer
Once selling on Poshmark has become so profitable and fulfilling, you may expand to other platforms. Many seasoned sellers cross list their items on multiple platforms. This increases sales volume because more eyes are seeing your items. More sales mean investing in a thermal printer could save you a lot of time in your workflow.
Thermal printers print 4×6 labels without the need for scissors or tape. You will no longer have a need for even waybill pouches. Thermal printers do not require ink, toner, or paper. You can get free labels from UPS and FedEx if you buy Zebras (all models), Rollo, MUNBYN, MFLABEL, Meihengtong, and Arkscan. For a complete guide to selecting a thermal printer, check this post here.
Ink tank printer
If you want a printer that the whole family can use for school or office, ink tank printers are a great alternative. They do not use ink cartridges but rather ink bottles that refill the tanks. You will not have to buy bulky cartridges that end up getting thrown away and you get more print overall.
You can also set it up so that you can print your Poshmark labels from your mobile device! We personally use the Canon but Epson makes them as well. If you need guidance on what the difference is between thermal, inkjet and laser printers, check this post here.
There you have it, our guide to poshmark shipping for beginners. It is very easy to do and you can grow as much as you're comfortable with.