When you are searching for a printer for your small business, it can be a little overwhelming. There are a plethora of choices out there from inkjet printers to laser printers and even thermal printers. To help sort out the confusion, we will go over the strengths and weaknesses of inkjet vs laser vs thermal printers.
What is the difference between inkjet printers, laser printers, and thermal printers? Even among the types of printers, there are many models within each category. So we will help you narrow down to which type of printer to buy. Then, you can select the best model for your small business.
As we go over what each type of printer offers, ask yourself what your business printing needs are.
Do you need to print color?
Does it need to be wireless?
Do you need a scanner to make copies?
Do you need to be able to fax documents?
How often will you be printing?
Do you need to be able to print on both sides of the paper?
Inkjet Vs Laser Vs Thermal: Inkjet Printers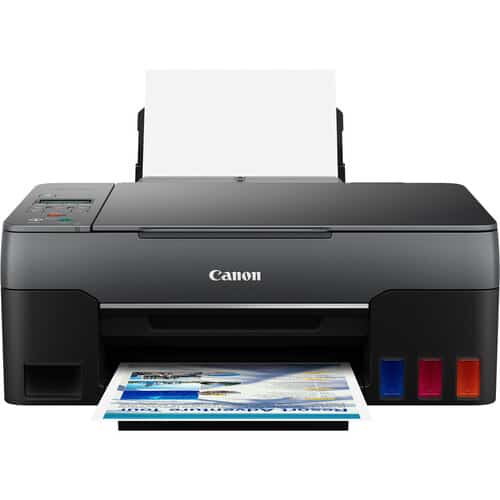 Inkjet printers are generally cheaper than their counterparts. Among inkjet printers, they can come with ink cartridges or ink tanks. Inkjet printers with cartridges can cost below $100 on the lower end. Meanwhile, ink tank printers start in the $200 price range, all the way up to $400 to $500 for more features. They can print in color or just black and white.
Inkjet printers are generally flexible when it comes to networking them and setting them up wirelessly. You can print from multiple devices such as your phone or tablet. Inkjet printers can come with flatbed scanners, document scanners, and fax machines. However, they generally print slower than other types of printers due to how their printing mechanism works.
Pricing in other regions:
Inkjet Printers Weaknesses
If you select an inkjet printer that uses ink cartridges, the cost to replace ink cartridges is higher even though the cost of the printer itself is lower. Additionally, the printing capacity is lower compared to its counterparts. Ink cartridges are only able to print a couple of hundred pages. That makes the cost of printing per page quite high. 
Many models of ink cartridges are also chipped. That means the chip has a set point at which it thinks the cartridge will run out of ink, even if there is still ink left. At that point, the printer will not print until you replace it with a new ink cartridge. That is very wasteful both in terms of money, ink, and the plastic that makes up the cartridge.
Inkjet printers contain micro nozzles on the printheads that project the ink out. Nozzles can get clogged over time, especially if you do not use your printer often. To fix this, you will have to run through a nozzle cleaning routine in the printer's reset or clean the nozzles yourself. The printer will not be usable. If the nozzles cannot be cleaned or unclogged, the printer will not be usable. 
Inkjet Printers Strengths
We owned many inkjet printers that use cartridges in the past but we are currently using a Canon G3260 All-in-One printer. It would take a lot of convincing to go back to a cartridge-type inkjet printer. The Canon G3260 All-in-One printer comes with ink tanks, instead of wasteful bulky cartridges. The replacement ink comes in bottles that you simply put in the tanks. 
An ink tank instead of cartridges actually allows room in the printer to hold more actual ink. Plastic parts of ink cartridges only take up space. Ink tank printers do have a higher upfront cost. However, the cost per print goes down the more you print. The higher your printing volume, the better value you will get. Overall, the ink tank printers are a lot more efficient when it comes to cost per page than the cartridge-type inkjet printers.
Inkjet Vs Laser Vs Thermal: Laser Printers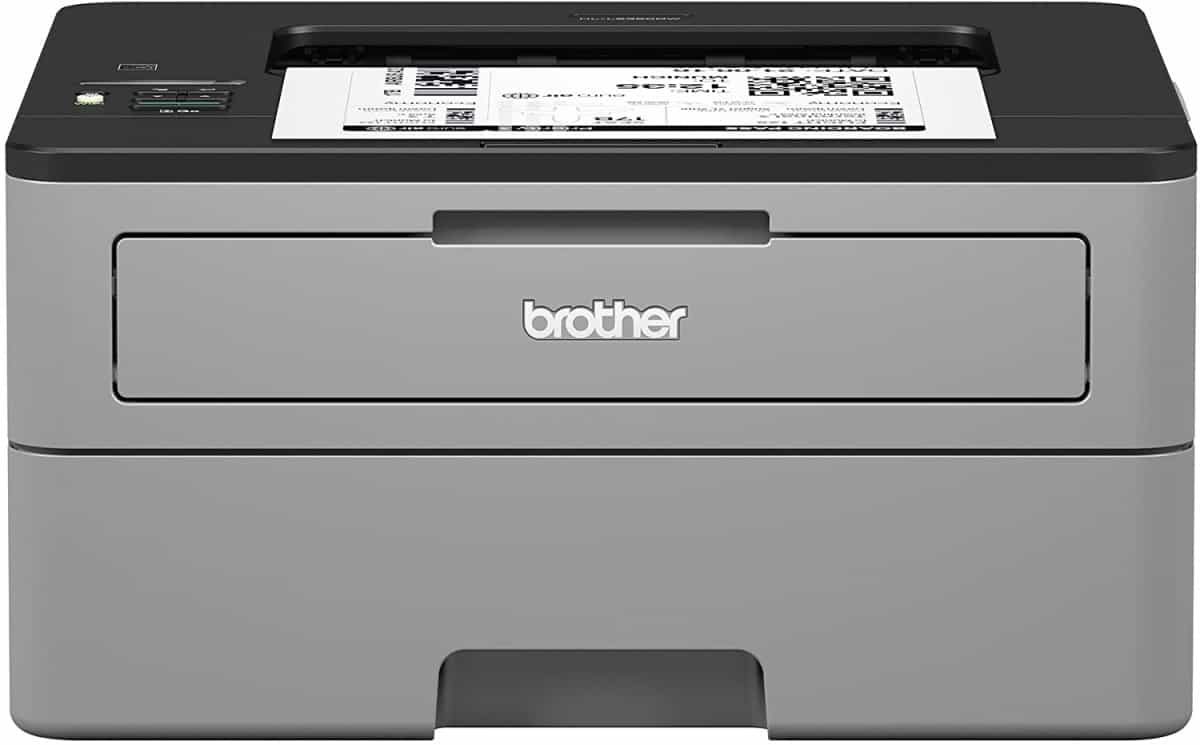 Laser or laserjet printers are what you usually find in offices, small businesses, and hotels. They are normally used to print black and white, which means they are great for printing documents quickly and affordably. The printing mechanism is entirely different from an inkjet printer, it does not use "ink" or any form of liquid.
Laser printers use toner, which are actually tiny plastic particles or powders. Toners contain charges that get fused onto the paper when printing. If you are interested in how laser printers work, read our review of Brother HL-L2350DW. We go over a synopsis of the process there.
Laser Printers Strengths
Laser printers are very efficient in terms of speed, print quality for texts, and cost per page to print. They are very reliable except for paper jams here and there as with all types of printers. Unlike inkjet printers, they can be used sporadically without causing any blockages or issues.
Laser printers are often referred to as monochrome printers because they only print black ink. Companies do make colored laser printers but those have a much higher price point and are not ideal for photos. 
Laser printers are generally very affordable. You can find them below, at or a little above $100. The Brother HL-L2350DW we have comes at $199. With most modern laser printers, you can print wireless meaning you can print from your iPhone, iPad, Android, etc. You can network them with ethernet or wirelessly. You can also print from multiple devices so there are a lot of flexible printing options with them. 
The design of laser printers normally comes with a large media capacity. You can fit a whole ream of paper on the paper tray. They also come with multiple types of paper trays so you can customize them for different paper media. Depending on the model, you can have two different paper trays with two different sizes of paper or two different colors. 
As with inkjet printers, they also come with added options like scanners, copiers, and fax machines for most office needs. The cost per print is a lot lower and efficient because most of the print only in black and white. Laser printers shine when it comes to volume printing as they can handle large volumes. Additionally, they can print at faster speeds than what you would get with an inkjet printer.
Laser Printers Weaknesses
The initial purchase price for a laser printer is generally a little higher than an inkjet printer. For the same price as an inkjet, you will only be able to print in black and white. Laser printers in general are not designed to print pictures, even if you buy a colored laser printer. The price for color laser printers can also be significantly higher and having to replace cartridges can add up. 
Colored laser printers are meant for colored documents like reports and presentations. The toner cartridge for colored laser printers will also add to the overall cost. It will be more expensive to replace each color than to replace single a black toner cartridge. If you need to print photos, inkjet printers would be a better choice between the two.
Overall, laser printers offer a great value for printing black and white. We were fans of the Brother HL-L2350DW, which we were able to get on sale for $120 and gifted it to a brother.
Pricing in other regions:
Inkjet Vs Laser Vs Thermal: Thermal Printers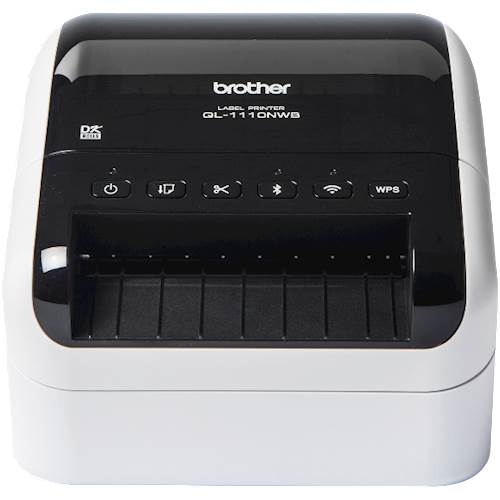 Unlike inkjet or laser printers, thermal printers are very specific to what they are able to print. Thermal printers do not use ink or toner. They use heat to transfer images to heat-sensitive labels. And they are normally used to print shipping labels, barcodes, or product labels.
Thermal Printers Strengths
Thermal printers are very compact and portable. You can take them with you on a road trip. They are very good at what they do, they are fast and reliable. You do not have to buy any replaceable parts, only labels. Depending on what model of thermal printer you buy, you can even get free labels from UPS.
If you only need to print address labels or amazon SKUs, smaller, narrower thermal printers are great options. Example models like the Dymo LabelWriter 400 or Dymo LabelWriter 450. You can save costs this way and you will no longer need a 4×6 thermal printer.
Pricing in other regions:
Thermal Printers Weaknesses
Because thermal printers are designed to be printed on labels, they are limited in how you can use them. Most thermal printers will only print black and white with a few options that print in color. The media or paper width is limited to 4×6 or even smaller.
You must also use thermal paper. For their size and what they do, thermal printers are not cheap. You can find thermal printers on the lower end on amazon for around $75 on sale. However, they are normally above the $100 price point for well-known brands like Brother or Dymo. 
Some thermal printers are also only USB-capable like the Rollo thermal printer. This means you will have to be connected to your computer to print. Wireless and Bluetooth-capable thermal printers like the Brother QL-1100NWB are more expensive for around $279.
Moreover, they often sell out as soon as there is a restock. In those cases, an independent seller will charge more than retail. We would not recommend you buy one over the retail price.
While thermal printers specialize in printing shipping labels, you can still print any type of label using inkjet or laser printers. However, keep in mind that they will not be as fast or efficient as thermal printers.
Within thermal printers, there are many brands, models, and options. We have a plethora of reviews on different thermal printer models here at the blog. Which thermal printer to choose will depend on your budget and what features you want in a thermal printer.
Do you want wireless or Bluetooth capabilities? How about the requirement for proprietary labels? Are you using apple or android, and so on. If you are interested, they are linked under "Related Posts" at the end of the page.
What Is The Best Printer For Home Use?
Now that we have gone over the inkjet vs laser vs thermal printers, which type of printer is best? Here is a synopsis below. Remember that there are many models within each category of printers. Our recommendation based on specific needs will be posted in the short future.
| | | | |
| --- | --- | --- | --- |
| | Inkjet Printers | Laser Printer | Thermal Printers |
| Best for color printing | ✅ | | |
| Best for document printing | | ✅ | |
| Best for shipping labels | | | ✅ |
| Best for high volume printing | | ✅ | ✅ |
| Best for fast printing | | ✅ | ✅ |
| Scanning capable | ✅ | ✅ | |
| Faxing capable | ✅ | ✅ | |
| Wireless capable | ✅ | ✅ | ✅ |
| Two-sided printing | ✅ | ✅ | |
Related Posts
Which Thermal Label 4×6 Printer is Best: Rollo vs Dymo 4XL. A Comprehensive Review
Brother QL-1110NWB Thermal Label 4×6 Printer Review
The Best Thermal Label 4×6 Printer For Shipping Under $100? Zebra LP2844 Review
The Cheapest 4×6 Thermal Label Printer? Meihengtong Xprinter XP-DT108B and MFLabel DT108B Review
The Best 4×6 Thermal Printer For Shipping Labels? Rollo Thermal Printer Review
The Best Brother Thermal Label 4×6 Printer? Brother TD-4D TD4550DNWB Review