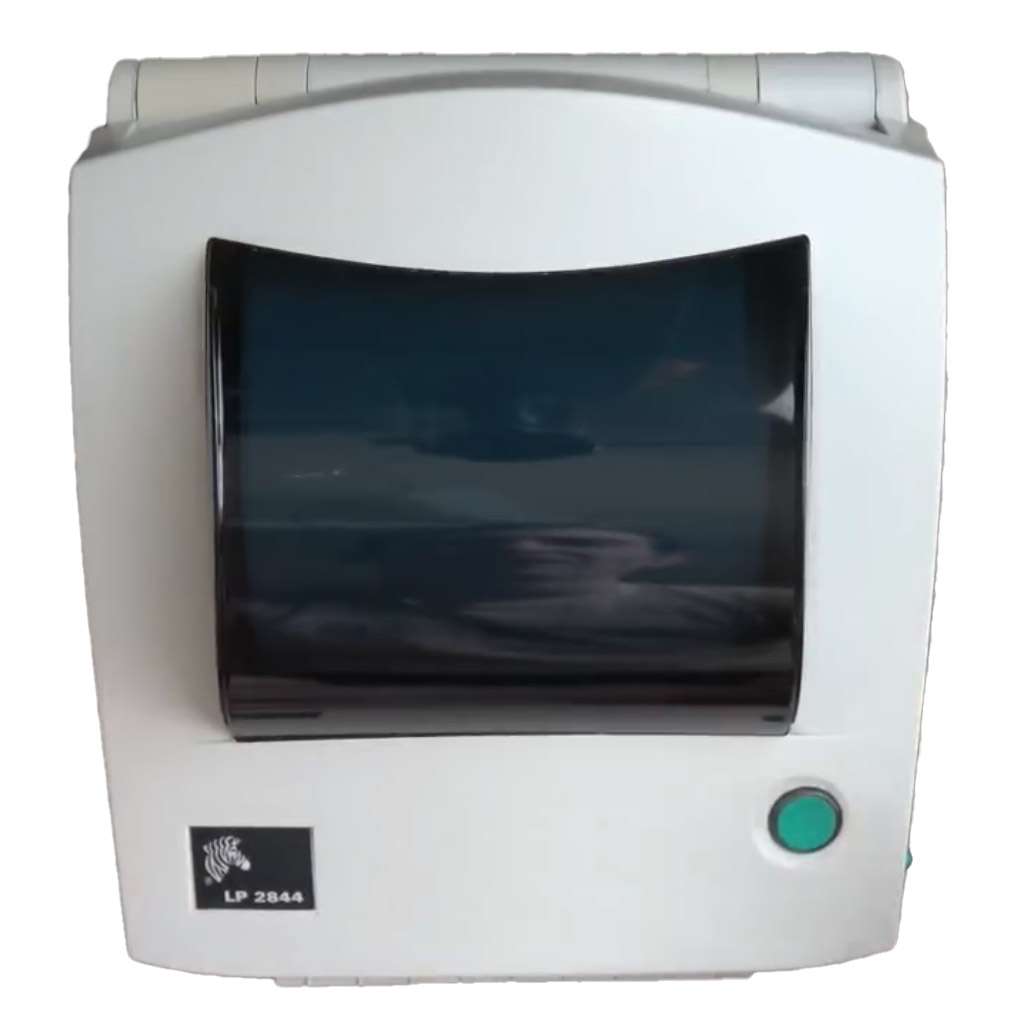 If you are looking for a thermal printer for your home business, the price can be a huge factor in deciding which one to invest in. If you are on a budget, you may be looking for the best thermal printer under a certain price threshold. While the Zebra LP2844 can be hard to come by, it offers great value for money. So in this post, we will do a Zebra LP2844 thermal printer review so that you can run to the register if you find one.
Quick Facts
Compatible with a PC, Mac, or Chromebook.
Sold in secondhand markets.
Any type of labels can be used with it.
Older technology so no mobile, bluetooth or wireless capabilities. 
Model discontinued from Zebra so customer service unavailable.
How Much Does The Zebra LP 2844 Cost?
At the forefront of any review should be the value for money you will be expecting to spend. To start off this Zebra LP2844 thermal printer review, we will go over how much you should expect to pay.
Even though the Zebra LP2844 may be a lesser-known thermal printer now, it was the number one printer back in the early 2000s. They are currently only available on the second-hand market, usually refurbished.
The Best Thermal Label 4×6 Printer For Shipping Under $100
We found ours on eBay for $34.55 plus $0.99 shipping and it included 600 labels. If you can find one under $100, it is a good deal. If for some reason, a third-party seller is selling a refurbished for over $100, newer printers may be a better value. For an unboxing and a video version of this review, we will include it at the end of this post. 
What Are All The Design And Features?
As with all other thermal printers, the Zebra LP 2844 uses heat to transfer images to heat-sensitive labels. You do not need ink, toner, or paper like a traditional printer. The Zebra LP 2844 printer is a self-contained printer so the labels go inside of the lid, instead of having to hang outside of itself like the Rollo, for example. This saves space and looks neater on your desk.
The Zebra LP 2844 is made of a sturdier, thicker plastic than the Dymo 4XL, for example, which feels like it will crack if it got accidentally dropped. We have been using ours for years and years and our particular Zebra was manufactured on September 21, 2005, and assembled in the USA. 
Let's go over the external features and every single button.
Top
The top of the printer has a simple, single green feed button for the labels. You will also be using this button to calibrate the printer.
Side
Each side of the printer has latches that you have to press towards you in order to lift the cover and access the inside.
Back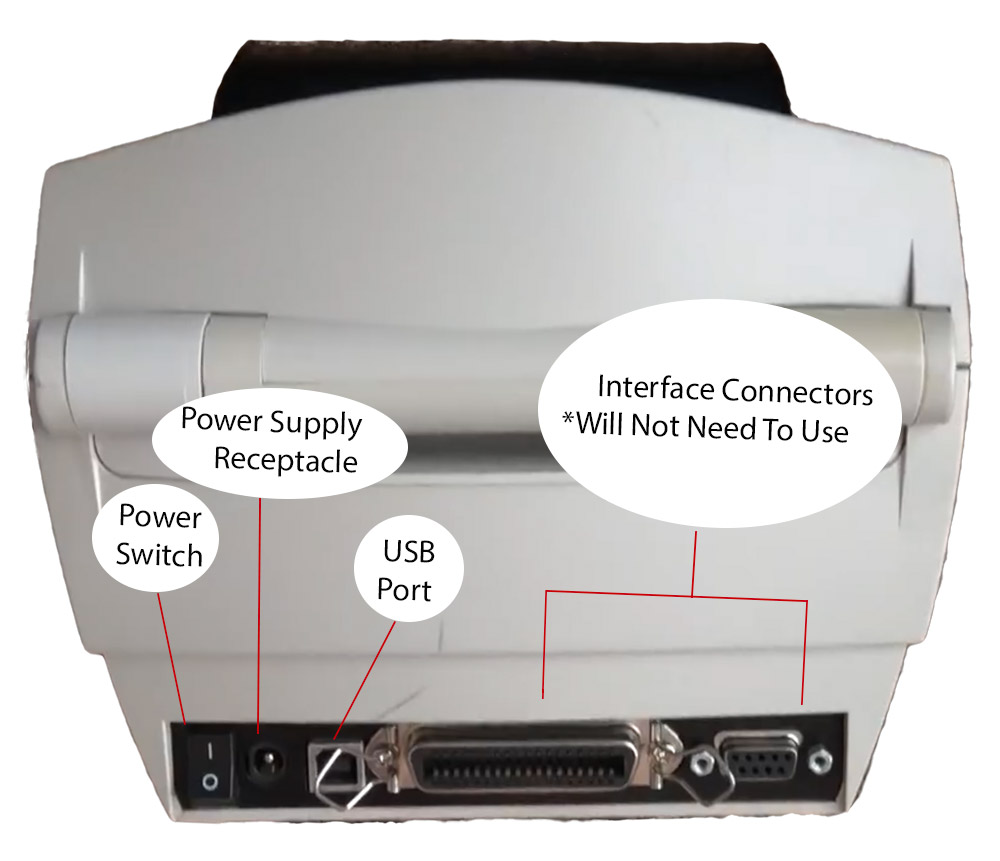 Power switch –  This will be used to turn the printer on and off, which surprisingly some other thermal printers lack. 
Power Supply Receptacle – This is where you will connect your power supply cord to your wall. The connector is a barrel-type connector.
USB Serial Port – This is what we will be using. You will connect this to your computer.
Interface Connectors – You will not be using the two large legacy ports that are outdated. You will only need the USB port, power, and on/off switch. 
The Inside
As mentioned earlier, the build on the body is a sturdier plastic and has better construction than the Dymo. When you open the printer to load the labels, there is a very helpful visual for label loading instructions.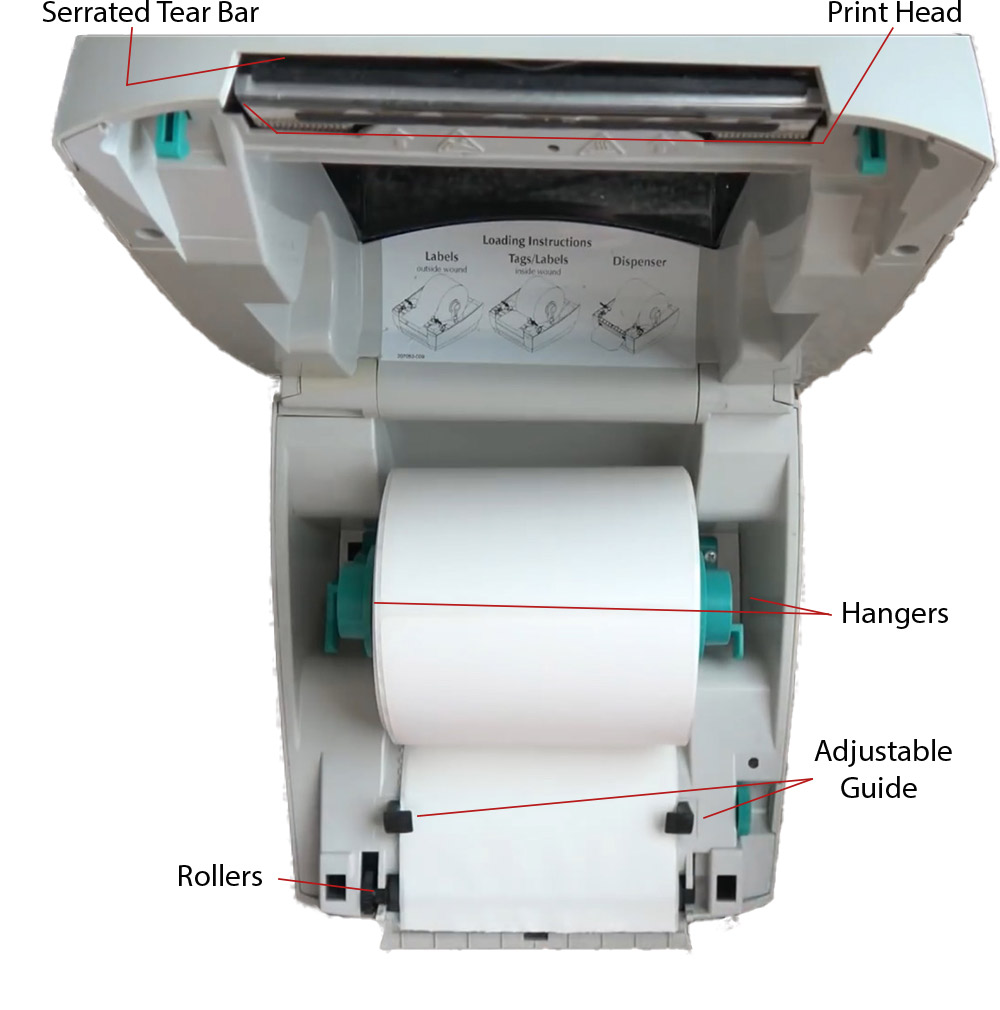 The label holder or hangers is adjustable to open and close in order to switch labels. There is an adjustable label width guide and the rollers below. The thermal print head is on the top side. Being an older technology, the labels will have to be torn against the serrated edge or tear bar of the printer instead of being automatically cut like we are normally used to with other thermal printers.
If you are looking for a fancy cutter that can auto-cut or cut at the press of a button, check out the Brother QL-1100NWB.
Read Next: Brother QL-1110NWB Thermal Label Printer Review
What Are The Label Requirements for Zebra LP 2844 Thermal Printer?
If you are not familiar with thermal printers, it is easy to assume that every single 4×6 thermal printer uses the same 4×6 labels. That is definitely not the case and we have a whole post dedicated to labels and what are the cheapest ones next.
Read Also: All About 4×6 Shipping Labels For Your Thermal Printers
The good news is that you can use any type of label with the Zebra LP2844, which eliminates the confusion about what kind of labels you will need to buy.  You can use rolls or fan folds types. You can use Dymo's proprietary notch labels that cost a fortune to FedEx or UPS labels that you can get for free. We have a whole post on finding free resources, including labels below.
Read: Where to Get FREE Shipping Supplies For eBay, Amazon, Poshmark, Mercari, Depop & Etsy
Installation and Calibration
To connect the printer, you will need to attach your power supply to a power source and a USB cable to your computer. The fact that you will need a cable for connection is definitely an older technology. Newer thermal printers can have wireless or Bluetooth.
However, the Zebra LP2844 thermal printer is priced on a much lower end compared to other thermal printers. Once you have connected to your computer, the installation will take about five minutes. It will be the same whether that is a Windows or a  Mac.
We have a whole step-by-step blog post on how to set up the Zebra LP-2844 thermal printer with a Google Chromebook. We also have a video tutorial at the end of this post. While the video tutorial is for Windows, we will add one for Mac here when it is uploaded. You can then do a test print. A sample test print label can be found here.
Read Next: How to Set Up the Zebra LP-2844 4×6 Thermal Label Printer With Google Chromebook
Zebra LP2844 Thermal Printer Review Summary
It is no secret that thermal printers are great when it comes to printing shipping labels. Whether for use with e-commerce platforms like Poshmark, eBay, Amazon, Etsy, or your own business, they offer great workflow. Although the Zebra LP2844 is no longer for sale, you can still find them second-hand at places such as eBay, Amazon, a thrift store, or a garage sale.
While there are many options nowadays, there is a lot of value for money if you are able to get this printer. Especially if you do not need fancy features like Bluetooth, wireless or mobile capabilities. The Zebra LP 2844 thermal printer is a well-made, robust thermal printer that performs the job. It will last you years and years to come. 
Video Review
Set Up And Installation Tutorial