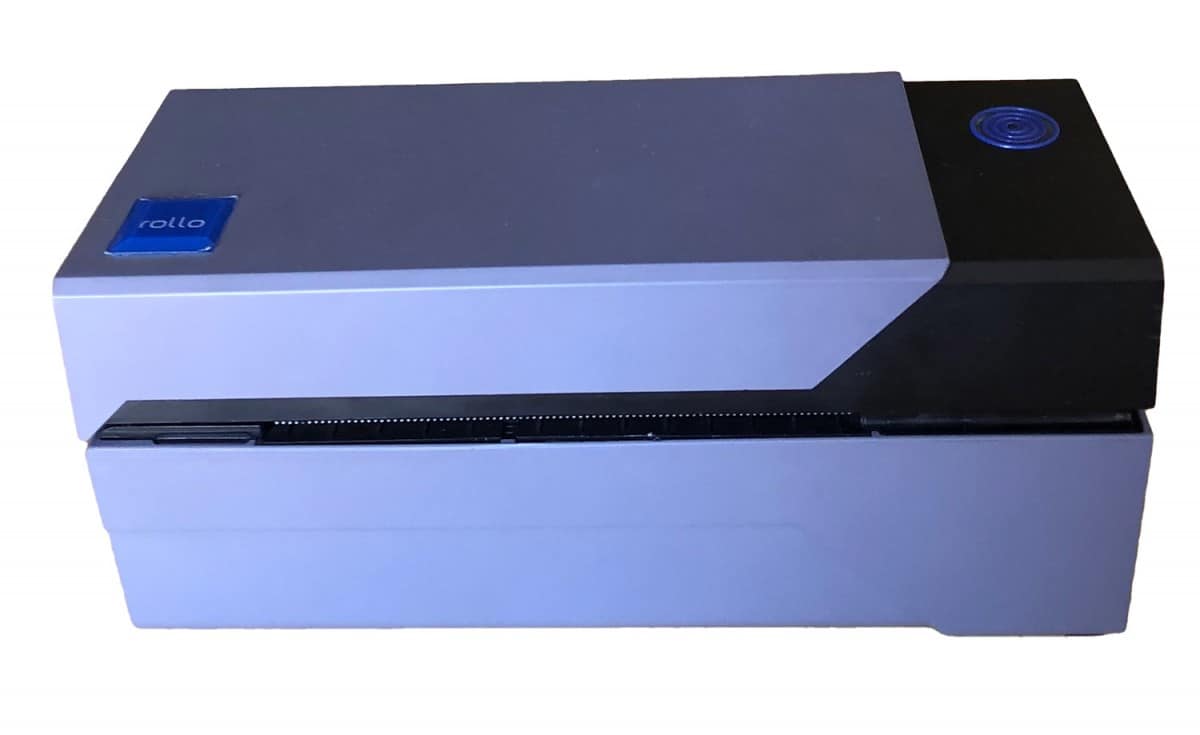 If you are looking for the best 4×6 thermal printer for shipping labels, Rollo thermal printer is one of the most recommended models. So in this post, we will do a full unbiased Rollo thermal printer review and go over everything you need to know.
We will go over its price, features, capabilities, and inabilities so you can decide whether this is the best option for your home business needs. That way, you can make an informed decision about what to expect and whether it will meet your needs.
If you rather watch a video than reading on, we have included an unboxing at the end of the post. If you decide to go for the Rollo after reading this review, we also have a step-by-step installation video walkthrough if you are using a Mac.
Quick Facts
Works with Windows, Mac and Linux
Does not have bluetooth, mobile (android, iphone, ipad, tablets, ect) or wireless capabilities
Works with ANY thermal labels!!!
Resolution: 203 dpi which is standard for most thermal printers
USB only
Easy to clean printhead
1 Year Warranty
Basics: What Is a Thermal Printer?
Before we start the Rollo thermal printer review, we will start with what is a thermal label printer. Like all other thermal printers, the Rollo thermal printer uses heat to transfer images to heat-sensitive labels. You do not need ink, toner, or paper like a traditional printer. Instead, it uses the 4×6 labels that are the only extra and recurring cost for the life of the thermal printer.
What Are All The Design And Features Of Rollo Thermal Printer?
Price
To start off our Rollo thermal print review, we will go over the price. The Rollo printer can be purchased on Amazon for around $189 or refurbished for $149. You can also order directly from Rollo's website for $179.99. Because the printer cannot hold the labels within its body, you have the option to purchase a label holder for $19.99.
We wanted to save ourselves the twenty bucks and made one with a box and a chopstick poking through it. It is not as nice or neat looking as the label holder. If you use stacked labels, they will not require a label holder because they sit behind the printer.
Pricing in other regions:
Rollo not available.
Design
The Rollo is about 2.2 lbs (1kg) with width, height and length dimensions of approximately 3"x 3.3" x 7.7" (75mm x 85mm x 195mm). It is a compact rectangular design that sits evenly on your desk. The printer's printing capability is set at about 650,000 labels. Being given a number is appreciated as a consumer to know what life expectancy we can get out of the product. The printer's resolution is 203 dpi or dots per inch, which will meet any postage label requirement. 
Because the body cannot hold labels inside, it will have to be fed through the back. That is something to keep in mind for your workspace because you will have to have labels at the back. If you are using a fanfold type label, the label holder is optional because the fanfold labels sit flat.
Front & Side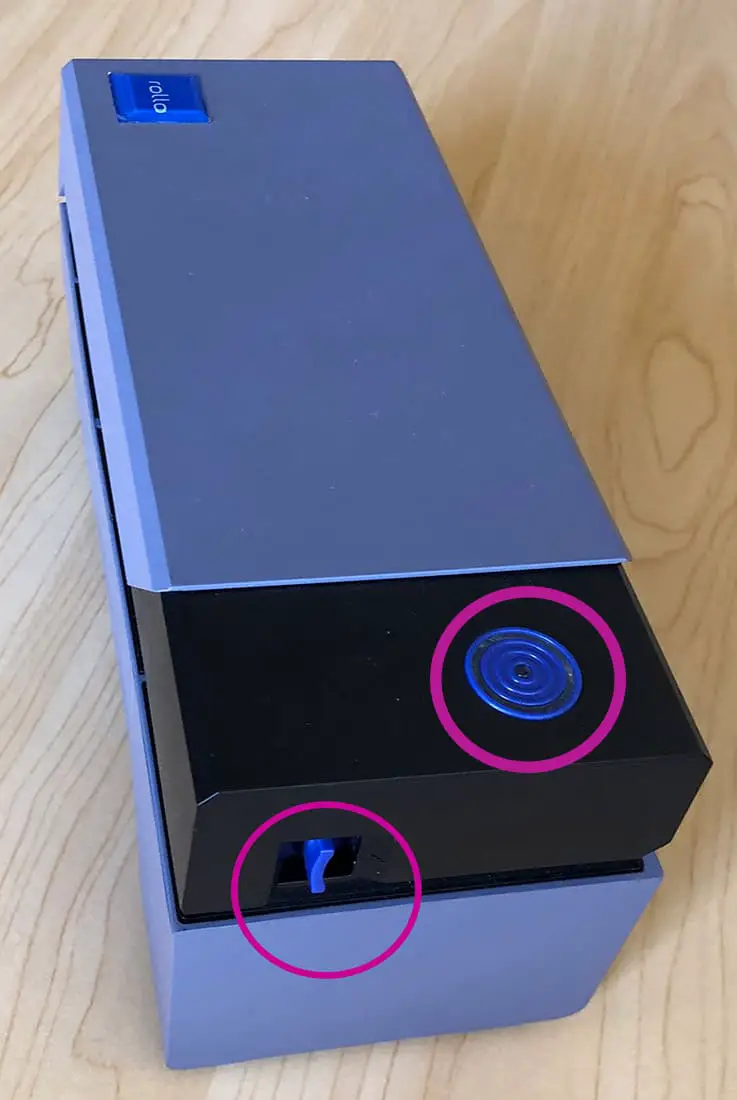 The feed button is the only button on top of the printer, which is a very minimalist design. You will also press this button to calibrate the printer. If labels are not coming out correctly, are stopping midway through or if you are changing label sizes, you may need to calibrate. The right side has the lever to open the printer in order to access the inside.
Inside
Once you open the printer, you will find the print head, roller, adjustable label guides, and serrated edge to cut the labels. If you happen to get a label jammed, it is very easy to clean the adhesives off of the printhead with a q-tip dipped in some isopropyl alcohol. The printhead looks the same design as the printhead on the Meihentong thermal printer. It would be great to be able to replace the printhead once the printing life finishes. Hopefully, Rollo can provide instructions on how to do this in the future. 
Back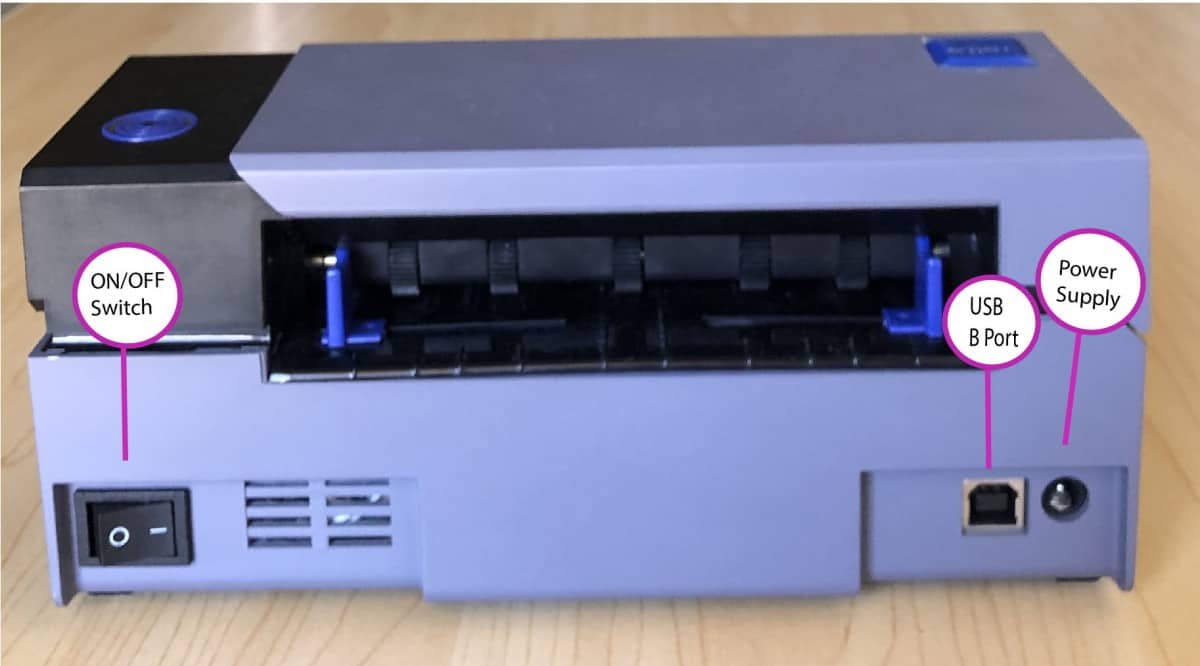 The power supply is specific for the Rollo thermal printer so the size is different from the other thermal printers. The USB is a standard USB cable. Because the Rollo is designed as a simple rectangular box, the labels have to sit outside and fed through from behind itself. This design is not a personal preference for us because it takes up more space on a desk. It tends to look more cluttered than a clam-shell style printer like the Zebra or Brother. 
The back bottom left corner has the on/off switch, which we will always mention because some other thermal printers do not come with this (ahem). You then connect your power source and USB. 
Is the Rollo Compatible With…?
If you are specifically looking for Rollo's compatibility with a certain e-commerce platform or a shipping software or service, see below.
Platform Compatibility:
eBay
Amazon
Poshmark
Etsy
Paypal
Shopify
Shipping software/services:
Easyship
FedEx 
UPS
USPS
Ordercup
Shippo
Shipstation
Shipworks
While platform and shipping software compatibility is important, a thermal printer being compatible is actually not unique to Rollo. It is not something that Rollo does differently compared to other thermal printers. The simple fact is that any 4×6 thermal printer will work with any platform that supports 4×6 printing.
The platforms themselves do not support specific printers, they support specific printing formats. So if the platform can format a pdf in a 4×6 format, then they will support any 4×6 capable thermal printer.
Hardware Compatibility
Rollo is compatible with Windows, Mac, and Linux operating systems. As mentioned earlier, the connection is the only USB for now. That means it is not capable of printing wirelessly, with bluetooth or mobile. You will need to go to rollo's website and install their driver, which is very easy to navigate through. 
What Makes Rollo Better Than Other Thermal Printers?
The best feature that Rollo comes with is that they do not require a proprietary label like the Dymo 4XL or the Brother QL-1100NWB does. Rollo's sensors recognize the gaps that are between each label. There is no requirement for special notches like the Dymo or black squares like the Brother. Since Rollo's sensor is able to tell the length between the label and the wax-like paper where there is a gap and the labels peel off, you can use any thermal label.
You can still use labels with a notch or black squares if you happen to have them. But they are much more expensive than regular 4×6 labels. Label compatibility can be confusing for people that we even have a post dedicated to it.
However, you do not even have to mess with label compatibility because the Rollo works with any 4×6 labels from any brand. You can order in bulk from a third party or get them for free by ordering from UPS or FedEx websites. Read here to find out how and where to get free shipping supplies.
Is Buying The Rollo Thermal Printer Worth It?
To conclude our Rollo thermal printer review, keep in mind a few points. The marketing on the box of this particular thermal printer is a bit misleading. It claims for "Prints using the latest printing technology, even though it is USB only. We would say the latest as of the time of this writing would be wireless, mobile, and Bluetooth capability like the Brother QL-110NWB here.
Rollo's representative did inform us that they will be releasing two new products with wireless capabilities so we will be on the lookout for those and will review them once we get our hands on them. 
The presentation and marketing for small home businesses are great for those using platforms such as eBay, Amazon, Etsy, Poshmark, etc. The design is not a personal favorite for us however, savings on added costs associated with labels and other features and benefits mentioned may make it one of the best 4×6 thermal printers out there.
Overall, the value for money is definitely there for the Rollo thermal printer. While it may not be the best thermal printer out there, it comes with a one-year warranty. We have heard only good things about their customer support.
Video: Rollo Unboxing
Video: How to Setup Your Rollo Thermal Printer With Mac. Full Step By Step Installation and Settings