We have tried, tested, and used many thermal label printers over the years for our home business. Since we have been on the search for the best thermal printer so one that we were extremely curious to use was the Brother TD4550DNWB. We are big fans of the Brother QL-1110NWB, which is one of the best thermal printers you will come across. However, it is often sold out so even though we recommend it, it can be frustrating if you are on the market for it.
Enter the Brother TD4550DNWB or TD-4D. We will just call it the Brother TD-4D because that is much more concise and easier to remember. It comes at an even heftier price than its brother (ahem), the Brother QL-1110NWB at almost $500 on amazon–twice the price! If you buy it on Brother's website, it will cost you a whopping $575 plus tax.
So with this price, is the Brother TD-4D better than Brother QL-1110NWB? Does the huge leap in price justify the cost? What is the break-even point between investing in a Brother TD-4D versus waiting it out for the Brother QL-1110NWB to restock? As always, there are video options at the end of the blog. We also included videos for set up tutorials on your ios devices or your PC.
Pricing in other regions:
Quick Facts
WORKS WITH IPHONE!
Does NOT work on Android
Works with Mac and PC Wirelessly on a Network
Wireless and bluetooth capable
Sells on Amazon for $488.99, additional coupons usually available. 
300 dpi while most thermal printers are 203 dpi (300 is a better, clearer print)
WORKS WITH ANY LABELS!!!
Basics: What Is a Thermal Printer?
Just to recap as with all our thermal printer reviews,  a thermal printer uses heat to transfer images to heat-sensitive labels. You do not need ink, toner or paper like a traditional printer. Instead, it uses the 4×6 labels that are the only extra and recurring cost for the life of the thermal printer.
What Makes Brother TD-4D TD4550DNWB Better Than Other Thermal Printers?
The number one feature that makes the Brother QL-1110NWB and Brother TD-4D thermal printer better than other comparable thermal printers like the Dymo 4XL or Rollo is the connective technology. You can connect to both of these thermal printers in three different ways: wireless, ethernet, or Bluetooth. Bluetooth is a great option if you are in a place without Wifi but you need to print from your phone or computer that is on a mobile hotspot.
As far as device options, you can print wirelessly from a Mac, PC, or any ios device like the iPhone or iPad. Unfortunately, the Brother TD-4D does not have android compatibility. If you are an ios user, the flexibility makes it a great choice.
What Makes Brother TD-4DTD4550DNWB Better Than Brother QL-1100NWB?
As we mentioned in our review of the Brother QL-1100NWB thermal printer, while we love using it, our biggest beef is its requirement of Brother's proprietary labels. The Brother QL-1100NWB thermal printer requires DK labels, which costs twice per label as other generic labels. Brother QL-1100NWB's internal part has a reader that reads the black rectangle at the back of a label to know the end of each label.
We do not like proprietary labels and especially paying a premium for them when there are free labels from UPS. The Brother TD-4D delivers without requiring any specialty labels. You can use any labels, including the free UPS labels mentioned earlier. This feature alone is worth the extra cost. We even did the math for the breakeven point at which the Brother TD-4D justifies its premium price over the Brother QL-1110NWB here.
Additionally, the Brother TD-4D's digital screen allows a lot more customization and options that are easy to navigate. Even loading a label is easier. You no longer have to slide the label under a sensor and then have to slide it again into another slot like you would with the Brother QL-1110NWB. While that may be minor, it is a point for the Brother TD-4D.
What Are All The Features?
Let's go over the external features, differences with the Brother QL-1110NWB and every single button that the Brother TD-4D has.
Size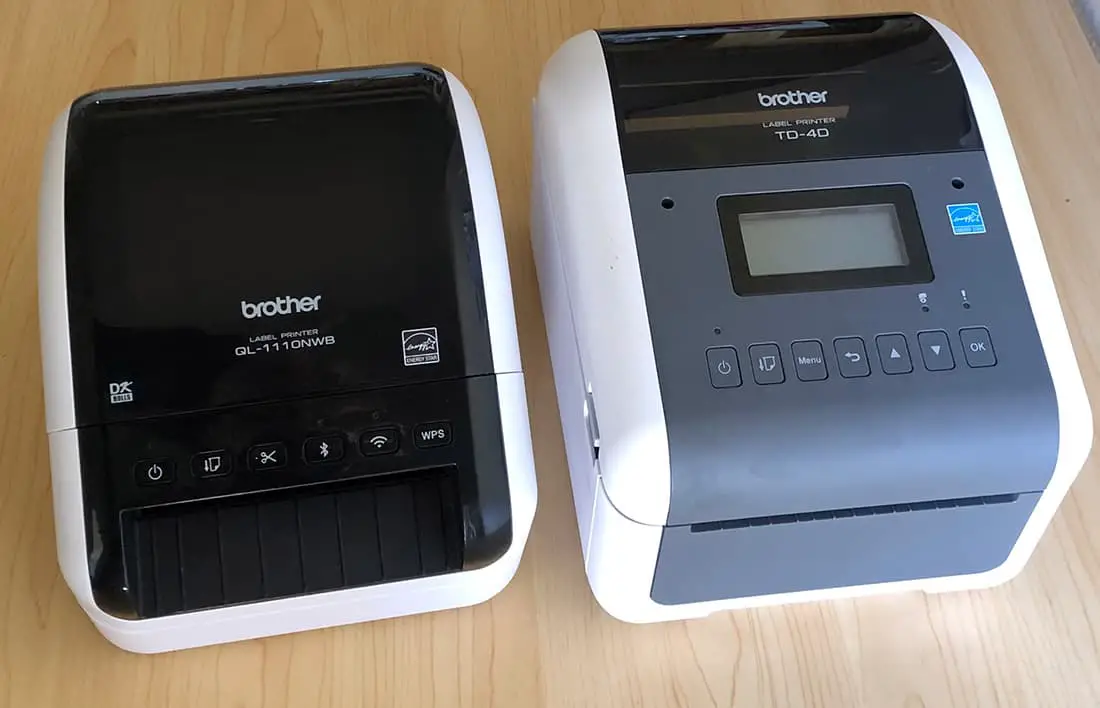 As you can see, the Brother is quite bigger than it's little brother, the Brother QL-1100NWB. This is actually a plus in our opinion because it is able to contain a larger label inside.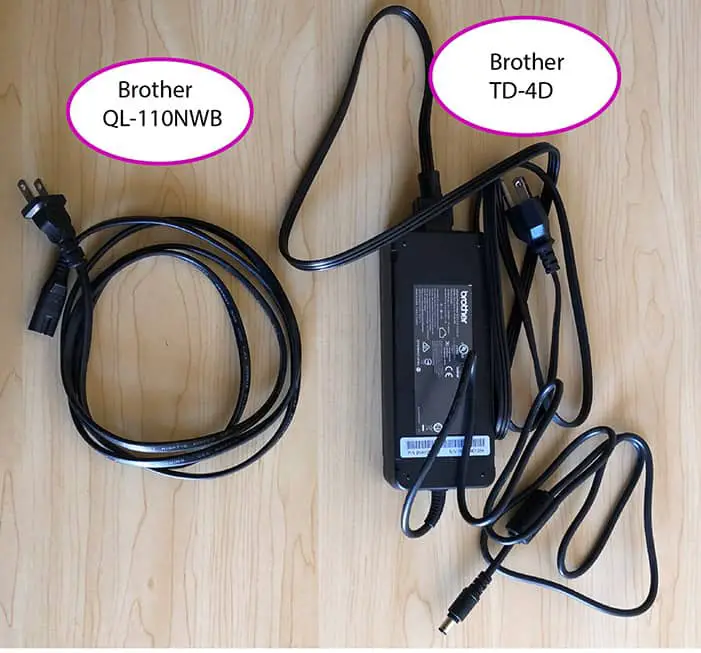 The size and type power supply between the two are different. The Brother TD-4D's is quite massive and bulky.
Back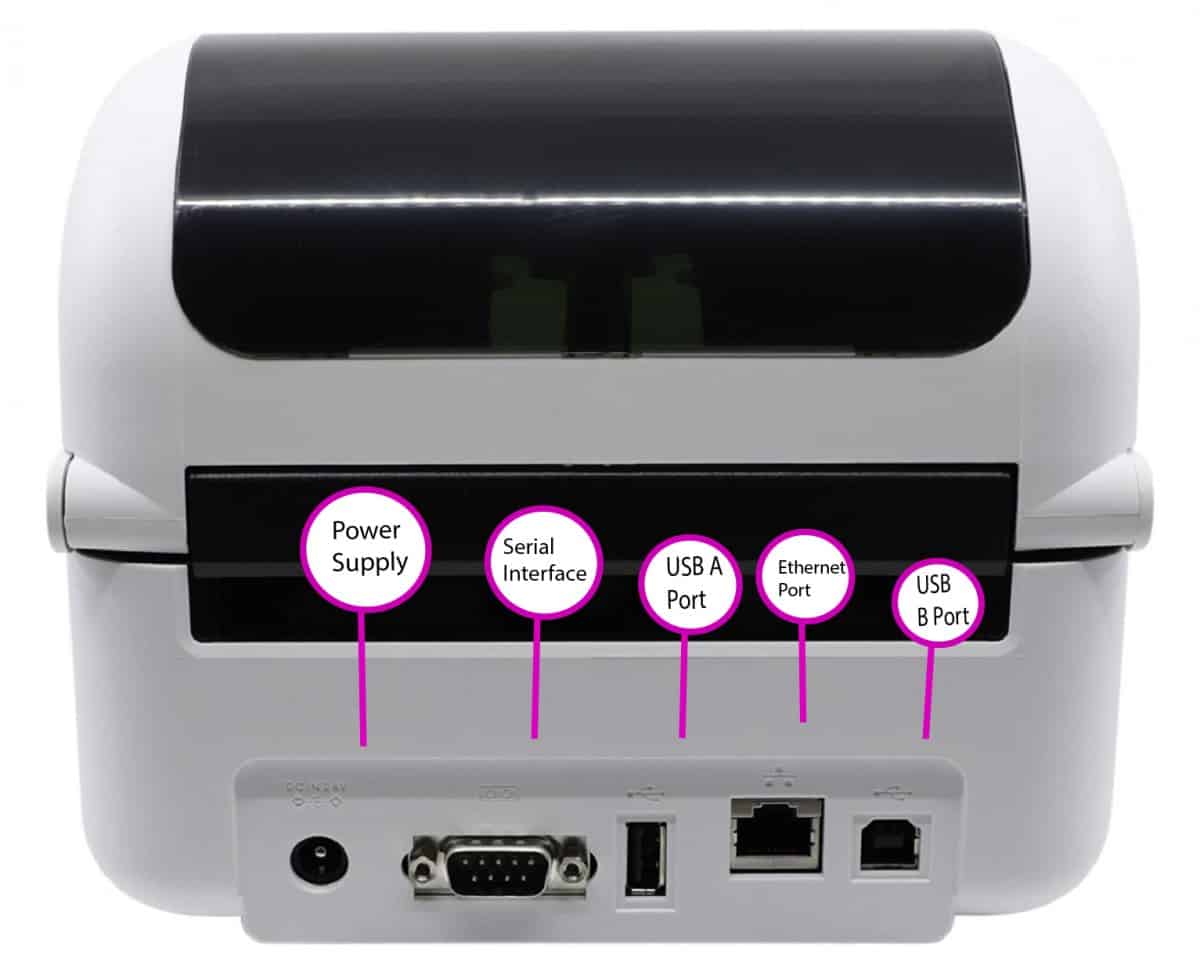 Starting from the left, you have the power supply. This power supply is different from the one the Brother QL-1110NWB uses as we mentioned earlier. You then have a serial interface that is not useful to us as it is an older type of connection. Moving towards the right, you have three different ports.
The USB Type-A port is for connecting to a scanner or other external drive if needed. There is an ethernet port if you would like to be connected directly to it. However, it is also not necessary if you are using wifi. The USB type B port is an older style port that is not necessary to use this printer if you use the USB type-A port.
Side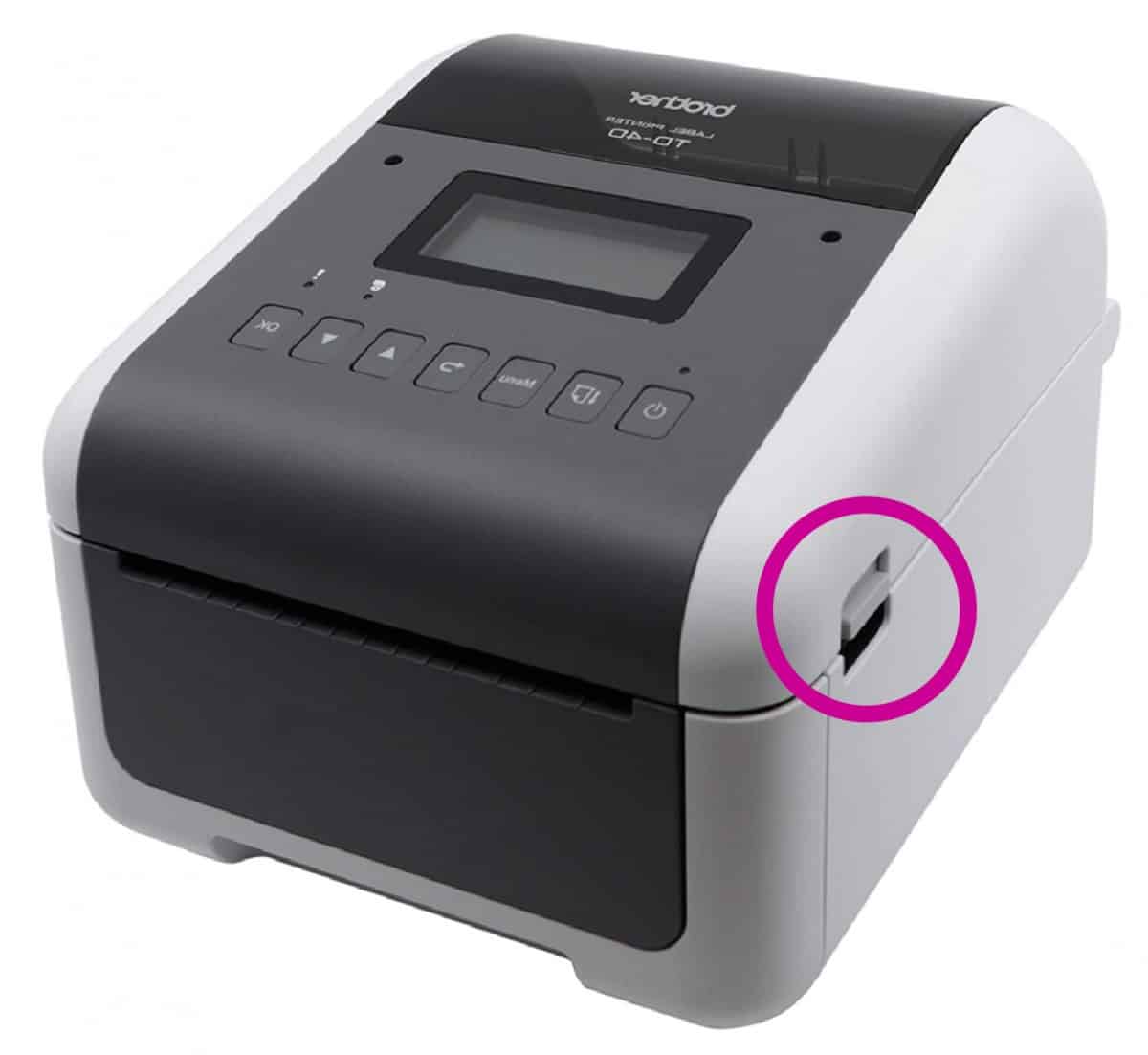 The sides of the Brother TD4550DNWB printer have a push-up slot button on each side of the printer. To open the top and access the inside, you will push the buttons up on each side at the same time. On the Brother QL-1100NWB, you would pull these slots or lever towards you. It is a very minor difference.
Front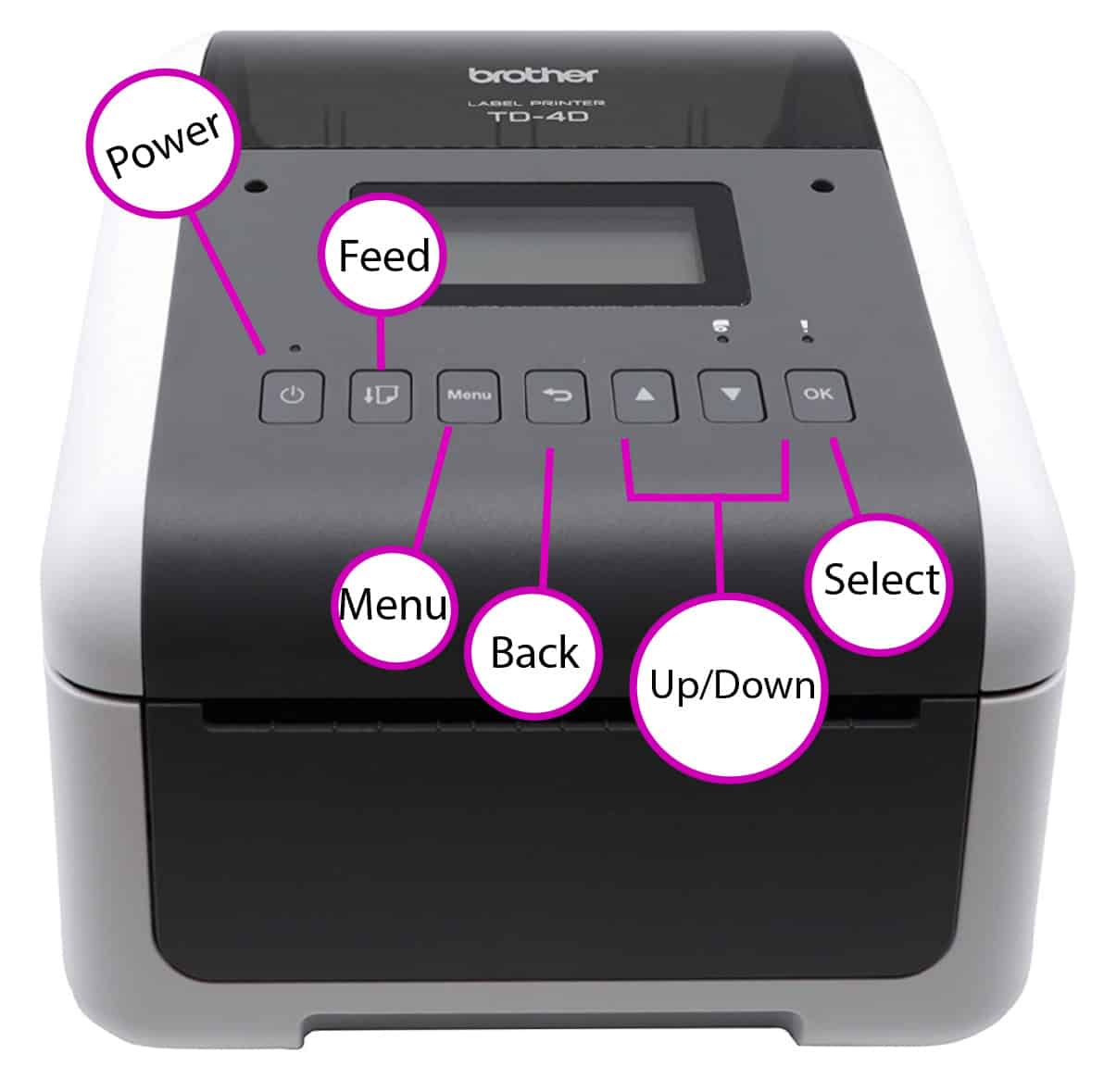 Power Button – The power button is easily found on the top left corner. We mention this because believe it or not, other thermal printers like the Dymo 4XL do not have this simple feature.
Feed Button – This is to feed a blank label or in case your label is sticking out a little bit for whatever reason, you press it and it will reverse the label back into the ready position. This feature is the same as the Brother QL-1100NWB.
Menu Button – This is where the Brother TD-4D differs from the Brother QL-1110NWB. The cutter, bluetooth, wifi and WPS options that were on the Brother QL-1110NWB are all found here with many more customization options. The menu will display eight navigational options once you press it. There are no displays on the Brother QL-1100NWB and no extensive options available.
Settings – This has various printer settings to adjust from print density, auto cut, different tear positions, text direction, print speed, auto power-off or sleep, and different sensor options. 
Template Settings – This has different mode, date, and time options.
Information – This has printer configuration information like usage log. 
Administration – This has options for formatting date, time, language, unit, menu, and airplane mode.
Wired LAN
WLAN – This has options like ON/OFF, network mode, WPS button push, and setup options.  The WPS or wifi-protected setup button is what you will press when you initially set up your printer to your network. You will select this option and then go to the WPS button on your router to connect. The router and printer will sync and your computer on the network can find the printer to install it. The point of this is to skip having to enter a password.
Bluetooth – This has your Bluetooth ON/OFF options, history, and status.  If you do not have wifi, you can press and hold this button until a small blue light comes on to activate. You can then go to your mobile device, connect via Bluetooth and print your label. This function is great if your internet is down or you don't have access to a wireless network. You can even beam to your device in the middle of nowhere and print out a shipping label. We actually take this printer on road trips where we are having to ship out fresh sales that we just listed from finds on the road! You can then turn your Bluetooth off after use. 
Media – This is where you can choose different label size options. You can also set up your labels to print continuously in a string or to auto-cut each individual label one by one.
Up/Down – The up and down arrows are to navigate the options on the Menu screen.
OK Button – The OK button allows you to select the option displayed on the Menu screen.
Inside
The inside of the Brother TD 4550DNWB is quite different from the Brother QL-1100NWB. The rollers that push out the labels forward and out are on the bottom instead of the top. And the printhead and sensors are on the top instead of the bottom.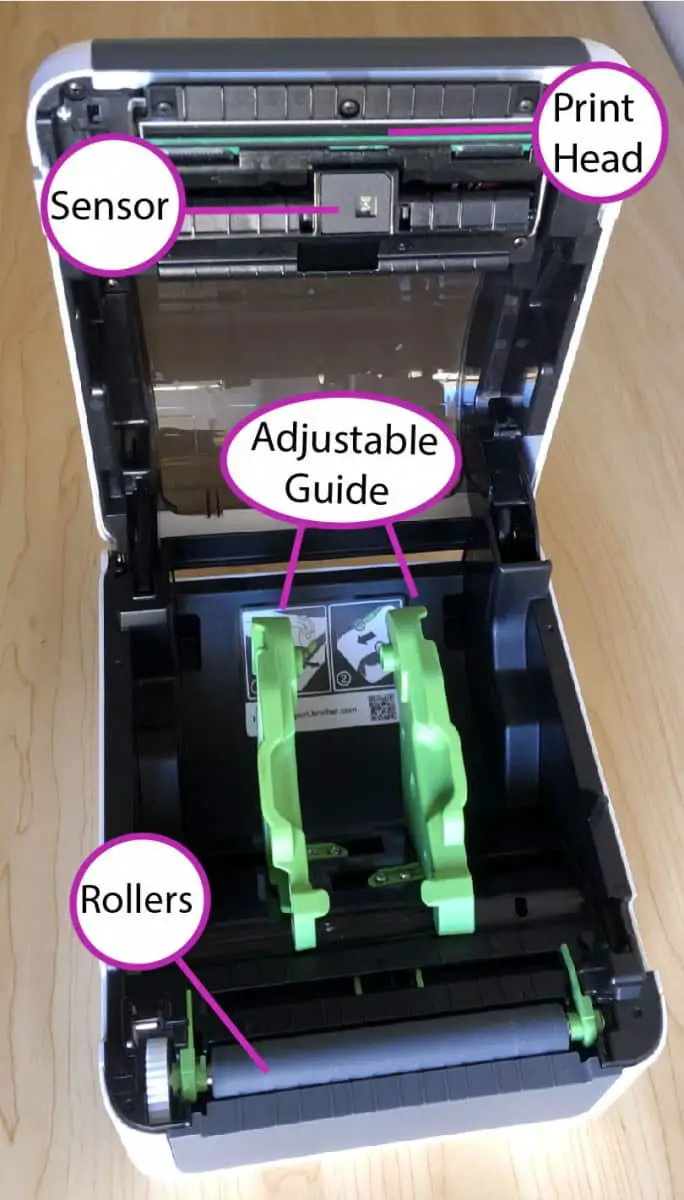 Loading the labels is even easier on the Brother TD-4D since they have adjustable guides that will take any labels. There is no longer a requirement for any labels with spools. You no longer have to make sure which foot goes where like you would on the Brother QL-1110NWB. It was never hard but it is a bonus to be even easier.
Additional Notes on Brother TD-4D vs Brother QL-1110NWB
One thing we would like to mention is that when you are printing labels, it is noisier on the the Brother TD-4D because it prints faster. This may not bother most people but something to keep in mind if you are the type of person that would mind.
Is The Higher Cost Worth It?
Before we actually do the math, we would like to mention that the Brother QL-1110NWB is often sold out. That means if you really want that particular printer, you will have to buy from the next seller on amazon. At the time of this writing, the prices range from $492 to $589!! That is even higher than the Brother TD-4D.
If we pretend that every other feature that the Brother TD-4D has over the Brother QL-1110NWB is considered null and we only look at the value of not needing proprietary labels, what is our break-even point for cost?
For our calculation, we will use the Brother QL-1110NWB's normal price of $279 and $488 for Brother TD-4D. We will look at two scenarios.
Buying DK labels from Brother: This is the most expensive cost option and keeps in mind that Brother wants you to buy labels from them for the Brother QL-1100NWB or they will void your warranty. Brother's warranty is normally for 2 years. Brother is currently selling 8 rolls at 500 labels per roll for a whopping $177.69. This gives us the $0.044 per label
Buying DK labels from third parties: We used the middle scenario from our blog where we found that ordering 6 rolls at 200 labels per roll gives us $0.033 per label.
Break-Even Point For Labels Cost
| | | |
| --- | --- | --- |
| | DK labels from Brother | DK labels from Third Parties |
| Cost per label | $0.044 | $0.033 |
| Breakeven # of Labels | 4,750 | 6,333 |
The break even point between the Brother QL-1100NWB and Brother TD4550DNWB would be the cost difference, which is $488 – $279 = $209. The question is, how many labels would we have to print in order to recuperate the extra $209 we spent on the Brother TD-4D?
If you normally buy a DK label directly from Brother, you only need to print 4,750 labels on the Brother TD-4D to make up for the extra upfront cost of the printer. If you tend to be a rebel and buy the DK labels from third parties instead, you would need to print 6,333 labels in order to make up for the $209 difference. 
Depending on the volume of your business and how long you plan to be using your thermal printer for, it is up to you to decide if you are able to get the Brother QL-1110NWB. If you are going to be spending $400+ on a thermal printer anyways, the Brother TD-4D is a much better value for money,
Summary: Brother QL-1100NWB versus Brother TD4550DNWB
Now that we went over all the price and technicalities, there are only two questions left.
Who the Brother TD-4D is for?
While the first complaint that we had was the price of the Brother TD-4D, if you are not able to get a hold of a Brother QL-1110NWB and the next seller on amazon is selling them for close to $400, get the Brother TD-4D! If you are having to pay up for a Brother QL-1110NWB due to market demand, the Brother TD-4D is a much better buy with all the additional options and features it offers along with being able to save on the recurring cost of labels.
Who the Brother TD-4D is not for?
Firstly, if you are an android-exclusive user, the Brother TD-4D is not for you. As capable of a thermal printer with many impressive features as it may have, it is not android compatible. If you are an occasional seller that is on a budget, you do not need every option out there and you are not in a rush to run out and buy a thermal label printer right away, waiting for a restock of the Brother QL-1110NWB may make sense.
If you are not adamant on a Brother product and what they offer, such as wireless, Bluetooth, and wifi capabilities, and looking for more of a budget printer, check out our other reviews here, here, and here for more options. There is also a new option on the market that is better than both the Rollo and Dymo 4XL in price here.
Video: Brother Brother TD-4D TD4550DNWB Unboxing
Video: How to Setup Wireless Thermal Label Printer Brother TD4550DNWB TD-4D on iPad iPhone and Mac Computer
Video: How to Setup Wireless Thermal Label Printer Brother TD4550DNWB TD-4D on Windows