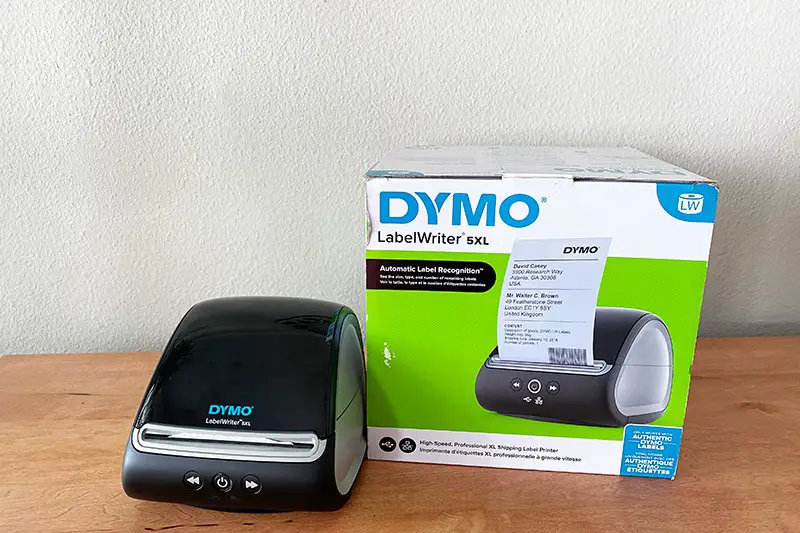 After about 17 years of selling the first DYMO LabelWriter 4XL on amazon, DYMO has finally come out with the new and supposedly improved version of their popular model. In this post, we will do a DYMO LabelWriter 5XL review, compare it to the DYMO LabelWriter 4XL, and whether this newer model is a good value for money.
Dymo LabelWriter 5XL Review: Quick Facts
Works with both Windows & Mac
Proprietary label design (only works with punch hole labels)
Requires chipped labels from them
Requires ethernet cord (not included) to connect to network
300 dpi while most thermal printers are 203 dpi (300 is a better, clearer print)
2 Year Warranty
Price
The current price for the DYMO LabelWriter 5XL is under $200.
This is cheaper than DYMO's previous version of this thermal printer, the DYMO LabelWriter 4XL. The DYMO LabelWriter 4XL's price can fluctuate, sometimes on the more affordable end or sometimes as high as the $300 range.
Pricing in Other Regions
What Are All The Features Of The Dymo LabelWriter 5XL?
A DYMO LabelWriter 5XL review would not be complete without going through every single feature.
Power Button Added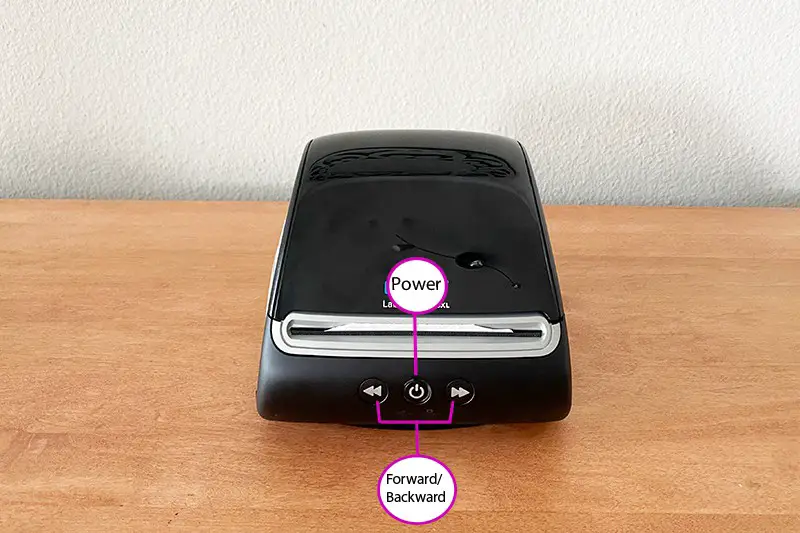 One of our complaints in the past against the original DYMO LabelWriter 4XL was that it did not even have a power button. DYMO also added a forward and backward button to load the labels. This takes out a lot of frustration when loading labels because you now have a way to adjust the label position when loading.
Added Connectivity Via Ethernet Port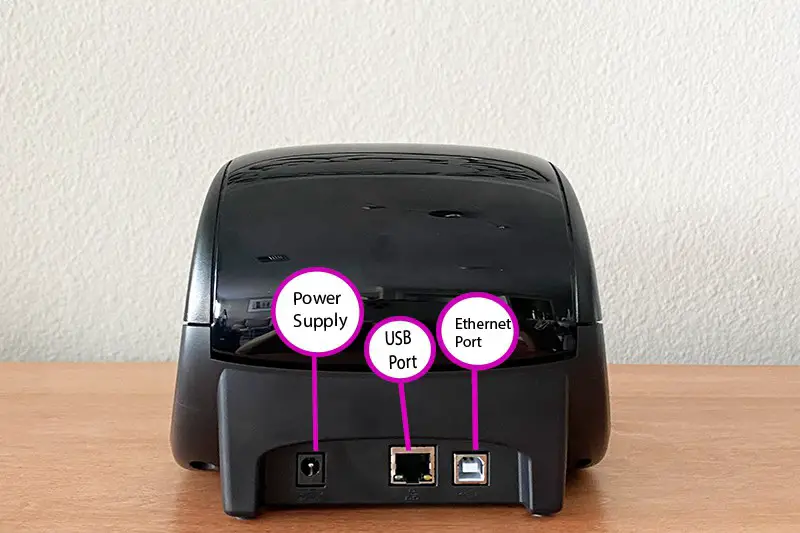 The Dymo LabelWriter 5XL has an added ethernet port. However, when you purchase the thermal printer, it does NOT come with an ethernet cord. If you do not have one already, you will have to buy one separately. The ethernet port allows you to connect to your network so that you print from multiple computers.
This is not a beneficial feature since you will have to have the printer next to your router in order to connect. Many people may not have their router next to their office or workstation if anything, it is a negative work flow-wise. It would have been a more useful feature to add some sort of Wifi or bluetooth capability so you can print via mobile.
Easier To Load Labels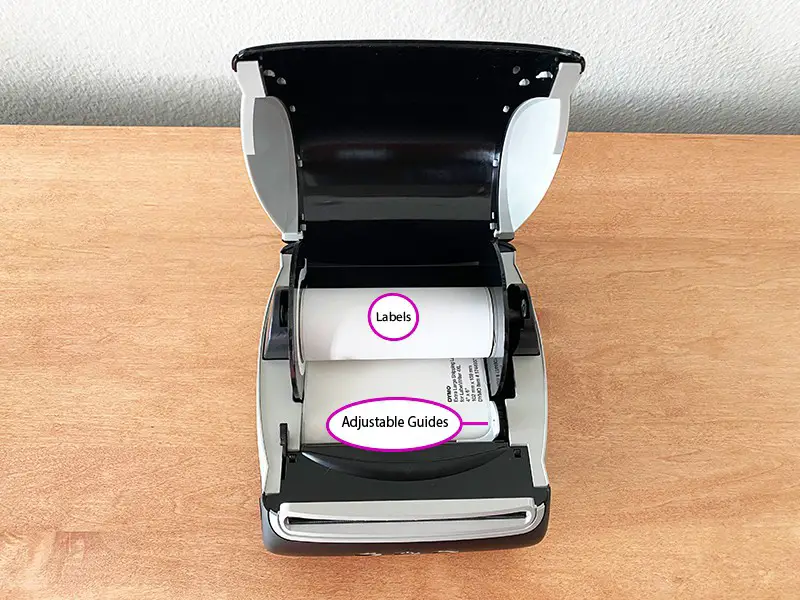 In order to load or change labels, you have to open up the thermal printer. From the previous model, the label holder position changed from the top to the bottom in the DYMO LabelWriter 5XL.
This is a positive change because previously if you need to open up the thermal printer for any reason, your labels may swing up. With the DYMO LabelWriter 5XL, your labels and their position do not have to be accidently moved out of place when you open the cover.
The DYMO LabelWriter 5XL also added an adjustable feed guide. This makes loading labels a lot easier, especially for smaller label sizes.
Label Requirement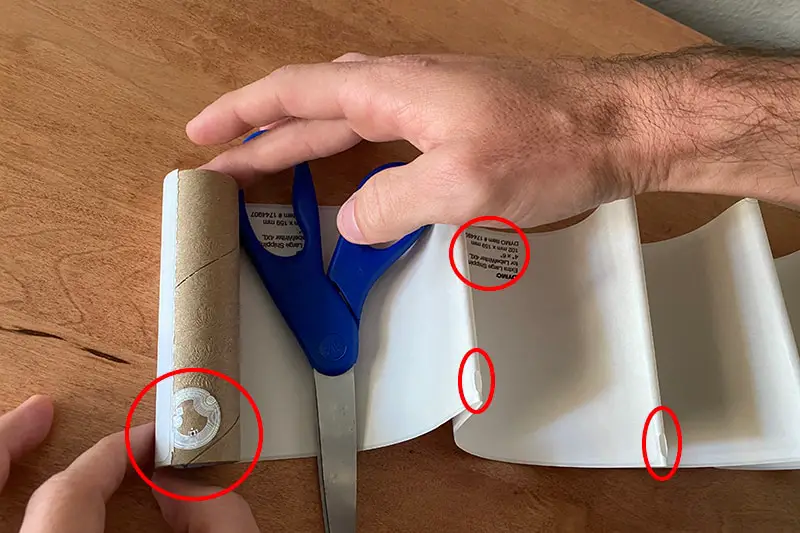 The biggest drawback to the Dymo thermal printers and particularly the Dymo LabelWriter 5XL is that they require proprietary labels. While the Dymo LabelWriter 4XL requires proprietary punch labels, you can buy the same punch labels from third-parties for much cheaper.
Read Next: All About 4×6 Shipping Labels For Your Thermal Printers
However, the Dymo LabelWriter 5XL requires a proprietary label with a chip that you can only buy from DYMO. That means, even if you have the same proprietary labels from DYMO that you used on your Dymo LabelWriter 4XL, you cannot use them for the Dymo LabelWriter 5XL!
So unless third party vendors somehow figure out a way to emulate the chipped labels, you will be required to overpay for shipping labels. We're not fans of being forced to buy labels or any consumable items from one supplier, especially when there are comparable or better products that allow you to use FREE labels.
Read Also: Where to Get FREE Shipping Supplies For eBay, Amazon, Poshmark, Mercari, Depop & Etsy
Dymo LabelWriter 4XL Versus Dymo LabelWriter 5XL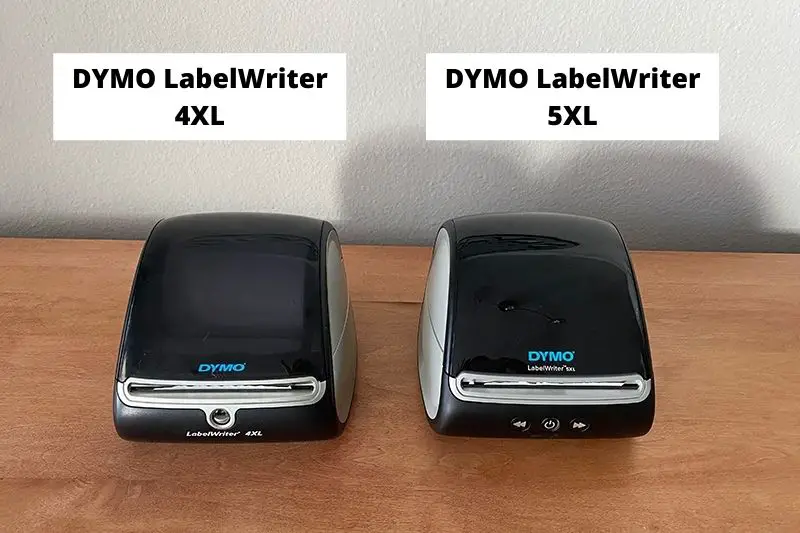 While the DYMO LabelWriter 4XL and DYMO LabelWriter 5XL are comparable in size and design, there are a few very noticeable changes you should know. While most of these changes are positive from the 4XL version, there is one very negative change added that we will go over.
1. Front Buttons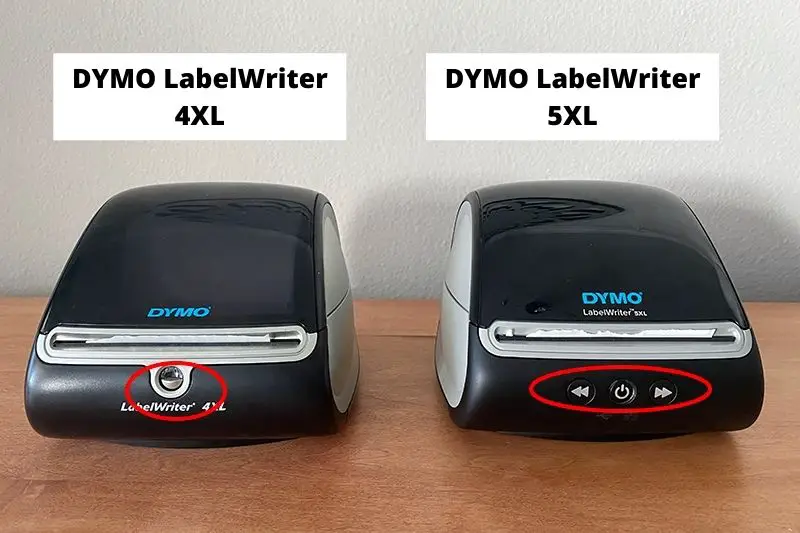 The original DYMO LabelWriter 4XL does not have a power button. You can also only feed the label forward with the single button. The DYMO LabelWriter 5XL has a power button and both a forward and a backward button to load labels.
2. Label Holder Position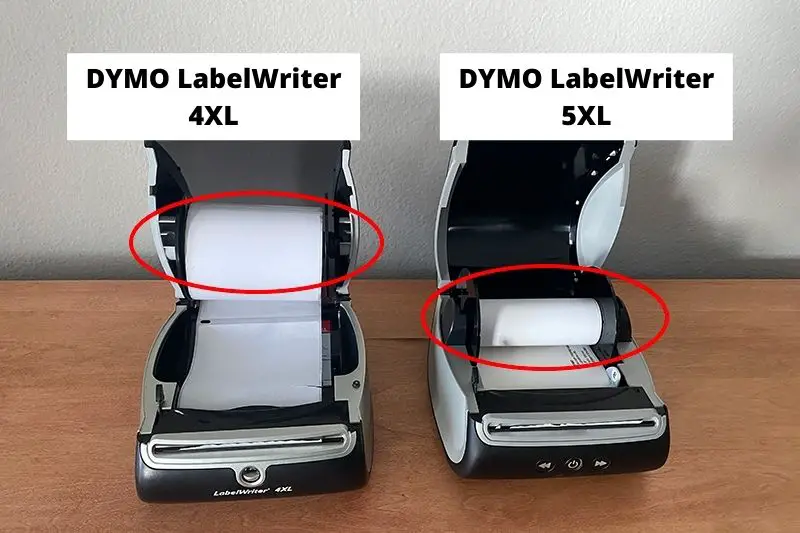 As mentioned earlier, the label holder position is on the top on the DYMO LabelWriter 4XL, whereas it moved to the the bottom in the DYMO LabelWriter 5XL.
3. Adjustable Feed Guide Added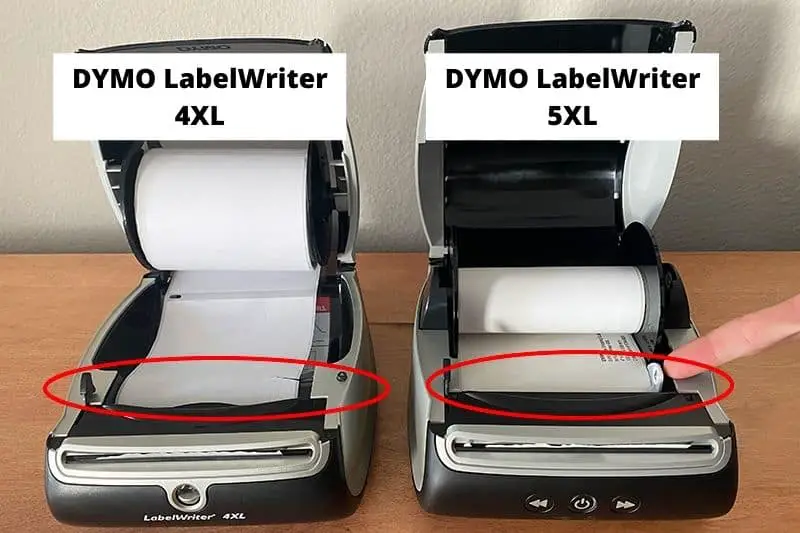 Loading labels on the DYMO LabelWriter 4XL can be frustrating because you normally have to pull the label down and align them through the feed. Since the labels are attached to the cover, your label position may move when you close.
Loading labels on the DYMO LabelWriter 5XL is easier since the label holder is on the bottom. The added adjustable feed guide is a plus.
4. Ethernet Port Added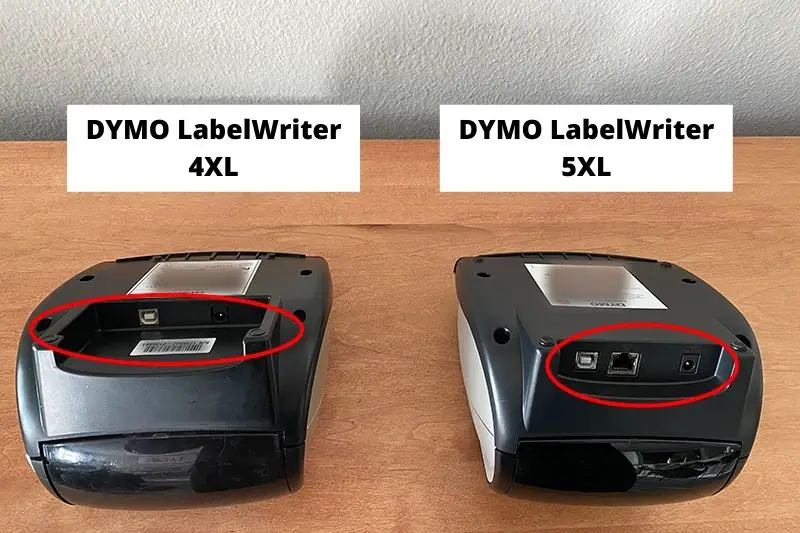 You can only print via a USB port with the DYMO LabelWriter 4XL. With the DYMO LabelWriter 5XL, you can connect to your network with an ethernet port so that you can print from multiple laptops.
5. Proprietary Labels Requirement
While you do need a specific type of label for the DYMO LabelWriter 4XL, you can still find cheaper labels from third-party suppliers. However, DYMO added a chip to the labels that are used for the DYMO LabelWriter 5XL. This brings up the overall cost of owning and using the DYMO LabelWriter 5XL.
Is The DYMO LabelWriter 5XL Worth It?
The short answer is no, the Dymo LabelWriter 5XL is not worth it. The fact that it requires expensive proprietary labels that are chipped and only available for purchase through DYMO is a huge added cost for the life of the thermal printer.
For example, the FreeX Wifi Thermal Printer does not require specific labels AND they're wireless-capable at the same price. If you don't mind paying for proprietary labels, for a little more, the Brother QL-1100NWB is a much better product that is wireless-capable.
There are also plenty of budget thermal printers under $100 that do not require proprietary labels. There is even a bluetooth-capable thermal printer for less than $140!
Read Next: Budget Thermal Label Printer Under $100 (2021)
DYMO 5XL Review: Watch The Video