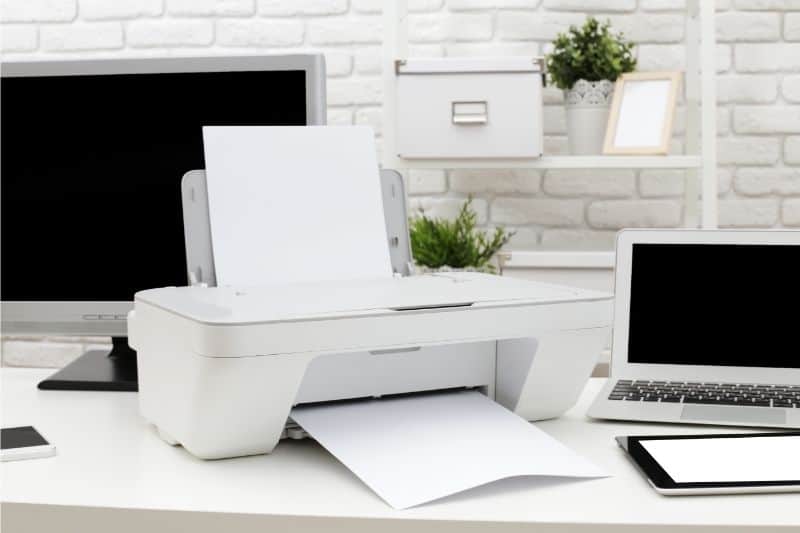 When you need to ship a package, standing in line at your local post office to buy postage can take a lot of time out of your day. But did you know that you can buy your postage and print shipping labels at home? You will be surprised how easy it is to do. We'll show you how so you can save time and never have to be frustrated waiting in long lines again.
Is it Cheaper To Print Shipping Labels At Home?
Printing your shipping labels at home is not only cheaper but saves you a lot of time standing in line at the post office. When you buy from USPS.com using USPS Click-N-Ship, you will get a very small discount on postage. However, to get the cheapest postage rates, you will want to buy postage online from shipping software like Pirate Ship or GoShippo.com.
Shipping softwares are free to use but they allow you access to buy at a commercial postage rate, which is much cheaper than the retail rate that you normally pay at your local post office. What is a commercial postage rate? Commercial rates are normally for businesses shipping more than 50,000 packages a year.
However, shipping softwares are able to pass on this rate to you by buying your postage through them. Buying your postage at a commercial rate will always be cheaper than buying from USPS Click-N-Ship or at your retail counter.
How Do I Print Out A Shipping Label?
Step 1. Buy your postage online
To print your shipping labels from home, you will need to buy your postage online. As mentioned earlier, you will want to buy your postage from a shipping software like Pirate Ship or GoShippo.com. In our example below, we go over how to buy postage from Pirate Ship step-by-step here.
You can use any printer to print a shipping label, including a laser printer or an inkjet printer. However, thermal printers are specifically designed to print barcodes and labels so they are the best option if you're a small business and you print hundreds of shipping labels a year.
Thermal printers are great because you don't have to cut and tape a piece of paper onto your package. They are a great investment and you can find them within a wide range of budgets. Check out ones under $100 here and the best options here.
You can also get a similar convenience with half-sticky label sheets with a regular printer. Having some form of sticky label is extremely efficient for your workflow.
Step 2. Format your printer to print your shipping label
Once you have purchased your shipping labels, you will need to select the correct format on your print settings. Here is what it looks like on Pirate ship when you select "Print". If you're using a thermal printer, make sure you select "4×6″ Shipping Label".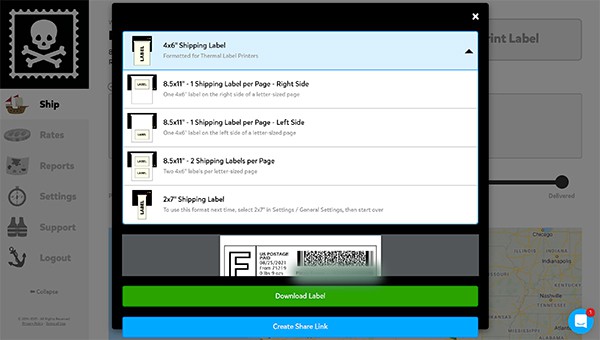 If you're using a regular printer with half-sticky labels, you will need to select one of the "8.5×11 Shipping Label per Page" options.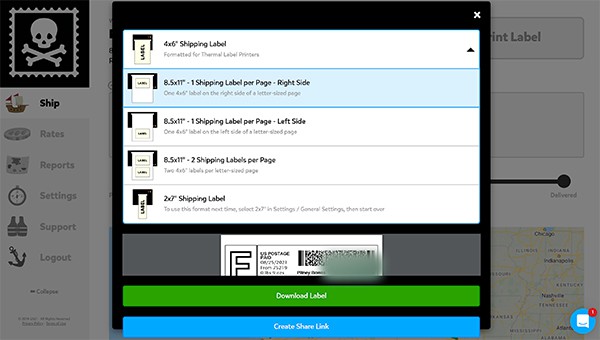 No matter where you buy your postage, you will need to select the format that you plan on printing with. Not all platforms will have a 4×6 format available. For example, if you're selling on online marketplaces like Mercari and Depop, they do not support 4×6 printing yet. You can only print with 8.5×11" formats.
Buying postage online from a shipping software will save you money and time while allowing you to print whichever print format that you choose.
Step 3. Drop off your package
Once your package is ready, you can schedule a pick-up or drop your packages off at the self-serve kiosk.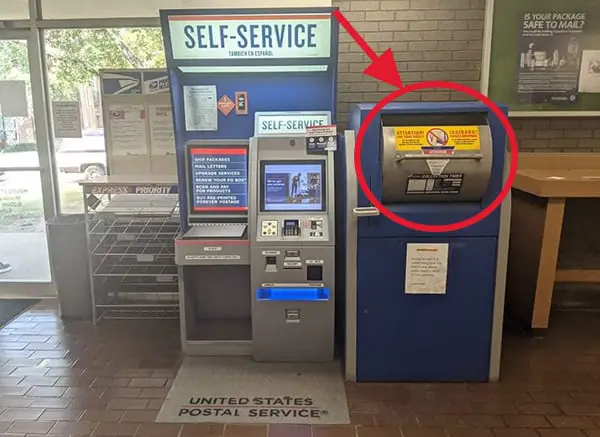 Free Shipping Labels
No matter what kind of printer you're using to print your labels at home, you can save on the recurring cost of sticky labels if you have a UPS account. You can actually order the half-sticky sheets and 4×6 labels for free. We go over where to get free shipping supplies and where to go in detail here.
Last Tips For Printing Your Shipping Labels At Home
Since you will need to purchase your postage online, make sure that you have a shipping scale and a measuring tape. You will need them for the weight and dimensions of your package.
The last tip is that if you don't have a printer at home, you can go to your local library, your hotel or apartment business centers, or even at work. You can still buy your shipping labels at home and print where you can.