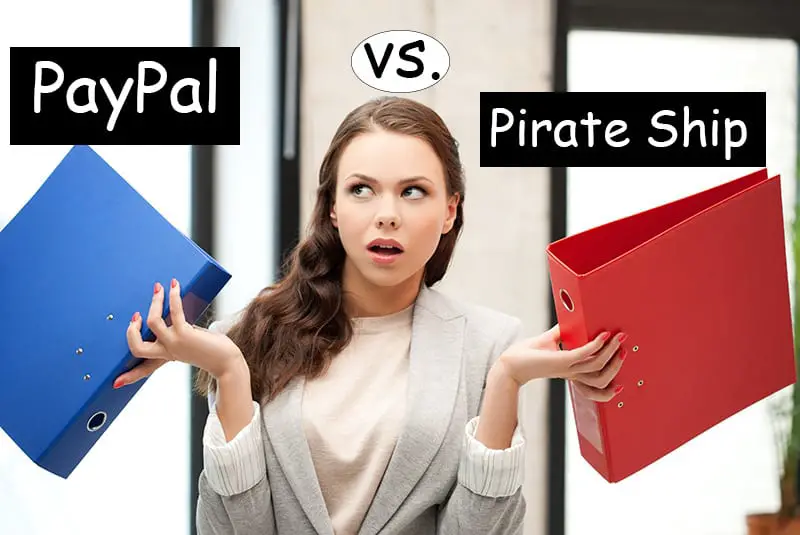 If you sell a product online, one of the most important costs to look out for is the shipping cost. How much you are spending on shipping can eat into your earnings. Both Paypal and Pirate ship are some of the most popular websites to get discounted shipping. But which is better for shipping labels? We will go over what PayPal and Pirate Ship offers so that you know who to use to print your shipping labels.
Buying A Shipping Label On Paypal
If you accept payment through Paypal, you will be able to print the shipping label right away. You can go to the transaction and you will see "Print shipping label" or "Add tracking info". Unfortunately, the print shipping label option only shows up on a desktop computer. It is currently not available on mobile.
The fields are intuitive to enter. PayPal then asks you which carrier do you want to use: USPS or UPS. To make sure that you are getting the best shipping rates, you can compare the two. This may not be necessary for packages below one pound. USPS First Class is extremely affordable for light packages under one pound. However, you can compare for larger packages, especially if you are not a fan of USPS.
Buying A Shipping Label On Pirate Ship
You will need to register a Pirate Ship account, which is free to use. We have a step-by-step for how to use Pirate ship here. They also have a support chat that you will find in the bottom right corner. Pirate ship have been extremely helpful in our experience. You will need to chat with them to activate their Simple Export rate for international shipping.
Pirate ship does integrate with large e-commerce platforms like eBay, Shopify, square space, and a long list of others. You can buy shipping for sales on those marketplaces by choosing "Import from integration".
PayPal Versus Pirate Ship
Before we get into the pros and cons of both PayPal and Pirate Ship, here is a quick table of what both offers.
| | | |
| --- | --- | --- |
| | PayPal | Pirate Ship |
| Shipping Carriers Offered | UPS, USPS | USPS |
| Discount on USPS First Class Mail | Yes | Yes |
| Discount on USPS Priority Mail | Yes | Yes |
| Discount on Other USPS Services | Yes | Yes |
| USPS Cubic Rate | No | Yes |
| USPS Simple Export Rate | No | Yes |
| UPS Discount | Yes | No |
Keep these in mind as we go through the advantages and disadvantages. If you are not familiar with the terms mentioned, we will go through them in the explanations.
Using PayPal: Advantages and Disadvantages
Advantages of Buying Shipping Label From PayPal
One of the biggest advantages of using Paypal is being able to easily buy a shipping label under each transaction. When a customer pays through Paypal, you can go directly to the exact transaction and print a label. There is no need to copy and paste an address to another shipping website. This makes the shipping process smoother and faster.
Another advantage that PayPal has over Pirate Ship is offering UPS in addition to USPS. When you are shipping large packages or heavy and large packages, USPS is extremely expensive. UPS Ground will be the better option in that case. Buying UPS postage through PayPal will give you a better discount than buying directly from UPS.
Disadvantages of Buying Shipping Label From PayPal
It would not make sense to buy shipping labels from Paypal if you are shipping heavy items with your own box with small dimensions. For example, we recently compared the shipping rate for a recent sale. We used the same to and from addresses and the exact box weight and dimensions.
Box dimensions: 12in x 10in x 2in
Weight: 3pounds and 6 ounces
Service type: USPS Priority Mail
With this information with the exact same to and from addresses, it would be $16.78 to ship with PayPal. For the exact shipment, it was $9.93 with Pirate Ship. You see that Paypal costs quite a bit more than Pirate ship.
This is because Pirate Ship has a negotiated deal called Priority Cubic Rate. Pirate Ship's cubic rate offers unbeatable prices for small packages. Keep in mind, this is using your own boxes, not USPS Priority flat rate boxes.
Additionally, shipping internationally with Paypal postage is much higher than with Pirate Ship for many countries. Pirate Ship has an extensive list of 55 countries where postage is affordable called Simple Export Rate. Tracking is also included until delivery.
Using Pirate Ship: Advantages and Disadvantages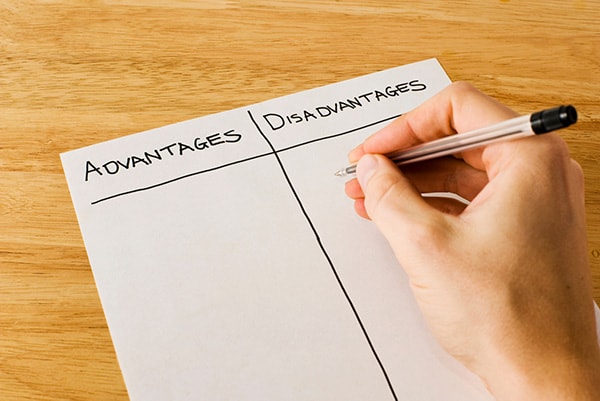 Advantages of Buying Shipping Label From Pirate Ship
Pirate Ship offers some of the most affordable USPS rates out there. While USPS Flat Rate Envelopes and Boxes cost the same as with buying from PayPal, they offer a much better rate for two scenarios.
First, they offer USPS Priority Mail Cubic Rates that are unbeatable for packages less than 0.5 cubic feet. How do you know what cubic volume is your package? You use their handy calculator found here.
Secondly, as we mentioned before, Pirate Ship offers the most competitive rates for international shipments in 55 countries. Shipping to Canada is even cheaper. If you need guidance on shipping to Canada cheaply, check this post here. Your package only must meet the following four requirements below.
Your package must weigh less than 4 pounds total.
The item(s) value must be less than $400.
Any of the dimensions are less than 24".
The Length + Height + Width added must be 36″ less than added total.
Lastly, as we mentioned earlier, Pirate ship offers integration with major e-commerce platforms such as eBay, Etsy, Shopify, and Square space. A simple click of "Import from Integration" pulls up the order and allows you to buy a shipping label without the need for copy and paste.
Disadvantages of Buying Shipping Label From Pirate Ship
Pirate ship unfortunately only uses USPS as a carrier. While they have a great negotiated deal for commercial pricing with USPS, they do not offer any other carriers. Thus, buying postage to ship large and heavy packages would not make sense to buy from Pirate ship. For tips on how to ship large and heavy packages, check this post here.
Another disadvantage is that Pirate ship does not integrate with many e-commerce marketplaces. So if you are selling on Depop or through your own website, you will have to copy and paste delivery information. They do make it really easy by having a field where you can paste customer's entire information.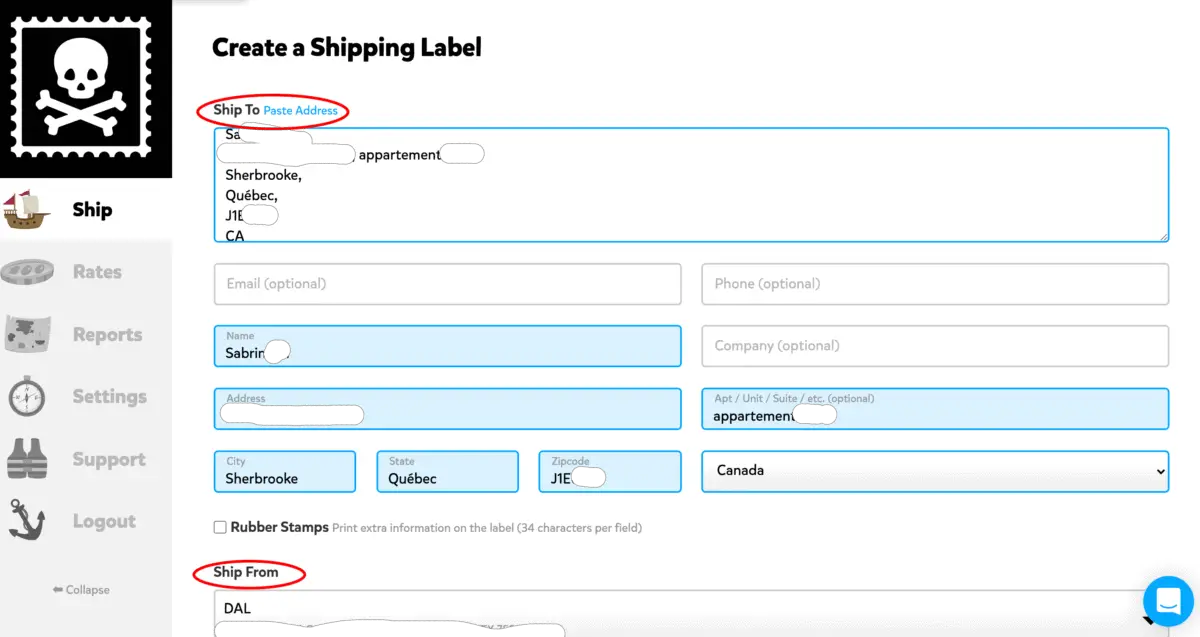 Pirate ship then takes the information and fills it in the correct fields. It can be extremely helpful for international shipments. Many of us are not familiar with how other countries have streets, cities, states, or provinces set up. So while it is a minor inconvenience to copy and paste, it is not a major disadvantage.
Which Platform Should I Use To Print My Shipping Labels?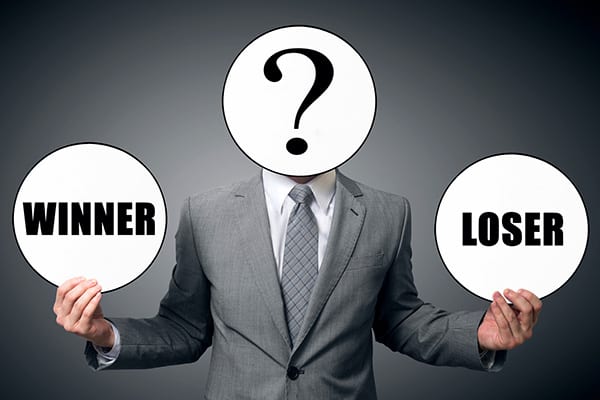 Both Paypal and Pirate Ship offer competitive shipping rates. Depending on what you are shipping and where you are shipping to, it is worth knowing both options. They both offer cheaper rates than buying retail at the counter of your local post office.
The fact that both exist gives us more choices to make sure that we are getting the best shipping rates. As a general rule, you can follow a guide on the table below.
| | |
| --- | --- |
| | Which One Should I Use? |
| Packages under 1 pound | Both are equal |
| Small, heavy boxes | Pirate Ship |
| Large, heavy boxes | PayPal |
| USPS Flat Rate envelopes and boxes | Both are equal |
| UPS shipping | PayPal |
| International shipping | Pirate Ship |
Last Tips To Know For Shipping
While knowing where to buy shipping labels is important, make sure you still know the basics of shipping. Your shipping rate will be determined by the weight, dimensions, and distance that your package is going. To avoid shipping carrier penalties, make sure that you own a shipping scale and a measuring tape.
Additionally, if your package is lost or damaged, make sure that you are going after shipping insurance. There is built-in insurance with USPS Priority Mail for up to $100. Check this post for how to file a USPS claim here. UPS also offers up to $100. So go on and recoup some money from lost or damaged mail!