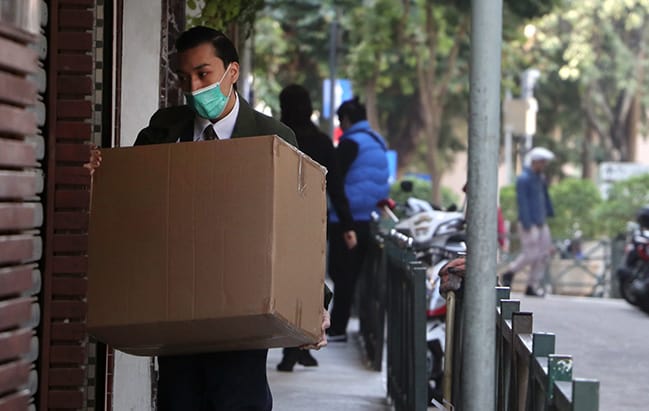 If you are looking for affordable shipping solutions for your large packages, you have come to the right place. In this post, we will go over what are the cheapest way to ship large packages and what shipping services are available to you.
This post will focus on the most affordable services. This means shipping speed will not necessarily be a priority. We will do a separate post in the future for the fastest shipping options with all carriers. Furthermore, this post will focus on shipping in the US, we will cover international shipping options in the future.
Shipping Basics
When it comes to shipping, the price of postage will depend on the weight and dimensions of your package as well as the distance that your package will be traveling. You want to make sure that you are not estimating the weight of your item to avoid issues later.
If you underpay for postage, you can get charged extra. Shipping carriers do not go out of their way to refund you for paying more than your package weight. Therefore, invest in a shipping scale and a measuring tape to send your packages. They do not cost very much and you will have them for all your future shipping needs.
Another important note to keep in mind about shipping that many people overlook is shipping insurance. Many shipping services from USPS, UPS, and FedEx include insurance for up to $100. However, if you are shipping more valuable items, consider additional shipping insurance to cover lost and damaged mail. For USPS, we have a step-by-step guide for how to create an insurance claim here.
What Shipping Service Should I Use To Ship Large Packages?
We have written quite a lot about shipping, including how to ship heavy items here and how to ship awkward items here. So what is considered a "heavy" package? A heavy package for the purposes of getting the cheapest shipping rate is anything over 2 pounds.
For small heavy items, the cheapest rates are with Pirate Ship's cubic mail. Pirate Ship's cubic rate uses USPS as a carrier. You can find a step-by-step guide to ship with Pirate Ship here. USPS is also great to use for compact but heavy items with their Priority flat rate envelopes and boxes. You can get a discount using shipping software like Pirate Ship. We go over 9 tips to save money on shipping here, including how to take advantage of this service.
For large packages, FedEx will give you some of the best options. FedEx is one of the largest shipping carriers available and offers some of the most economical options to ship large packages.
So what is considered a large package? For the purpose of getting the best shipping rate, it means the item is larger than a standard VCR. So we will go over which FedEx services to use to send large items.
FedEx Ground/FedEx Home Delivery
Your first option to ship large, heavy packages is using FedEx Ground or FedEx Home Delivery. What is the difference? With FedEx Ground, you cannot ship this to a residential address. You can only ship this to a business address.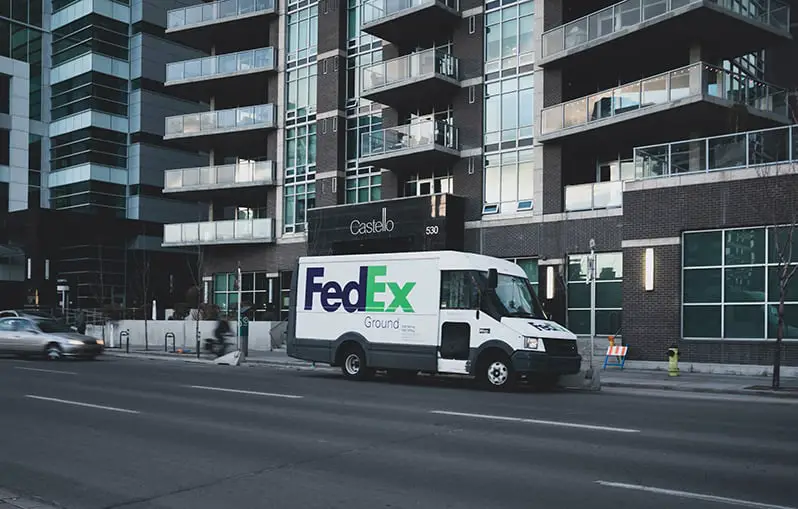 If you need to ship to a house or apartment, the alternative will be FedEx Home Delivery. This option will appear when you create a shipping label with FedEx. It will have a box to select that says "This is a residential address." A restriction to know is that with both FedEx Ground and FedEx Home Delivery, you cannot ship it to a P.O. box. You will have to use the next alternative service.
The shipping speed for both FedEx Ground and FedEx Home Delivery is normally 1–5 business days for the continental US. This is also estimated so how long it takes for delivery will depend on distance. Shipping to Alaska and Hawaii will take 3–7 business days. 
FedEx SmartPost/ FedEx Ground Economy
The next option to ship large packages is with FedEx Ground Economy, formerly known as FedEx Smart Post. FedEx Smart Post is a hybrid service with USPS. It starts with FedEx picking up the package, then USPS takes over for the final delivery. FedEx Smart Post is cheaper than FedEx Ground or FedEx Home Delivery. You can also send your package to a P.O. box.
The drawback of FedEx Smart Post is that it is much slower in speed than the other FedEx services. FedEx handover the package to a USPS regional hub before USPS sorts and sent the package to the final destination. Because two different carriers are involved in processing and handling, delays can be common. It is important to communicate this with your package recipient.
The actual delivery time is estimated to be 2-7 business days depending on the distance. Additionally, FedEx Ground Economy is only available for pickup within the continental US.
What About Shipping Insurance
While selecting the cheapest shipping rate will save you money, it is also important that you are aware of the built-in insurance coverage for your package. The table below gives the included coverage amount for some of FedEx shipping services.
| | |
| --- | --- |
| Shipping Service | Included Coverage |
| FedEx Ground | Up to $100 |
| FedEx Smart Post | None |
| FedEx 2 Day | Up to $100 |
| FedEx Standard Overnight | Up to $100 |
| FedEx Priority Overnight | Up to $100 |
If your item is valued at more than $100, you can choose additional coverage. This is recommended for expensive electronics or breakable items. Additionally, it is crucial that you pack the item according to FedEx's requirements for an insurance claim.
FedEx Packing Requirement
If your expensive item breaks during transit, FedEx will determine whether your packaging meets its standards. If they determine that your packaging material does not suffice to properly protect the item, they will not pay on the insurance. Here is FedEx's guide on how to pack.
We unfortunately have experienced the losing end of a FedEx insurance claim shipping a $900 laptop. We now use their Laptop box with kit, which includes foam padding.
You can also find shipping supplies elsewhere, as long as they meet the requirements outlined. For tips on where to get free shipping supplies, check this post here, including from FedEx. You can order free shipping labels for your thermal printer.
Where To Drop Off FedEx Packages
If you do not have a FedEx office near you, you can drop your package off at a nearby Walgreens. Walgreens will scan your package when you drop it off. Another option is to look for shipping services that accept major shipping carriers like UPS, USPS, and FedEx all in one place. 
How To Ship A Large Package
When you are trying to ship large and heavy packages, FedEx can provide competitive rates over USPS. FedEx can be more reliable than UPS, however, that can be highly disputable based on your area. But FedEx does cover more residential areas than UPS.
If the item that you are shipping is not across the country and your item is not easily breakable, Greyhound Express is another option. The best thing to do for sporadic shipments is to check all your available options. Compare rates with UPS, FedEx, USPS, Greyhound, and other local services. However, for shipping large packages often for your small business, it is worth it to have a FedEx business account.
If you are selling on platforms like eBay, you will also get additional FedEx discounts through them. We have a step-by-step tutorial for how to ship big heavy items cheap on eBay in the video below.
Related Articles
We have related articles to save you money on shipping. Check them out for additional tips and guides for your shipping needs. We also have many free resources here on the blog. You can check them under our Free Resources category here.
How To File a USPS Insurance Claim for Lost and Damaged Mail
9 Top Tips To Save Money On Shipping
Cheapest Way To Ship A Package
8 Common Shipping Mistakes That Are Costing You Money
Everything You Need to Ship a Package
Is A Thermal Printer For Shipping Labels Worth It?